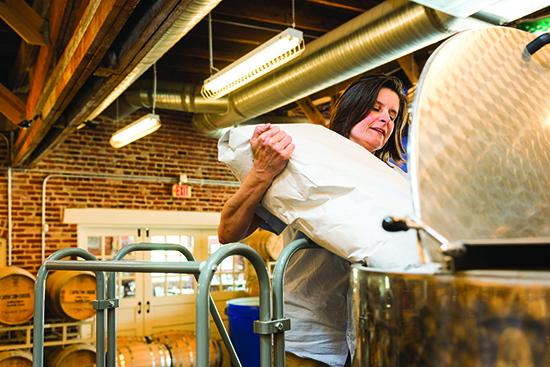 Catoctin Creek Distilling Company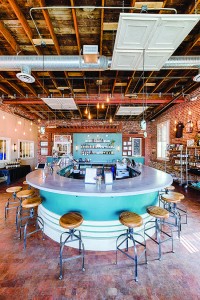 Lucky. Scott Harris repeats this word over and over. He thinks it was luck that Catoctin Creek Distilling Company opened when it did, at the start of this mini boom of distilleries in Northern Virginia. Just in time to hog shelf space at ABC Stores. Just in time to seduce bartenders to stock his liquor.
His mid-life crisis hit just in time, too. As a government contractor, he sat "typing in a windowless room," he says. Harris didn't know what he wanted to do. But he couldn't do this.
Then there was the trip to Europe, a visit to distilleries, a business plan, a workshop in Chicago. And finally, a new business plan.
And then: Becky. His wife, a chemical engineer before staying home to raise their two sons, thought about returning to work. "If I can learn how to make contact [lenses]," she says, she could master the age-old distilling process.
Now she starts her days at 6 a.m., making the mash with organic rye and water, letting it sit, ferment. The stills stand next to floor-to-ceiling windows facing the center of Purcellville, what was once a town known for its temperance enthusiasm.
Their building was a car dealership the year Prohibition started, and now "we're making liquor on Main Street," Harris says. The booze bullies have long left Loudoun, a recent wine capital and now home to a handful of breweries including Jack's Run Brewing Company, opening up across the street from Catoctin.
Catoctin, the first distillery in the county since before Prohibition, and an organic- and kosher-certified one at that, likes to make friends with its neighbors-in-booze, pairing up for a peach brandy with Leesburg's Fabbioli Cellars and, coming this October, a distilled, aged malt whiskey made from a porter by Purcellville's Adroit Theory Brewing Company. As the saying goes, don't drink alone.
INVENTORY
• Roundstone Rye
• Roundstone Rye – 92 Proof
• Roundstone Rye – Cask Proof
• Rabble Rouser Straight Rye Whisky
• Mosby's Spirit white whisky
• Watershed Gin
• 1757 Virginia Brandy
• Short Hill Mountain Peach Brandy
• Pearousia Pear Brandy
• Quarter Branch Apple Brandy
NOTES
Established: 2009
Tours: Free
Tasting: Spirit flights $5-$15, cocktail flights $10, cocktails by the glass $7
Puchase: On-site and in ABC Stores
Extra: Gift shop
Address: 120 W. Main St., Purcellville