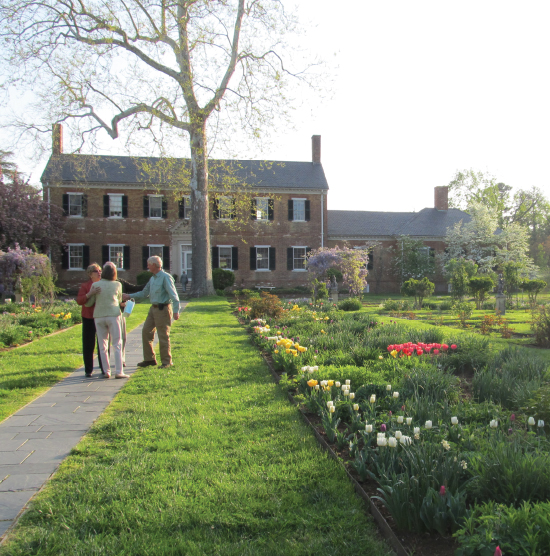 Mention Fredericksburg and many Northern Virginians' minds envision red lights along the clogged lanes of Interstate 95. But Fredericksburg gets a bad rap. Meander into the downtown and you will find that there is a charm that runs deep, in the blocks of the historic main streets, in the quaint yet trendy shops and restaurants and in the locals who are there to help you find a unique piece or point you in the direction of more to explore. Fredericksburg rivals Old Town Alexandria not only in its offering of shopping and restaurants but also its history and cultural activities.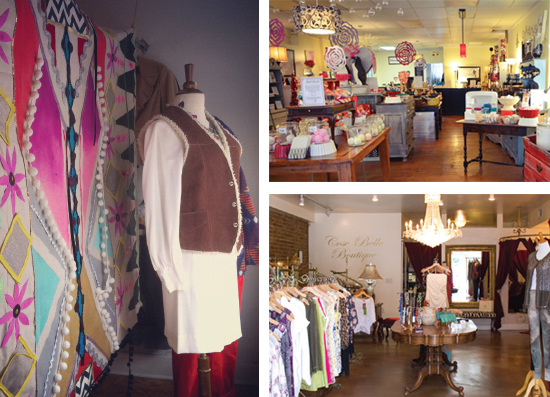 Shops
Forage Vintage and Consignment
This yellow brick store with a bright yellow door holds generations of clothes. From the 1920s through the '90s, Forage Vintage and Consignment sells styles that have lasted the initial trend setting. And the interior of the small boutique store brings out the creativity in anyone to make shopping and style exciting. / 208 William St.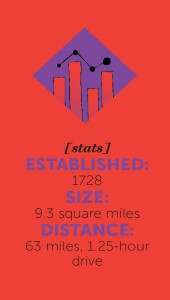 When Pigs Fly
The repurposed furniture trend is one that we can get behind, and at When Pigs Fly you not only get to peruse the small shop filled with on-of-a-kind pieces, but you also get to meet the artist and owner, Janese Simunek, and maybe catch her working on her next piece. / 1011 Caroline St.
Whittingham
Whittingham holds two adjacent storefronts in historic Fredericksburg: one is the namesake store that houses beautiful home decor from linens and ceramics to florals and furniture; the other is The Kitchen at Whittinghamm which carries almost anything a home cook could desire: appliances, gadgets, cutlery and more. / 1021 Caroline St.
Cose Belle Boutique
Get a bit of European shopping done in downtown Fredericksburg at Cose Belle Boutique, where owner Paola Barral shops the latest styles abroad and brings back the trending clothing, accessories and shoes. / 1002 Caroline St.
Ladyburg
The only thing more blissful than a bath is possibly shopping for it at Ladyburg. Hours could be spent in the shop that has everything, including a raw bar, salt scrub bar, Dead Sea salt bar and whipped sugar bar along with handmade soaps and lotions and the latest in bathing beauty trends: shampoo and conditioner bars. / 807 Caroline St.
Hooked
Sgt. Pepper, the friendly bulldog of the store, shows customers around this hip shop, or more so strolls around the vinyl, '80s-era gaming systems and cameras, jewelry and clothing and men's fashion with you. Once he feels you've got the hang of it, he walks you up to the counter since you'll surely find something to draw your intrigue. / 1009 Princess Anne St.
Fraser Wood Elements
Natural materials take center stage at Fraser Wood Elements; everything in the store is handcrafted from reclaimed and recycled wood. From furniture and wall art to small home-decor pieces, Fraser Wood carries local artists' work along with that of owner David Fraser, who also does custom work. / 820 Caroline St.
Du Jardin Fine Gifts & Home Furnishings
Your future English garden awaits at Du Jardin Fine Gifts & Home Furnishings, where the design of the store is inspiration enough. But it's not just outdoor accessories the boutique offers; the extensive indoor decor selection includes table settings, wall art, florals and furniture. / 822 Caroline St.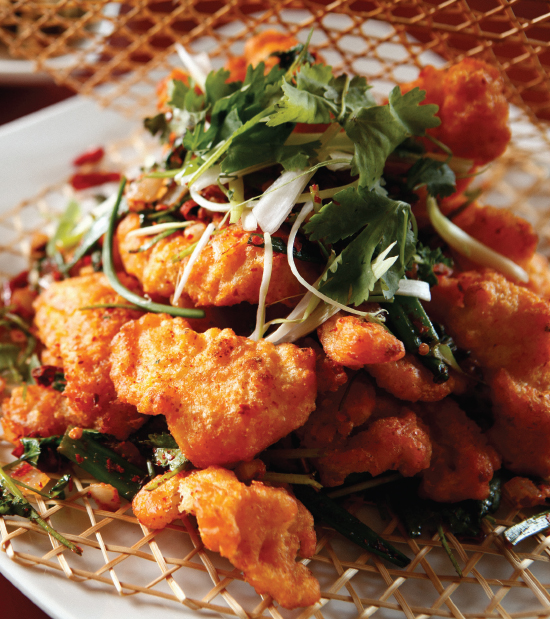 Eats
[lunch]
The Soup and Taco Etc.
What's a quick meal that will fill you up for more shopping? Mexican. Where do you grab some great Mexican quick when in Fredericksburg? Soup & Taco. Why? They don't just serve up the basic meat wrapped in a shell. They go beyond that with items such as chicken ranchero, chipotle shrimp enchiladas and a slew of soups. / 813 Caroline St.; 540-899-0969
[Avoid traffic: eat dinner]
Peter Chang's China Cafe
Not only is Peter Chang's China Cafe a great place to stop for dinner while in Fredericksburg, but our food editor has also named it one of the 50 best restaurants in all of Northern Virginia, so it's worth the stop just a few miles from the historic downtown. Her recommendation: the bamboo fish, what she calls "the best fried fish you'll find in the area." / 1771 Carl D Silver Parkway
[treats to eat]
Wally's Homemade Ice Cream Shoppe
When you all are screaming for ice cream, head to Wally's Homemade Ice Cream Shoppe where there are dozens of flavors to choose from. If ice cream isn't your craving, the smoothies, malts and shakes are great options as well. / 821 Caroline St.; FB: Wally's Homemade Ice Cream Shoppe
[treats to take home]
Sweets on Caroline
Two large display cases run the length of the store at Sweets on Caroline, and they are filled with gourmet chocolates, caramels, macarons, lollipops and more. And after you grab some sweets, head next door to Taste Oil Vinegar Spice; owners Jan Davis and George Farrar own both establishments. / 817 Caroline St.; 540-825-8025
Pa Dutch Tea & Spice Company
Tea and Spice may be in the name, but this shop on Caroline Street is filled with nostalgic treats that will give the kids something to drool about: gummies, chocolates and sodas, just to name a few. Adults can browse the walls of spices and herbal teas and even walk home with a nice new teapot to brew them in. / 1013 Caroline St.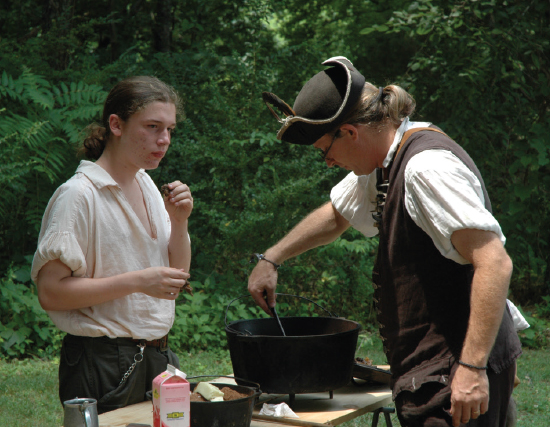 Culture
Ferry Farm
We all know about the heroics of George Washington and his presidency with the many Northern Virginia museums that bring his adult life to center stage. But take the time to visit Ferry Farm in Fredericksburg and learn about the time of his life that shaped him. Ferry Farm is the childhood home of our first president, and you can learn about the legends and truths that gave us a vision of Washington. The site also holds a lab where visitors can see archaeologists in action as they uncover artifacts from the Civil War that were found on the site. / 1201 Washington St.
Trolley & Carriage Tours
Take in the overall glamour of Fredericksburg through different tour options provided in town. Trolley tours give visitors an inside look at the past with stories and lesser-known facts about the people and events of the town while on the 75-minute tour. And the carriage tours take visitors through 40 blocks of history in the way our forefathers meandered the streets: horse-drawn carriages.
A.Smith Bowman Distillery
Though A. Smith Bowman Distillery opened after Prohibition in 1935, it has been in its current location in Fredericksburg since 1988 and is still run by the Bowman family. Venture in and see how they craft their spirits in the traditions of the past along with modern innovation. Complimentary tours are offered Monday through Friday hourly from 10 a.m. to 4 p.m. / 1 Bowman Drive
Ghost Tours
With over 100,000 casualties of war in the town's limits, Fredericksburg is sure to have some spirits lingering about, and there are plenty of opportunities to take in the tales. One has the option of sticking to the streets of Fredericksburg through candlelit tours or tours put together by well-known author of "Ghosts of Gettysburg," Mark Nesbitt. The more thrilling tour, however, is the Wicked Woods Haunted Forest where patrons go a quarter mile into the woods and get choreographed reality jumping out at you.
Year-Round Events
[spring]
Fredericksburg Garden Day of Historic Garden Week in Virginia; April 22
James Monroe's Birthday Celebration; April 25
Virginia Renaissance Faire; May 9-June 7
BBQ Jamboree; May 10
Marine Corps Historic Half Marathon; May 17
[summer]
AACA Car Show; June 6
Soap Box Derby; June 13
Heritage Festival; July 4
[fall]
Lakes and Grapes Century Bike Ride; Sept. 6
208 Sale Trail; Sept. 12-13
Yankees in Falmouth! And Some Confederates Too!; Sept. 12-13
21st Annual Fredericksburg Welsh Festival; Sept. 19
Oktoberfest; Oct. 3
Fredericksburg Area Wine Festival; Oct. 12-13
Holiday Open House; Nov. 7-8
Holiday Spirits Festival; Nov. 15
Christmas Tree Lighting; Nov. 28
[winter]
Christmas Parade; Dec. 5
Courthouse Christmas Luminary; Dec. 7
First Night Fredericksburg 2016; Dec. 31
(April 2015)