Dinner and drinks can get a little tired for ladies' night.
"I think what people are craving these days is an experience," says Katie Nguyen Wells, owner of AR Workshop in Old Town Alexandria. The new DIY crafting boutique gives visitors the chance to create an original product and sip a drink alongside friends, family or co-workers.
The shop is part of a crafting enterprise launched in 2016 by Anders Ruff, a North Carolina design company fronted by Maureen Anders and Adria Ruff. The pair met at a preschool open house in 2010 and quickly decided to start a design company devoted to children's parties and home decor. With hundreds of printable designs to its name, Anders Ruff now counts Cindy Crawford, Venus Williams and Universal Studios among its clients.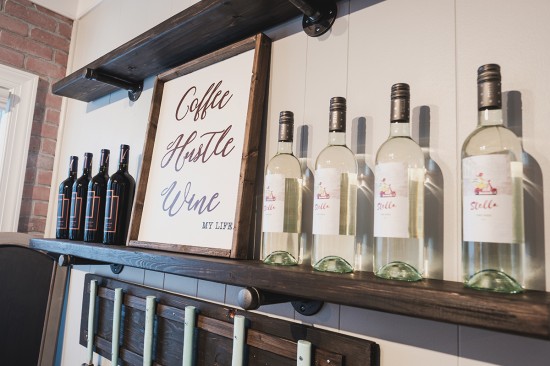 AR Workshop, home to 14 shops nationwide, was the next logical step in the company's evolution. "We had been open for six years, and this last year we decided it was time for a change," Anders says. "We had been working out of our homes and were ready for something bigger and better and thought that this would really resonate with women who like to craft."
When guests arrive at the shabby-chic Old Town location, they are led to a stool at their group's table, sure to bring back memories of high school woodshop. Each patron can enjoy two glasses of wine or beer, covered by their admission, as they develop the evening's selected craft. Project choices include canvas pillows, lazy Susans and framed wood signs, and online registration fees range from $40-$75.
While paint-and-sip outlets abound in NoVA, Wells is confident that AR Workshop offers a unique experience. "I think it's more of a boutique feel. Everything in our studio is custom-built," Wells says. "We also offer a retail section, which will be featuring home decor, gifts and accessories with a section that's focused on local artisans."
Anders and Ruff labor to keep their workshop aesthetic cozy and fresh, with creative window displays and a thoughtful use of turquoise. "You'll find it's a very soothing environment to be in, eye-catching and comfortable," Anders says. "And just inspiration—we wanted inspiration everywhere you look. We wanted people to get ideas for how to style their own homes."
In addition to its project calendar, the Old Town location also hosts private parties and operates as a space for other artists in the Alexandria area.
"Old Town is becoming more of a maker community," Wells says.