The Wes Johnson on the menu at Celebrity Delly in Falls Church is a sliced roast beef sandwich with melted Muenster cheese, a pile of coleslaw and a spritz of Russian dressing served warm between two slices of grilled Texas toast. To get "the full Johnson," you ask for the optional fried egg.
It's a larger-than-life concoction, one that requires devouring in stages. It is the fourth most popular sandwich on the Celebrity Delly menu, one notch ahead of the Elliot Segal, named for the DC 101 radio show host. (Corned beef and pastrami, in case you were wondering).
The Wes Johnson sitting at the Celebrity Delly table—the real Wes Johnson—is more ham on wry, but just as substantial and with just as many layers.
Over the years the 55-year-old Northern Virginia native has been a movie actor, a stage actor, a voice actor, a comedian, a maker of short comedies, a morning drive-time radio personality, a newspaper cartoonist, a writer, an on-air partner to a famous disc jockey and an advertising executive.
Many times he's been several of those things at once and rarely only one or the other.
But what the burly and bearded Johnson is best known for, what achievement has rewarded him with his name on a sandwich at his neighborhood deli, the accomplishment that gets him recognized on the street, is what he does in the fall and winter when the Washington Capitals of the National Hockey League play home games at the Verizon Center in downtown Washington.
Wes Johnson is the Voice of the Capitals. Longtime broadcasters John Walton on radio and Joe Beninati on television also lend their vocal talents to the Capitals, but Johnson is the officially acknowledged Voice of the Capitals, and rightly so.
Or maybe not. Maybe it's more accurate to say he's the Voice of the Capitals Fans because it is through him the 18,500 rabid spectators who are Rockin' the Red on any given home hockey night become boisterously active participants in the match on the ice.
Because it is Johnson, seated behind a windsock-covered microphone in his chair between the penalty boxes at ice level, who reaches deep, oh so deep into his Essence of What-It-Is-To-Be-A-Sports Fan-ness and brings forth an extemporaneous rant that is as much unbridled madness as it is controlled frenzy.
He makes up the spiel on the spot, ruminating while a compilation of inspirational film clips plays on the Jumbotron.
And when the time comes, the tirade begins, climaxing with the same three words each night, five quick syllables that are now a Capitals ritual, a local sports fixture, a part of the Washington hockey experience, and the audience knows the words not just by heart, but also by lung as virtually all 18,500 Caps fans desperate for a score cry out at the same time along with the booming Johnson:
UN
LEASH
THE
FURY!
It is chilling and tear-inducing. It creates froth. And if you see it up close in person, you might think Wes Johnson—red in the face, his eyes bulging and his body visibly spent—is going to collapse, which would be OK for a fan like Johnson because, as he says finishing his half of a shared Johnson sandwich, "There is nothing more satisfying to me than when the Caps score after Unleash the Fury."
Some 18,500 Caps fans would agree.
The Voice in Action
At 5:30 on the evening of a Capitals home game, the cast and crew behind the on-ice presentation of the match convene for a production meeting. They are the talent and technicians who handle every aspect of what is seen around the arena before, during and after the game.
From the flashing lighted banners and blasts of fog from the Jumbotron to the T-shirt giveaways and intermission activities to Slapshot, the costumed eagle mascot, everything is handled by the 30 or so folks who work behind-the-scenes to perform carefully orchestrated and precisely timed moments and create a seamless and seemingly spontaneous big-time sporting event.
It is Johnson's job to not only Unleash the Fury but to also read general announcements, introduce the National Anthem singers, read the player introductions for both teams and pretty much fill the aural void in the arena when there is a lapse in on-ice action.
Near the end of the 25-minute production meeting, game entertainment manager Tyler Hines tells Johnson once they've turned all the pages of the script, "Sorry, I know that's a lot of reads."
Johnson shrugs. He's got this.
The coming 2016-17 season will be Johnson's 14th with the team in 16 years (not counting the NHL lockouts and strikes). It will also be production assistant and partner in the penalty box Byron J. Hudtloff's 14th year. "We're like an old married couple," Johnson jokes.
Hudtloff, who is tall and rangy to Johnson's Falstaffian stature, is a Leesburg real estate agent for Re/Max Premier. Coming into the city on game day in time for the evening meeting against rush hour traffic is something he's happy to do because, he says, it's fun. And it looks like it.
Hudtloff gets to do the occasional read into the microphone, but what he does mainly, and most vitally, is keep Johnson, who is wearing a headset linked to his, on schedule and on script as the game progresses.
And does it ever progress. Sitting at ice level, the spectator has no choice but to realize how freaking fast hockey is to play. Blink and … what just happened? The small TV monitor in front of Johnson and Hudtloff on their table helps, but from the penalty box it's impossible for Johnson to see into the near corners, which makes Hudtloff's height a terrific advantage as a spotter.
Both Johnson and Hudtloff dress smartly in business casual as they settle in for the game and the spectators begin streaming in. Once the puck drops, there are no bathroom breaks, not even during the two intermissions, as that's when they do the heavy lifting of keeping the fans amused.
Johnson opens the rolling file case he's brought into the box, which could have been full of notes or record books or a change of clothes, for all we know. But the suitcase, as it turns out, is full of bottled water and nothing else. He brings enough bottles to share with the others who are trapped in the Plexiglas cage with him while Hudtloff brings candy.
As the players warm up on the ice, Johnson goes over the pronunciations of the visiting team's players' names—hockey really does have the trickiest foreign names in all of sports—and he places his legal ledger and lighted pen in position next to the microphone just so.
In case you were wondering, sitting between penalty boxes affords a vantage point the average fan does not enjoy. Often, players from the opposing team are in the boxes at the same time, usually after dropping gloves and pummeling each other in the head and face. Very often they continue their conversation in the boxes, engaging in dialogue over and around Johnson and Hudtloff's heads. Sometimes, Johnson says, they use bad words, and he gives an example not for publication. (Wow! Those are very bad words, indeed.)
After introducing the other team's players—for which he uses different, noninsulting voices that he's given names (including the "Disney princess voice" and the "Darth Vader voice")—it's time to call out the names of the Capitals players, and, with the lights swi
rling around the arena, an invisible gear shifts. You can feel it through your body.
Johnson's "read" of the Capitals names in an epic boom lifts the excitement level in the stadium; his gravelly growls and long-held vowels adding import to the fans' heroes' identities. Come to think of it, it's the only time of the night you hear their names, unless they score a goal. The ovations are loud and sustained.
And the Fury is growing.
Johnson doesn't get to Unleash the Fury at every Caps game. The Caps have to be losing or struggling with a tied score late in the game. "You have to pick and choose your moment," Johnson says.
But when it happens …
"Sometimes I wonder if the roof is going to come off, especially during a playoff game," says radio announcer John Walton of Johnson's vocal contributions.
"Listen, when he gets going, I'm telling you, if you're the visiting team and you come into this building in a close game, this place is a nuthouse, and it has everything to do with Wes and the job that he does."
"Wes Johnson is an integral part of the live Caps game experience," says John Brenkus, a Vienna native and producer and host of ESPN's Sports Science. "He's been doing it for so long there's talk of erecting a monument in his honor."
He's exaggerating, but Brenkus would know. Johnson and the rest worked for Brenkus when his company, BASE Productions, was responsible for the on-ice presentation. BASE also did the arena entertainment for the Washington Wizards when they were known as the Bullets. Johnson was the announcer for that, as well, and that's what led to the Capitals spot.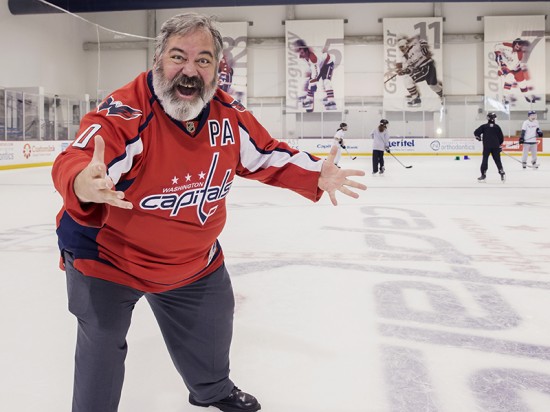 Show Biz Beckons
After graduating Falls Church High School, Johnson enlisted in the Army in 1979, serving as a paramedic at Fort Sheridan, Illinois, near Chicago. At Great Lakes Naval Hospital, Johnson, the emergency room medic, found himself sewing midshipmen's heads back together after late nights out.
Show business beckoned, and as it is in that industry, one thing led to another. In Johnson's case, things have led to many other things, often not even in the same line of work. Clearly, he enjoys exploring the directions his talent will take him.
His work in movies, television, theater, video, radio, video games and sports has naturally led to brushes with celebrity. In the past he's worked with Tracey Ullman, Chris Isaac, Johnny Knoxville, Anthony Hopkins, Nicole Kidman, Tim Allen, Kristie Alley and Chris Rock and the list goes on. And continues to do so.
Earlier this year he was featured with Ed Asner on a sitcom pilot called Bennie's. In 2004 he was directed by John Waters in the movie A Dirty Shame and still gets a highly anticipated holiday card from him; he's appeared with the casts of critically praised television series including Veep, The Wire and Homicide, among others; he was the series announcer for the popular America's Most Wanted, and for two years he was the on-air comedy sidekick of Wolfman Jack when the pioneering disc jockey broadcast his syndicated "oldies but goodies" show from a Planet Hollywood restaurant in Washington, D.C.
In the spring he appeared on a panel at Awesome Con, a comics and pop culture convention in Washington where he met fans of his more than 40 video game characters (among the titles: The Elder Scrolls V: Skyrim, Fallout 3 and 4 and Star Trek: Legacy and Conquest); at one point he found himself sharing the stage with—yes!—Peter Capaldi, aka Dr. Who. (Johnson calls his Mini Cooper his Tardis; Dr. Who fans will understand.)
Johnson credits the flexibility afforded to him by his real job as creative director at the Rosenberg Media advertising agency as a key to his continuing show business success, allowing him to attend some 10 auditions a month that are set up by his Los Angles agency.
Johnson's piecemeal career has been a lifetime of keeping what he calls "the inner child" alive. His work illustrates the inspiration at a person's core, an unyielding curiosity and a commitment to expressing one's talent.
He has fans who stop him on the street. He has employers who return to him time and again. And he has ambitions yet unrealized.
Of course, a freelance career as scattershot as Johnson's requires a solid bedrock, and it would seem he has that in his wife, Kim Barrett, whom he met at Falls Church High School but took 13 years to get together. Their sons Ben, 26, Sam, 23, and Max, 19, were raised in Falls Church, but almost not.
After filming A Dirty Shame in 2004, and with the Capitals conveniently locked out with the other NHL teams by the owners, Johnson gave Los Angeles the obligatory try, splitting his time between Hollywood and home. He found steady work, but he couldn't find an affordable place with good schools for his family. Plus, he missed home.
"My wife is my best friend," Johnson says. "And I knew I had to work on my dreams. But seeing how much your kids change just three weeks at a time was devastating."
When the '05 hockey season started—the Caps had an exciting new player named Alexander Ovechkin—he returned home for good. "Ovechkin started with me calling his goals, and my boys grew up in Fairfax County schools. All was meant to be," he says.
Result: The entire household now is Falls Church High graduates.
Unleash the Magic
At the end of the game Johnson reads in the microphone the list of charity partners and earnestly thanks the fans for coming and tells them to travel home safely.
Johnson and Hudtloff pack up as the spectators stream up the aisles and out of the stadium. Johnson zips up his now-empty rolling file case and ambles to the penalty box door, where he greets Ryan D'Emidio, his mother, Susan, and his brother, Troy Powers, who have come up from Woodbridge, as usual, for the game.
D'Emidio, 20, has cerebral palsy, but that does not prevent him from being a huge Capitals fan and a big Wes Johnson fan. Johnson and D'Emidio are virtual friends as well as stadium pals—Johnson is a friend to many young fans, often as a result of his participation in charitable events—and the time they spend together in person after games, says Susan, "just makes Ryan's life so much better, if just for a little while."
But really, D'Emidio is a major fan of Alex Ovechkin, the Capitals All-Star captain and future Hall of Famer. "I really want to meet Ovi," he confides to anyone who will listen. His fixation, it would appear, borders on obsession.
But meeting one of the biggest stars of the National Hockey League has been elusive for D'Emidio after countless attempts, and Johnson makes no promises. With the stadium empty of spectators and eerily quiet now that the Zambonis have finished their work, Johnson leads the D'Emidios around the ice instead of up the stairs to the exits. It's the back way out, through the bowels of the arena, the way the players exit, and Johnson knows this very well.
And who is that just up ahead, in a disheveled shirt and tie speaking Russian to a visitor, but Alexander Ovechkin.
At the appropriate moment, Johnson says, "Alex, I want you to meet my friend. He's a big fan of yours," and what follows is a golden moment in a young man's life as Ovechkin greets D'Emidio warmly and they exchange pleasantries and pose for photos.
It's a quiet, touching moment as D'Emidio radiates in the presence of his
hero.
Johnson has just Unleashed the Magic.