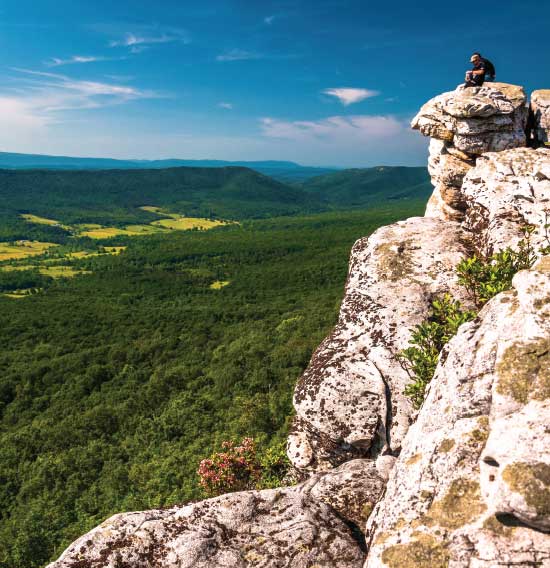 Big Schloss
A Ridgeline Hike and Panoramic Views
By Jisel Penilla
The George Washington National Forest is a massive public land fund encompassing nearly 1.8 million acres, making it nearly nine times larger than Shenandoah National Park. The park covers areas of Virginia, Kentucky and West Virginia and has nearly 2,000 miles of hiking trails. Although the Northern Virginia section of the park gets a fair share of visitors, the park tends to be less crowded than Shenandoah and has a wilder feel to it. While Shenandoah caters to visitors and car tourists, the GWNF really makes you feel like you're off the beaten path. However, if you want total solitude you'll likely have to travel southwest to escape the Northern Virginia crowds. That said, there are plenty of worthwhile hikes in the area. The GWNF and Jefferson National Forest government website has a surprisingly thorough day hike section complete with trail directions, facility information and trail maps. You can explore day hikes by visiting fs.usda.gov/activity/gwj/recreation/hiking. Keep in mind the Lee District is closest to the D.C. suburbs.
Straddling the Virginia-West Virginia border, the 4.5-mile Big Schloss Trail is one of the prettiest and most interesting hikes near NoVA. The hike feels more remote than hikes in nearby Shenandoah National Park. That's not to say you'll have the trail to yourself on a nice fall weekend—like all great hikes within a couple of hours of NoVA, the trail is popular with weekend hikers. Aside from the spectacular 270-degree views at the summit, you get intermittent views along the way, and the trail itself is fanciful with its lichen-covered boulders and enchanted forest feel. The trail starts at the Wolf Gap Recreation area and follows the orange-blazed Mill Mountain Trail for the first 1.9 miles. The initial 0.7 miles of the trail is very steep—even those in good shape will get a decent cardio workout—but then mercifully flattens out once your reach the mountain ridge. The trail has about 1,030 feet of elevation gain, most within that first 0.7 miles. You'll reach the first overlook with 180-degree views 0.8 miles in, but don't stop for too long because the views at the top are even better. After the first overlook, it's smooth sailing until you've hiked 1.9 miles. Here you'll take the white-blazed Big Schloss spur trail, where a short but steep ascent will take you to a wooden bridge. Cross the bridge—don't look down if you're afraid of heights—and proceed to a short rock scramble. There's a small summit at the top with some truly amazing views of Virginia fall foliage at its best. Plus, you'll get an up-close look at the castle-like boulders the hike is named for (schloss means castle in German). To return to the parking lot, simply retrace your steps. For the most part, the trail alternates between rocky and grassy portions, but you'll want to wear supportive hiking shoes and watch your footing.
There are quite a few trails that originate from the Great North Mountain/Wolf Gap Recreation area. Those looking for a truly challenging hike can continue onto the Mill Mountain Trail (11.9 miles). To stay on the Mill Mountain Trail, simply keep following the orange blazes past the Big Schloss spur trail. Keep in mind that Mill Mountain is best for experienced hikers due to its length and difficulty. Tibbet Knob is slightly shorter and steeper than Big Schloss but with excellent views and thinner crowds. The trailhead for Tibbet Knob is just across the road from Big Schloss. Another good option is Little Schloss, which is slightly more difficult but much less crowded than Big Schloss. Little Schloss is about 5 miles long and located about 1.7 miles east of Big Schloss. It follows the purple blazes for Sluice Mountain Trail.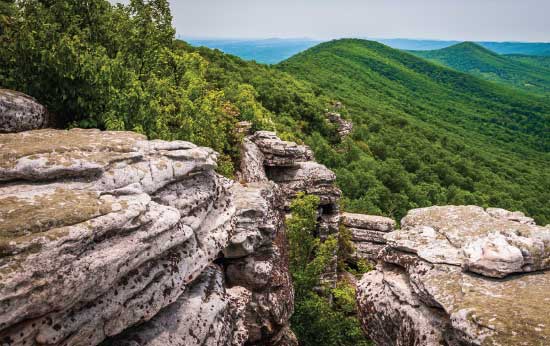 Where: Wolf Gap Recreation Area Camping Area, Wardensville, West Virginia; 540-984-4101.
Logistics: Hours are dawn-dusk. This trail may not be appropriate for children under 8.
Nearby: Big Schloss is about equidistant from the towns of Woodstock and Edinburg.
In Woodstock: The Market sells a bit of everything, from locally produced food to yarn and crafts. Woodstock offers plenty of fast food and chain restaurants, but if you are looking for a unique dining experience, check out Joe's Steakhouse. Woodstock Cafe and Shoppes is a popular spot for coffee and light fare. Also, consider visiting Shenandoah Vineyards, the second-oldest winery in Virginia dating back to 1976. A tasting costs $8 and includes about eight wines.
In Edinburg: For a post-hike meal, consider Swover Creek Farm Brewery, which offers ready-made food and cold beer. Sal's Italian Bistro offers hearty meals.
Difficulty: Moderate. Initial 0.7 is challenging. Wear sturdy hiking shoes and bring hiking poles if you have weak knees or ankles as this is a fairly rocky hike.
Directions: The trailhead starts near the Wolf Gap Recreation Campground Area (where you'll find a few toilets in case you need to use the bathroom before the hike). Park at the Wolf Gap Recreation Area and start the trail after passing campsite No. 9. There's a sign at the trailhead, and the trail is marked with orange blazes. You can pick up a trail map at the information board by the parking lot. Once you're on the trail, it's hard to get lost as the trail is well-marked.
Traffic: Moderate, can be heavy on nice autumn weekends.
(October 2015)