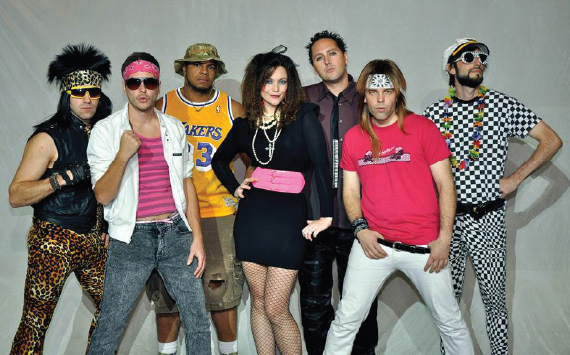 Courtesy of Eileen Colton
LOCAL BAND The Legwarmers
Gordon Gartrell (lead guitar, vocals) Moment you knew this was the career you wanted: The first time I saw Marty McFly playing "Johnny Be Good" at the Enchantment Under The Sea dance. Which talent would you most like to have? David Lee Roth's jump split kick
Chet Reno (Bass, vocals) If you weren't in your current position, what would you be doing? I'd like to be the guy who picks out which girls get backstage passes for Poison. What do you consider your greatest achievement? I once got the high score on the Galaga machine at Time Out arcade at Springfield Mall (RIP).
Cru Jones (Guitar, vocals) Moment you knew this was the career you wanted: August 1, 1981, the launch date of MTV. Somewhere around, "Ladies and gentlemen, rock and roll."
Cyndi Sindee (vocals) Who do you most admire? My mom. When other kids were listening to "The Gingerbread Man," I was listening to "Parallel Lines" and falling in love with Blondie.
Clarence McFly (saxophone) What is your most treasured possession? My spandex collection. It's extensive.
Captain Morgan Pondo (keyboards) What do you consider your greatest achievement? As a representative of all mankind, I would have to say that putting flint to steel would be my, and humanity's, greatest contribution to the world for, without this simple "spark-creating" idea that we take for granted, The Boss would have never been able to pen "Dancing in the Dark," nor would "St. Elmo's Fire" ever seen the light of day, though we would have all been spared "We Didn't Start the Fire." I think the wheel, which inspires my performance of Journey's "Wheel in the Sky," would be my next greatest personal achievement.
Lavaar Huxtable (drums) What do you consider your greatest achievement? The destruction of a Simmons SDS V riot shield pad.
---
Best of NoVA 2015: