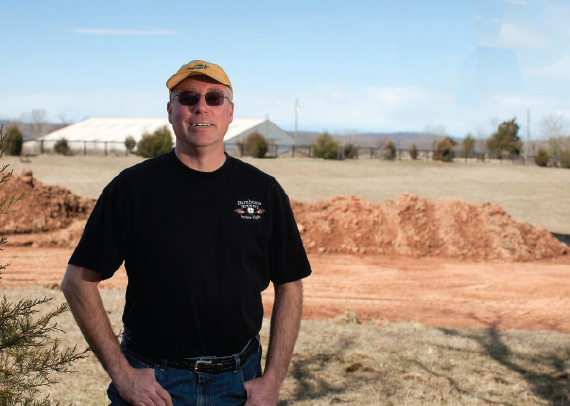 RoGer Knoell at the site of Barnhouse Brewery (Photography by Mollie Tobias)
When the Crowds Don't Come
What happens after breweries don't reach their crowdfunding goals.
By Stefanie Gans
In 30 days Barnhouse Brewery raised $11,547. Owner and brewmaster Roger Knoell isn't seeing any of it. At least not through Kickstarter.
He launched the campaign on the crowdfunding site this past January to raise money for a new building for his brewery. (He previously ran the small operation out of his home garage in Lucketts.) Kickstarter only allows campaigns to collect money if the goal is fully funded, and because Knoell set to raise $30,000, he failed to take in anything.
According to Kickstarter, less than 40 percent of campaigns reach their goals. Some projects end when Kickstarter doesn't help bring in dollars. Other times, Kickstarter is part of a larger business plan and is one of many funding streams.
Plenty of breweries in Northern Virginia hit their Kickstarter goal: Forge Brew Works doubled its $10,000 goal by raising $22,064 with 174 backers; Heritage Brewing Co. made its goal of $20,000 with 166 backers pledging $21,152; Crooked Run Brewing's 139 backers pushed past the $10,000 goal by donating $11,448; and Maltese Brewing Company's 53 backers eked past a $10,000 goal by raising $10,164.
Brewery dreams can happen, but this is the story when the masses don't bring the money.
Without the Kickstarter-assisted $30,000, the Knoells—Roger's wife, Christine, is also an owner—looked into their own nest for funds to build a brewery and taproom and buy a larger barrel system.
"We left the house of our dreams," says Knoell. They sold their house and moved their two teenage daughters to a smaller place on the other side of Lucketts, sharing land with the forthcoming brewery. But Knoell says the daughters are happy with the extra space, which comprises 18 acres situated between two wineries; his equestrian daughters now own a pair of horses and a barn.
With the sale of the house, the Knoells plan on putting $120,000 of their own money into the brewery, reworking the business model to include investors ($20,000 minimum buy-in) and applying for loans, which will add another $200,000 to the business.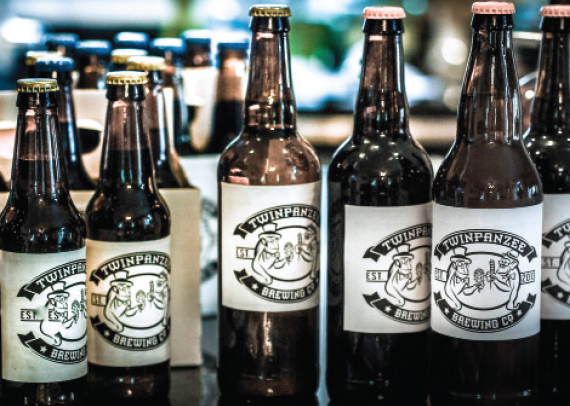 TwinPanzee Brewing Company
Knoell thinks the lack of urgency led to the failure of crowdfunding. Because Barnhouse Brewery already operated for two years and the Kickstarter sought funds for an expansion rather than a new enterprise—plus, Knoell made it clear he was going forth with the new brewery location regardless of whether the public funding came through—there wasn't a must-fund-or-else atmosphere. "I would press on no matter what," he says. "There was no do or die out of it."
Knoell hopes to open his new space in late June.
Antonio Maradiaga blames potato salad for his campaigns' failures.
Maradiaga, owner and brewmaster of Twinpanzee Brewing Company, is referring to Zack "Danger" Brown and his mock Kickstarter campaign: "I'm making potato salad."
By the beginning of last August, Brown raised $55,492 with almost 7,000 backers. His goal was $10.
It became a bit of a phenomenon. National news sites covered his campaign, his potato salad-themed party and the money he donated to charity.
Twinpanzee's Kickstarter campaign ran over the same time period as fake potato salad.
Maradiaga wrote on his Kickstarter page that his attempt to raise funds "seems to have been buried under similar 'I want to make beer' type campaigns that sadly have taken away from more deserving projects."
He thinks when potential funders searched for beer-related Kickstarters, they came across mock campaigns inspired by the success of the infamous potato salad instead of real projects run by real businesses with real dreams.
With a week left to fundraise—Twinpanzee raised about $10,000 of its $25,000 goal—Maradiaga realized Twinpanzee wasn't going to make the numbers. He posted a note on Kickstarter announcing a campaign on another crowdfunding site, Indiegogo, and directed backers to cancel donations on Kickstarter and donate on Indiegogo instead. Indiegogo's model differs from Kickstarter: It allows projects to keep any money raised.
With 47 backers, Twinpanzee raised $5,150 of its $15,000 goal, and Maradiaga cleared about $4,000 after paying Indiegogo fees.
Unlike Knoell, Maradiaga performed outreach, buying Facebook ads for his campaigns and holding an event at PING in Shirlington. The free tasting event drew about 300 fans, but only two of those in attendance converted to new funders.
Like Barnhouse, Twinpanzee is carrying on.
Maradiaga is using $200,000 of his own money to open Twinpanzee. "We're putting in a lot," he says. He hopes to open in Fairfax this October.
His advice for future Kickstarter campaign-runners is to leverage everyone in your circle, but as Maradiaga says, the crowds "don't always translate into people who pledge."
Luckily, Knoell's friends and family circled back to him.
Even though Knoell's Kickstarter didn't reach its goal, his backers still root for Barnhouse Brewery's resurrection.
About half of Barnhouse's 54 backers—equaling about $5,000—reached out to Knoell after the campaign ended saying they still wanted to help fund the business. That includes the real estate agent who helped Knoell sell the very house he sold in order to open his brewery; the agent has promised to re-donate $2,500.
(May 2015)