By Natalie Lescroart / Updated by Rachel Saenz and Molly Jacob
All work and no play is never a good combination. Make the most of your out-of-office hours and your hard earned dollars at these happy hour hot spots. Who says you have to wait till the end of the week or a special event to kick back? Here, we've compiled a list of local bars and restaurants that offer live music, games and drink specials to celebrate everyday of the week—enough merriment to go a round, or two, or three.
City of Alexandria
Alley Cat Restaurant
2 S. Whiting St., Alexandria; 703-461-0450; www.alleycatalexandria.com
The four dartboards at the region's self-proclaimed "leader in darts" are open for happy hour at the Alley Cat Lounge from 11 a.m. to 8 p.m., Monday through Friday. This jazzy venue additionally offers three pool tables, an extra-large video game monitor, a dozen TVs and live music acts. Sample any of the dinner apps for $5, and wind down with a few cheap brews.
Chart House
1 Cameron St., Alexandria; 703-684-5080; www.chart-house.com
Located right on the water in Old Town, Alexandria, Chart house hosts happy hours Monday through Friday from 4 to 6:30 p.m. offering $5, $6 and $7 appetizers, $5 wines and rail drinks, $7 martinis and a variety of beers.
Columbia Firehouse
109 South Saint Asaph St., Alexandria; 703-683-1776; www.columbiafirehouse.com
Enjoy an array of eclectic cocktails and uncommon appetizers—including tuna tartare tacos, reuben eggrolls and spiced sausage corndog—from 4 to 7 p.m. Monday through Friday.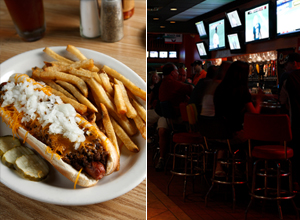 Hard Times Cafe
1404 King St., Alexandria; 703-837-0050; www.hardtimes.com
Saddle up at the King Street Hard Times from 4 to 7 p.m. Monday through Friday, for half off onion rings, chili and bacon-cheese fries, then wash it all down with discounted wine and cold beer.
Mango Mike's
4580 Duke St., Alexandria; 703-370-3800; www.mangomikes.com
Head to the Tiki bar at Mango Mike's from 4 to 6:30 p.m. every day for "exotic eats and Caribbean beats." Happy hour patrons can enjoy reduced-price drinks between $2.95 – $3.95. If you can only make it to Mike's one day a week, make it Wednesday. From 4 to 6:30 p.m., oyster plates are $5 at the raw bar.
Southside 815
815 S Washington St., Alexandria; 703-836-6222; www.southside815.com
Stop by Monday through Friday between 4 and 7:30 p.m. for discounts on your favorite drafts and dollar deals on their classic cuisines. Also enjoy the raw bar from 5 to 10:30 p.m. on Wednesdays.
Arlington County
Arlington Rooftop Bar and Grill
2424 Wilson Blvd., Arlington; 703-528-3030; www.arlingtonrooftopbarandgrill.com
The perfect place to go for some fresh air, Arlington Rooftop holds happy hour specials Monday through Friday from 3 to 7 p.m. and live reggae music every Thursday evening. Also, keep in mind that trivia is every Wednesday beginning at 7:30.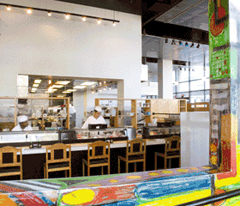 Café Asia
1550 Wilson Blvd., Arlington; 703-741-0870; www.cafeasia.com
For a fine array of Asian cuisine at low prices, check out the happy hour at Café Asia. Patrons can purchase nigiri sushi for $1.25 from 4 to 7:30 p.m., every day but Sunday. Not into sushi? Treat your taste buds to any of the restaurant's other Thai, Indonesian, Malaysian, Vietnamese or Japanese offerings—all of which are served with a modern flair. Wash down your afternoon snack with specially priced draft beers at either of the two full-service bars.
Carpool
4000 Fairfax Drive, Arlington; 703-532-7665; www.gocarpool.com
Play a round of pool at any of the auto-themed billiards room and bar's 10 tables, or try your luck at darts and shuffleboard. In nice weather, the two outdoor patios are the place to indulge in half-price happy hour appetizers from Monday through Friday, 4 to 7 p.m.
La Tasca
2900 Wilson Blvd., Arlington; 703-812-9120; www.lastascausa.com
Everyday of the week from 4 to 7:30 p.m., La Tasca in Arlington offers $4 draft beers, $4 happy hour red and white wines, $18 sangria pitchers and a selection of $4 tapas.
Piola
1550 Wilson Blvd., Arlington; 703-528-1502; www.piola.it
This chain, which opened in Treviso, Italy back in 1986, offers some of the most authentic Italian cuisine around—and it's free with a happy hour drink. With the purchase of any fresh sangria, beer, wine or liquor, patrons have free reign over a savory selection of olives, meatballs, prosciutto, mozzarella, bruschetta and other Italian finger food. "L'Aperitivo Italiano" is served Monday through Friday from 4:30 to 8 p.m.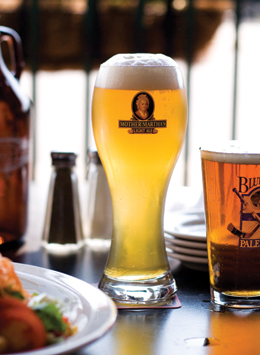 Rock Bottom
4238 Wilson Blvd., Suite 1256, Arlington; 703-516-7688; www.rockbottom.com
Enjoy happy hour specials from this bar, where bartenders serve up handcrafted specialty beers right from their on-site brewery. Starting at 5 p.m. on every day but Saturday, all beer and wine is $2 off. On Wednesdays, pints are only $1.50 from 11 a.m. -9 p.m. Sign up for free to be a member of the Mug Club to get a $10 coupon and be the first to know about promotions and specials.
Fairfax County
Busara
11964 Market St., Reston; 703-435-4188;
8142 Watson Street St., McLean; 703-356-2288; www.busara.com
Craving some Thai cuisine? Busara has drink specials on beers and wines Monday through Friday from 4 to 7 p.m. Selected sides including spring rolls, calamari and grilled steak salad are among some of the $4 foods.
Chef Geoff's
8045 Leesburg Pike, Vienna; 571-282-6003; www.chefgeoff.com
Spoil yourself with "The Sunset Special" at Chef Geoff's luxurious happy hour. Every day from 4 to 6:30 p.m., you can order a gourmet three-course dinner for $19.95, and any bottle of wine you purchase on a Monday will be half off. Happy-hour rates apply all night long on Mondays and Tuesdays, so take advantage of discounted super mugs, longnecks and wines, as well as $5.95 Cheff Geoff burgers and $8.95 pizzas. Wednesday through Sunday, happy hour runs from 3 until 7 p.m.
On the Border
8053 Leesburg Pike, Vienna; 703-893-4395; www.ontheborder.com
This popular Tex-Mex chain has become the bustling corporate watering hole of Fairfax County. On Monday-Friday from 3 to 7 p.m., $3.50 12 ounce margaritas, $6 Coronaritas and beers starting at $2 help get things started as you catch up with friends and coworkers over fresh chips and guacamole.
M&S Grill
11901 Democracy Drive, Reston; 703-787-7766; www.mccormickandschmicks.com
Try out M&S Grill's $1.95 bar menu: From 4 to 7 p.m. choose from oyster shooters, chicken wings and spinach dip, all for a $2 bill. For $2.95, you can get a half-pound cheeseburger, calamari or seafood gumbo. For a buck or two more, the whole menu is oyster. Similar deals apply at McCormick & Schmick's other NoVA locations in Reston, Arlington and McLean.
Morton's The Steakhouse
11956 Market St., Reston; 703-796-0128;
1750 Crystal Dr., Arlington; (703) 418-1444; www.mortons.com
While a prime rib dinner at Morton's may exceed most people's ideas of a moderate budget, the steakhouse's affordable happy hour "bar bites" include BLTs, mini burgers, salad and chicken tenders, $7 each, from 4:30 to 6:30 p.m., and again from 9 to 11 p.m. Fine wines are also discounted for the after-work hours.
City of Fairfax
The Auld Shebeen
3971 Chain Bridge Road, Fairfax; 703-293-9600; www.theauldshebeenva.com
The Irish pub and restaurant offers significant price cuts on beverages and more than 50 percent off all appetizers from 4 to 7 p.m. during the week. Happy hour blends seamlessly into late night here, where patrons enjoy live Irish music on Fridays and Saturdays from 7 to 9:30 p.m., a modern live rock band on Fridays at 10 p.m., karaoke on Tuesdays at 9:30 p.m. and a live DJ on Thursdays and Saturdays at 10 p.m.
Buffalo Wing University
10312 Willard Way, Fairfax; 703-276-6336; www.buffalowinguniversity.com
This restaurant and bar gives a whole new perspective on the typical classroom setting. Focusing on new topics every night, Buffalo Wing University offers different food and drink specials every night of the week starting at around 5 p.m. Class schedule includes half-priced burgers every Monday, 49 cent wings on Tuesdays, and Thursday drink specials from 4 to 9 p.m. Visit their site to learn more.
Dogfish Head Alehouse
13041 Lee Jackson Memorial Hwy., Fairfax; 703-961-1140; www.dogfishalehouse.com
The Irish pub and restaurant offers significant price cuts on beverages and $2 off all appetizers from 4 to 7 p.m., Monday through Friday. Take a breather from the workweek grind. Dogfish Head offers a dollar off cocktails, wines, appetizers, pizzas and their 20 on-tap draft beer selections.
Falls Church
Hoangs Grill and Sushi Bar
502 W. Broad St., Falls Church; 703-9536-7777; www.hoangcuisine.com
Only available in the bar and cocktail area of the restaurant, select tapas are $4.25 and specialty drinks are discounted everyday from 4 to 7 p.m. Get Kirin beer on draft or a shot of hot sake for $2.75, a three-piece platter of coconut shrimp tempura for $4.25 and plenty of other tempting treats during Hoang's happy hour.
Ireland's Four Provinces
105 W. Broad St., Falls Church; 703-534-8999; www.4psva.com
Get in the Irish spirit with $1 off draft beers, house wines and well drinks. And if you're hungry, a selection of their appetizers are marked down to $4.95. Happy hour at Ireland's Four Provinces lasts from 3:30 to 7 p.m., Monday through Friday.
Sea Pearl
8191 Strawberry Lane, Falls Church; 703-372-5161; www.seapearlrestaurant.com
With its strings of delicate pearls and shells hanging from the walls, this marine-themed seafood restaurant recently introduced a new happy hour, Monday through Friday from 4 to 8 p.m. Aside from daily wine, beer, and martini discounts, the Sea Pearl's happy hour includes a $5 menu of California rolls, spicy tuna rolls, oysters on the half shell and calamari.
Velocity Five
8111 Lee Highway, Falls Church; 703-207-9464; www.velocityfiverestaurant.com
Stop by this upscale sports restaurant and bar to watch the game and munch on half-price appetizers any weeknight from 5 to 7 p.m. Drink specials run from 4 to 9 p.m. With dozens of flat-screen TVs broadcasting hundreds of Direct TV channels, you won't have to worry about missing a play. Look around every once in a while, and you might spot one of the various athletes and celebrities known to make special appearances and drop-ins at Velocity Five, including Redskins legends.
Fauquier County
McMahon's Irish Pub and Restaurant
50380 Broadview Avenue, Warrenton; 540-347-7200; www.mcmahonsirishpub.com
Take a load off in the restaurant or on the outdoor patio and enjoy the daily food and drink specials. Monday through Thursday, from 3 to 7 p.m. and from 11 a.m. to 7 p.m. on Saturday and Sunday, sit back and choose from McMahon's appetizing list of $5 finger foods including chicken tenders, vegetable spring rolls, burger and chicken sliders, chick wings, cheese pizza and more.
Molly's Irish Pub
36 Main St., Warrenton; 540-349-5300; www.mollysirishpub.com
This family restaurant located in old town Warrenton has drink specials 3 p.m. till 7 p.m., Monday through Friday and live entertainment four nights a week.
The Iron Bridge Wine Company
29 Main St., Warrenton; 540-349-9339; www.ironbridgewines.com
This posh restaurant and lounge hosts their happy hour on Fridays, from 5 to 7 p.m. The Iron Bridge Wine Company selects five wines and five appetizers to be priced at $5 a piece. Trivia questions begin at around 6:20 on Friday night, giving customers a chance to win gift cards to the bar and restaurant.
Loudoun County
Döener Bistro
202 Harrison St., Leesburg; 703-799-7880; www.doener-usa.com
Visit this restaurant for some very tasty and very reasonably priced German cuisine. Monday through Fri, Bitburger beers are discounted from 3 p.m. to 7 p.m. Experience some German heritage with any of Doener Distro's delicious dishes and diverse beers.
MacDowell Brew Kitchen
202 B. Harrison St. SE, Leesburg; 703-777-2739; www.doener-usa.com
The perfect place to "get away" from the suburbs, this brewpub features an outdoor beach complete with island decor. And from 4 -7 p.m. Tuesday through Friday wind down with $1 off beer and select wines as well as discounts towards quintessential bar appetizers: fried pickles, hand-cut fries, freshly made potato chips and beer battered onion rings.
Vintage 50
50 Catoctin Circle NE, Leesburg; 703-777-2169; www.vintage50.com
Vintage 50, a 10-barrel brew house, prides themselves on their strict use of in-season, locally grown produce and meats. Their high standards are reflected in their quality of food and environment. In the lounge, Monday through Friday from 3 to 8 p.m., all Vintage 50 beers are $3. On Mondays, burgers are half price until 8 p.m.; Tuesdays flat bread pizzas are half-priced from 3 to 7 p.m.; Wednesdays from 3 to 7 p.m. Prince Edward Island Mussels are $5 and on Thursdays and Fridays from 3 to 7 p.m., brewery favorites including spinach and artichoke dip, Ayshire Farm organic chicken wings, jumbo sourdough pretzel twists and traditional hummus are all $5.
Trending in NoVA
Subscribe & Save
From restaurants and shopping, to local events and activities, our monthly magazine is a must-read for anyone living or working in NoVA.
Subscribe