Aggio can be lovely. Interesting. Delicious.
It's also quiet. Early this year—January is a notoriously slow time for the restaurant business—Aggio was empty on a Thursday night and again on a Friday night. But that's not the whole story.
Aggio in Ashburn is a copy of the Aggio in Baltimore, which started as a pop-up within the D.C. restaurant Range.
Aggio in Ashburn, opened in August, was formerly Family Meal, a copy of the Family Meal in Baltimore, Hagerstown, Richmond and Frederick, the original location and the only one still remaining.
Where Family Meal blurred the line between a diner and a Southern-ish farm-to-table, casual-upscale restaurant with eggs all day, a fried chicken platter and shrimp and grits, Aggio is Italian. It's housemade pastas with of-the-moment menu staples like burrata and Brussels sprouts with bacon.
Leggy octopus drapes over fregola, tiny balls of pasta, smaller than a pea. The beauty lies in the combination of flavors at play: the buttery castelvetrano olive slices, a sweet puree made from pickled then smoked raisins, the bite from arugula, the crunch from almonds. It's a hefty bowl to start, and as we sip cocktails at the bar, figuring out how to get our fork tines to stick through these dough marbles, we forget we're still the only ones at the restaurant.
One Loudoun is home to lots of restaurants, burgers and upscale Thai, Indian and football-themed. Aggio fits snugly in what's happening now. A little comfort, a little trendy, a little star power.
Aggio is cut from Voltaggio. Bryan Voltaggio. Top Chef.
It's a tag that can guarantee buzz and fans filling seats. But with the foodie-fication of the world, can a Top Chef contestant command the same fame that would once draw Bravo watchers to restaurants?
It was almost 10 years ago that Voltaggio lost to his brother, Michael, in the Top Chef finale.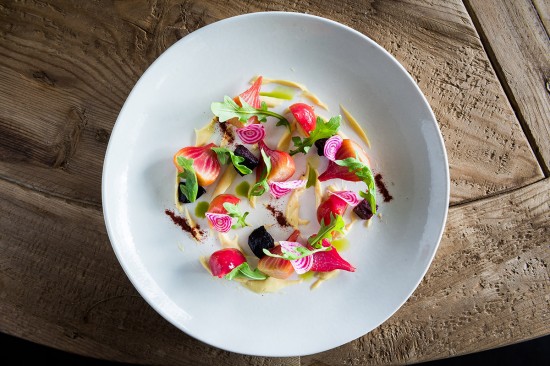 "I opened my first restaurant before going on TV," says Bryan Voltaggio, referring to Volt, the Frederick, Maryland, flagship in his crew of restaurants scattered across the DMV. (Voltaggio spends most of his time at Volt and Range and checks in with Ashburn's Aggio about once a month.)
But, he continues, "I can't deny the fact that it gave me this attention."
Voltaggio still gets asked to take selfies with guests, but he doesn't think his appearance on cable matters as much anymore. "It's not a part of my daily life," he says.
Maybe there's no better example of the death of the celebrity chef than the ill-fated D.C. restaurant Shaw Bijou. Kwame Onwuachi, a Top Chef season 13 (2015-16) contestant from the Bronx, set out to open what would be one of the most expensive restaurants in the city, requiring tickets, not reservations, for a multicourse dinner from a chef who had never run his own restaurant. He jumped his turn, and the press bit at the hypocrisy. They taunted the price and the prestige the restaurant tried to cultivate from its little-known talent.
The Washington Post critic dined there within days of its opening and concluded he needed a pizza after dinner. The Washington City Paper editor dined there soon after too, mocking its lack of finessed service. Washingtonian awarded two timid stars.
Then there was the deflated hubris. After the backlash, the restaurant cut prices. Two weeks later it closed. It served dinner for less than three months. The preopening buzz lasted at least four times as long.
Obituaries and think pieces rolled in.
"Could this foreshadow the decline of the 'celebrity chef,' where appearing on a television show counts just as much as experience on a resume?" asked Laura Hayes of Washington City Paper. "Maybe," she answered herself.
Aggio begins with high-end bread service, baked in-house focaccia rolls with two schmears: a whipped mortadella making the case for a spreadable meat revolution, plus a gentle ricotta, dented for a pool of oil and a confetti toss of scallions. Where bread service was once expected, it now signals the night ahead is headed toward a more fine dining-like experience.
Voltaggio, whose initial appearance placed him on TV in 2009, entered the scene on the crest of Top Chef-to-tabletop, when a rush of contestants returned to their hometowns or adopted cities to open their newly bold-named places.
This was the same season as Mike Isabella. It was two seasons after Spike Mendelsohn. Both came back to this area to start a family of restaurants.
Isabella has his footprint everywhere, from high-end Greek in D.C. to a ramen shop in Arlington to an entire food court, Isabella Eatery, planned for Tysons this year. He's also working with another chef from season six, Jennifer Carroll, who helms Requin in Mosaic (plus another version of the restaurant planned for D.C.). Mendelsohn enjoyed repeated visits from both Obamas and continues franchising his burger place, Good Stuff Eatery.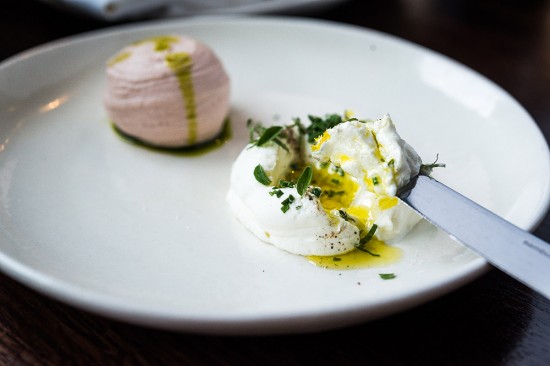 Voltaggio's latest project is with his brother, Michael: They opened Voltaggio Brothers Steak House in the new MGM Casino in Maryland's National Harbor late last year. It was a flashy opening among a swell of Voltaggio's closings and reconfigurations. With the turnover from Family Meal to Aggio, the Ashburn location menu replicates most menu items from the Baltimore location, but when it works, it works.
Chioggia beets, probably the most Instagrammed vegetable for its psychedelic swirl of magenta and white, are sliced see-through thin, scattered around a plate of beets, some roasted, some shriveled and intense like a raisin. Arugula floats atop. The magic touch is an Italian sauce made with tuna bringing a punch of creamy boldness.
The dishes, for the most part, mix Italian ingredients and foundations with modern touches. The space is not red and white and green. In fact, it's hardly decorated, or rather redecorated from its time as Family Meal. The space is big and airy with lots of windows and seating pushed to the walls. Seats also line a traditional bar (trust in their house cocktail list) and today's bar: stools set up for viewing the open kitchen.
That can mean watching flour and water turn into pasta. A fun, boxy shape that looks like a radiator, or radiatore in Italian, sits in a vodka sauce, luxurious and hearty but missing the notes of chili oil and smoked Parmesan the menu promises. It's still delicious. The fettuccine Alfredo was a true failure though, tough, underdone noodles in a sauce resembling a broth and not the blanket of cream enthusiasts expect. A soft 63-degree egg only added to the watery problem. (Voltaggio explains it's meant to be more of a riff on cacio e pepe than Alfredo, but it still doesn't hint at the brilliance-in-simplicity of that cheese-black pepper pasta dish.)
Chicken cacciatore is a lusty sauce with deep flavors from tomatoes and olives and peppers, though the chicken under the crispy skin led to some dry bites.
As the lone diner on one night, the server was extra chatty, and since I hadn't decided on my dessert for the prix fixe, she asked if the chef could serve something being workshopped for an upcoming menu. Yes. Sure. It's not fair to judge a cake still in progress, but the salty praline ice cream and the various sauces surrounding a chocolate sponge cake felt right.
Out front, signage still reads Family Meal. It's been about six months since the change. Voltaggio says Aggio is staying in the still-developing One Loudoun, a town center with disparate offerings. Or is that the point? Do people come here for a movie? For a doctor's visit? For a shopping spree? Or just for a burger? Don't they know there's a Top Chef in the house? 
Notes
Aggio
20462 Exchange St., Ashburn
Open for dinner daily and brunch on the weekends
Entrees: $18-$30