It wasn't what I wanted to hear.
"Welcome back!"
The anonymous critic side of me cringed. I try to keep a low profile, but the diner side of me smiled.
It was only our second time at the restaurant, and we were already recognized, offered bread right away. It's a tight space, this little restaurant in a strip mall in Springfield. You will be noticed. If you feel like family, that's because it's run by Omar Masroor, with his mother turning home recipes into restaurant dishes, his wife and daughter performing the actual cooking and another daughter waiting tables. Another one of his daughters will come in on the weekends to help wash dishes. His older son will stay home and watch the youngest of the Masroor children, a 4-year-old boy.
The father of five supported his family as a car salesman. But he couldn't do it anymore. He would leave for work early and come home when the kids were already in bed. He wanted a way to spend more time with them. He also wanted to bring his version of Afghani cuisine to Northern Virginia. He calls it pre-war.
Masroor, his brother and his mother fled Afghanistan in 1979. "Germany gave us asylum," says Masroor, who lived there briefly until moving to Maryland in 1982. His family survived on food stamps until his father came to this country. Back home his father was a judge, with a master's degree in finance. But he worked odd jobs in America until he started at the United Nations. "My father thought the war was going to end. We never bought a house; we never bought anything," says Masroor. "He kept saying, 'Next year we're going to go back.'"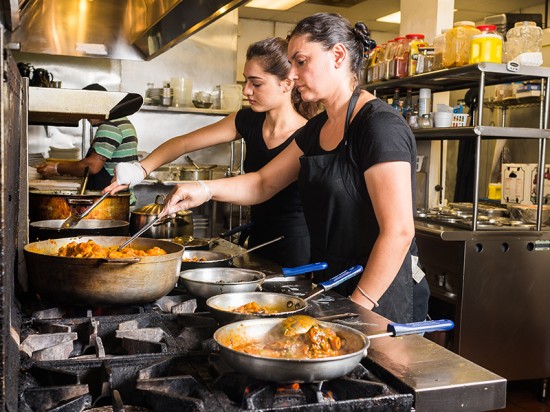 The wars never ended. And the family moved to Virginia, where Masroor's mother's relatives lived. They would often eat at Afghani restaurants here, but it was never true to the country's cuisine. There were gyros or hummus or curry … dishes that didn't belong.
He wanted his menu not to have the influence of neighboring countries. Afghanistan, he says "went through so much. We lost our art; we lost our music; we lost our poetry. We need to breathe back life into food. We can at least save this, before this disappears too."
In Springfield, it's not just a restaurant. It's a resurrection. And the food is impeccable.
Dishes have roots going back hundreds of years, like the lamb moghuli. It's reminiscent of Indian food, the garam masala tying it into that porous region of Central Asia. A huge, tender leg of lamb sits above a creamy sauce built from eggplant, tomato and chaka, a labneh-like yogurt. It is exotic and homey, heady in that mysterious way.
Chicken lawaan—lawaan is a style of cooking with yogurt—is a subtler dish, with cilantro giving a tip of brightness. A deep, comforting dish is sholah, though it's called risotto on the menu, but instead of the monotony of only rice, this porridge contains chickpeas, mung beans, black and red beans and lots of dill and parsley. It is savory and interesting. It can come topped with beef shank or with butternut squash and eggplant, both endearingly soft. They are tender, but they keep their structure. It is not a mush of baby food.
Those same vegetables, plus potatoes and a mix of just-sauteed greens (spinach, kale, mustard, turnip, collard), are on a mixed vegetable platter that is missing nothing, especially with a row of rice decked with shredded carrots and raisins.
These entrees are super-sized, but don't let that discourage you from ordering starters, especially anything that welcomes the four dynamic sauces on the table including a kicky avocado-based sauce and a mango one in equal measures sweet and hot. Dumplings, with a delicate wrapper encasing leeks and scallions, are best for the crumbly beef on top, mixed with yogurt and lentils. The seekh kabob is the standout on a mixed grill mezze, where an off-tasting salmon is the lone pock on an otherwise char-heavy plate of meats.
Masroor himself checks on each table, a tall, handsome man you can easily see putting you into a new car. He sold his house to pay for this restaurant. "I was so tired of my job," he says. His friends told him, "You're crazy for opening up a restaurant." He says, "Sometimes you gotta take this risk." It's the American way, really. 
NOTES
Afghan Bistro
8081 Alban Road, Springfield
Open Tuesday through Saturday for lunch and dinner; Monday dinner only
Entrees: $10.95-$24.95