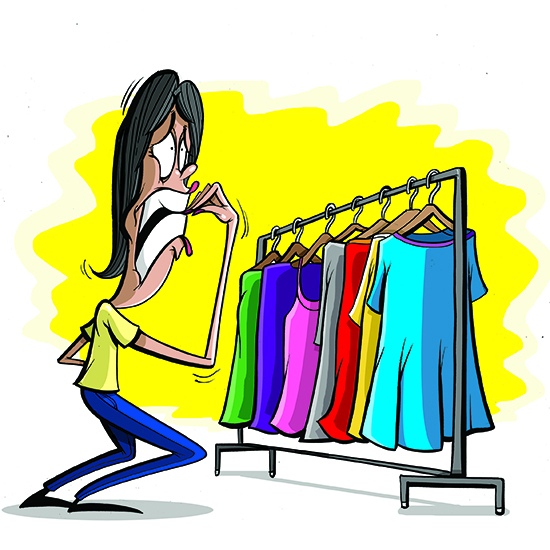 If I had to describe my initial attitude toward Stitch Fix, an online subscription and personal-styling service, it would be extremely begrudging. My cousin first referred me to them—she had actually clued me in to the company a few years back—and I had nodded politely but curtly, internally waving it off.
The Stitch Fix subject came up again last month, and I must say I took a little offense. Was my day-to-day wardrobe, largely consisting of T-shirts from college and jeans, coming off as subpar? Was my polite-but-curt nod not polite but curt enough to delay this conversation another three years?
True: I don't have "style" in the sense of what one would conventionally refer to as a style. But I like that about me. I could argue, and just decided to, that my eclecticism reflects where I come from: Northern Virginia. It's too heterogeneous to be bound by one styling principle, color scheme or Pinterest board. Also I can't figure out Pinterest, I'm not not colorblind … and I am quite cheap.
Clothes are not cheap. That's one of the ways we, clothes and I, aren't compatible. I furthermore understand nothing of rompers, and did you know adult women can wear jumpsuits?
I dislike time spent in a store, and clothing stores are the worst. From the time I walk into one, I have a 20-minute window before my skin starts to itch and I begin raking at it with my nails through my sleeves. I'm usually so desperate to escape that I end up buying the closest thing within reach in an absolute frenzy at the cash register—me in a frenzy to get the heck out of there, the salespeople in a frenzy to rid their store of a customer they assume has bedbugs. This is why most of my clothes end up being selected at Costco, on my way from the diapers over to the precooked meats. Also, being married, I wear a lot of men's clothes.
It turned out I actually did need a personal stylist, which means my cousin was right, which is just so like her. Personal stylists! Did you know they're not just for very rich people in rompers? I like to think my stylist takes an extra interest in me, knowing she's helping someone truly in need of it. Her name's Tiffani, and though we've never met or had a conversation in real time, I feel as though I know her quite well, from the cute notes she tucks into my packets of clothes. Tiffani often tells me she's very excited for me! That she hopes I like what she sent! That she's included some outfit suggestions for me here! She's a big fan of the exclamation point.
On the flip side, Tiffani knows all about me. You see, when you sign up for Stitch Fix, the first thing you do is fill out a fun survey. You know it's fun from the very fun-looking, very well-dressed girls smiling out at you from the website.
Take your style quiz! the site beckons. The girls—they beckon you, too.
Smiley Girls: Do you wear mostly jeans or dresses?
Answer: Mostly jeans.
SGs: How adventurous do you want your Fix selections to be?
A: Somewhat—I like trying new trends!
SGs: Which of the following styles would you like to incorporate more of into your wardrobe? Boho / Casual / Classic / Glamorous
A: I'm every woman. It's all in me.
Then the real fun kicks in. Stitch Fix shows you pictures of entire outfits, laid out piece by beautifully crafted piece, and you get to praise them or trash them, like an US Weekly red-carpet shamer. You always knew you'd be good at this, and you are. Hate it! Love it! Like it OK! Here's a new tip for you newbies: It's the most fun to hate—hate vehemently—almost all of them.
SGs: Great! Thanks for that input. Now—how do you prefer clothes to fit your top half?
A: Well. Appropriately. In a manner suggestive of shirts.
SGs: How do you prefer clothes to fit your bottom half?
A: Well. Appropriately. Are you going to Fed-Ex someone to hug me?
SGs: Are you a parent? What's your weight? What's your sign? Are you single? Do you earn money? How much money? Will you send us some?
Whoa whoa whoa, Girls-Unnecessarily-Still-Smiling. Things are getting a bit close for me here. Let's take a minute, cool off and talk brass tacks. Here's my dress size. You have dresses. Their pattern doesn't have to reflect my marital status or my attachment to my astrology sign (cool, very distant—about the same as my feelings on that hug). Send me one?
Here's the part where I wish I could post to the internet all the clothing Stitch Fix sent me, and I could do that, but I'd have to poison myself afterward for being the kind of person who posts clothes to the internet. (Stitch Fix does encourage such behavior in exchange for site credit, so lest you think this is a blind endorsement for their business, please know it's only for Tiffani, and she's taken.)
I'll just tell you. In the end, I received five pieces from Stitch Fix, including: two tops, a jacket and a pair of jeans. Blue, black, floaty, long, lacy, blue. I liked them. Actually, I really liked them. I didn't know it was possible to have clothes this nice after only clicking Stitch Fix's lowest price-range options, the ones listed with asterisks and tasteful little notes in italics and dove gray: We'll try our best!
The fifth piece was a dress, or something best described as a dress. Tiffani, I don't blame you. Maybe the dress was my fault. Maybe I didn't hate enough outfits. Or maybe, at the end of my survey where Stitch Fix encouraged me to include a link to my Pinterest account so they could gain a better understanding of my likes and dislikes, I shouldn't have written in, "You'll never break me."
I turned to my cousin, who had gotten me into this mess in the first place. Here was the problem with the dress: It required the upper arms and waistline of a high schooler combined with the confidence a high-school student could never possess. It had to be returned, if for no other reason than on principle. But I think Stich Fix must have brainwashed Tiffani, or sent her loved ones really nasty threats in the mail, because she had me backed into a corner here. If you keep all the pieces sent to you by your stylist, you receive a 25 percent discount. And the discount was a better cost savings than the money I'd get sending back that damn dress.
This was around the time my cousin confessed she's had a pair of purple velour Stitch Fix sweatpants stuffed in the back of her closet since 2012.
Twist!
There is a third female cousin between us. One who is in high school but won't be in five minutes' time. One who's very confident, very beautiful and bears the upper arms only achieved with years playing varsity volleyball. One who bears, too, the je ne sais quoi to pull off a pair of purple velour sweatpants.
One who has recently invited us to a graduation party, where it would be so rude to show up without gifts.
Tiffani, you sorceress.