He was back in his element.
Perched behind a drum kit for a Friday evening set at King Street Blues, Robert Swain gently tapped his way through the Beach Boys classic "I Get Around."
I get around
Get around round round I get around
From town to town
Get around round round I get around
As perfect harmonies cascaded from his bandmates in the Surf Jaguars (a local surf-rock ensemble), the song seemed to draw a flurry of nostalgic smiles and applause from the intimate crowd at the venerable Old Town Alexandria haunt.
The warm reception even drew a small corner-of-the-mouth smile from Swain himself, who had to feel a bit lucky to even be playing there that night. After all, less than two years earlier, in late 2014, he had suffered an ischemic stroke that precariously put his life in the balance.
"I am so fortunate. I'm just incredibly lucky to have escaped the stroke with the faculties that I do have," says Swain, 68, who also plays with King Street Bluegrass and works as a lawyer for the federal government. "It's a joy to be playing music again."
According to the American Stroke Association, nearly 800,000 people nationwide suffer a stroke every year. Stroke is a disease that affects the arteries leading to and within the brain, and it occurs when a blood vessel that carries oxygen and nutrients to the brain either bursts or is blocked by a clot. When the brain does not receive blood and oxygen, cells begin to die and abilities controlled by that area of the brain such as memory and muscle control are lost.
"I just knew he was going to make it, and when he finally did make it, I knew he was going to recover," says Roger Hart, who plays harmonica and sings with King Street Bluegrass. "People who have strokes, they do recover. They just have to practice, train and start from square one again. With work and practice and diligence, they can come back. And we never really gave up hope on him."
"I Couldn't Respond"
In November 2014, Swain and his King Street Bluegrass mates had just returned from a two-week trip to Ireland to play at the South Roscommon Singers Festival, an experience that had been a revelation for the band.
"It was one of the greatest experiences of my life," Swain recalls.
Early one fall weekend, he was taking his dog on a walk through his quiet Alexandria neighborhood. He sensed something was different. He didn't feel quite himself. Something was not right.
"[Nancy and I] woke up Saturday morning, and I didn't know anything was wrong," says Swain, whose companion, Nancy Lisi, also plays in both bands. "I took the dog out, and on the way back, my neighbor said something to me, and I couldn't respond. No words would come out. Nothing. So I went upstairs to tell Nancy, 'I can't speak.' She said, 'Get in the car.'"
In retrospect, the incident had all the telltale warning signs for stroke: facial irregularities, arm weakness and speech difficulties (aphasia). Time was of the essence.
"I knew the minute that I lost my speech that I was having a stroke," Swain says.
After a brief visit to Inova Mount Vernon Hospital and a second smaller stroke, he was transferred to Inova Alexandria Hospital. The cumulative effect of years of smoking and rampant high blood pressure had made Swain a walking stroke risk.
"The doctors said he was a stroke waiting to happen," Lisi says.
Unable to communicate verbally, Swain had to blink his eyes to consent to an emergency procedure. Doctors threaded a device through his femoral artery all the way to his brain and alleviated the clot.
"The surgeon was concerned about going into such small places, but if he had not, [Robert] would have been just nonresponsive," Lisi says.
After the clot-busting procedure worked, Swain knew he had survived the worst.
"It's been said that a stroke is a storm in your brain, and what you're left with after the storm has passed is what you have," says Swain, who has worked at the Department of Labor for over three decades. "I was lucky because after the storm had passed, I still had some speech. I had some movement in my right hand."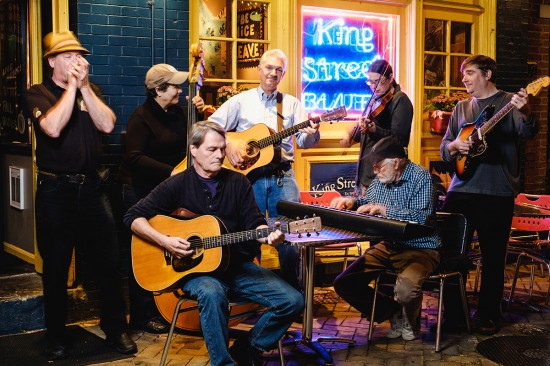 After The Storm
For Swain, surviving the stroke would begin a long road to recovery. After the initial brain event, Swain continued to receive treatment at Inova Alexandria Hospital and slowly got better. After maxing out the hospital coverage provided by his insurance (six to eight weeks in the hospital), he sought additional support at the Stroke Comeback Center, a nonprofit based in Vienna where he continues to receive regular care. The center provides long-term programs for survivors with aphasia and other communication difficulties at an affordable cost.
"They do incredible work," Swain says. "I have been blessed to find them."
The recovery process has also been a community effort. Members of the Capital Area Bluegrass and Old-Time Music Association provided Swain with a special bed with a therapeutic mattress. They raked the leaves and cleaned his house. A friend purchased an iPad so he could download speech-improvement apps. His neighbors in Jefferson Manor, a quiet community built in the late 1940s, brought meals and provided other assistance.
"[CABOMA] has done so much," Lisi says. "It's unbelievable. They really need a lot of credit because there's just been an outpouring from the members. The help that he's gotten, it's just been one [gesture] after another. We couldn't have asked for more than what we've got."
Simple activities of daily living that would have come naturally to Swain before his stroke have required a steep new learning curve.
"Fortunately, he was able to recover enough to drive again, tie his shoes and start doing things around the house," Lisi says. "He had to learn everything from the ground up in a matter of a couple of months."
During his absence, it also took a community effort to fill his musical shoes. King Street Bluegrass continued to play gigs, but not only did they need a new singer, they also needed a new banjo player. Swain had done both, a rarity in bluegrass circles.
"It was really devastating to us," Lisi says. "The banjo is this very complex instrument, and there are not a lot of people who can play banjo and sing at the same time. It was hard to find someone to replace him."
Donnie Faulkner, an award-winning front man, became the lead singer, and Rob Waller, a versatile local musician, offered to play banjo and guitar.
"It took two people to replace Robert," Lisi jokes.
"The band could have just fallen apart … but we wanted to keep [it] together for him," Hart says.
While recovering, Swain stayed in touch with his work regularly, and his supervisor provided updates to his concerned government colleagues. Just four months after his stroke, he was able to return to work at the Department of Labor. His co-workers are aware of his speech difficulties, and he is still able to run meetings.
"There are two reasons why I returned to work. One, I love the people that I work with. But two, it's such good therapy," Swain says.
His very first gig after the stroke was a performance at a chili cook-off event at Greenspring, a retirement community in Springfield.
"Robert's not doing anything high-powered on the drums, but you know what, we don't care," Lisi says. "People have occasionally offered to be our drummer, but we're like, 'No, we have a drummer.' We like him."
Swain doesn't have the speed that he used to, and he's not able to play the banjo yet in a professional setting. And while he continues to endure speech difficulties, especially with speed and enunciation, his voice remains a beautiful baritone.
"I am very impressed and pleased that Robert is back performing music. He is real trooper and an inspiration to all of us," says Freddie Szilagi, founder and former leader of King Street Bluegrass who now lives in New Orleans. "When I heard about his stroke, we were all devastated. Music had become a central part of his life, and [for him] to not have that was heartbreaking."
Dr. Thomas Smirniotopoulos, a local musician himself and board-certified internal medicine specialist, treated Swain at Inova Alexandria Hospital and has also been impressed with his rapid recovery.
"My biggest concern was that Robert's speech would be affected," Smirniotopoulos says. "The dominant side of the brain is the left, which causes weakness of the limbs on the right side but also affects speech and language comprehension."
Recent studies by researchers at Wake Forest Baptist Health Comprehensive Stroke Center have suggested that musicians with enhanced motor skills possess greater capacity for recovery due to enriched neural connections.
"Interestingly, the right side of the brain is thought to be the creative hemisphere and more important in music comprehension," says Smirniotopoulos. "Because both hemispheres must work together to create and appreciate music, I think it is likely that musicians have stronger connections between the right and left hemispheres of the brain."
A History of Overcoming Adversity
Swain's musical roots and ability to overcome challenges trace their way back to his childhood. He was abandoned by his birth parents as a one-month-old in New York City and spent his first year of life in the maternity ward of the Jersey City Medical Center. He was later adopted by a Quaker farm family and grew up in Manasquan, New Jersey, a borough in Monmouth County. He went on to attend Guilford College, a small liberal arts Quaker school in Greensboro, North Carolina. It was at Guilford where he first heard bluegrass.
"That music came right out of the mountains, and the harmonies just grabbed ahold of me," he recalls.
In 1974, he moved to Washington, D.C., and earned his law degree from the Antioch School of Law. Apart from a brief stint working at the White House, he has been at the Department of Labor ever since.
"He went from being an abandoned baby to a music lawyer. I think we wrote a song about that one time," Lisi jokes.
Swain first started with King Street Bluegrass in 2008, plying his trade in the open air of Old Town Alexandria. The band occupied a choice spot near the Torpedo Factory, just a guitar-pick toss away from Alexandria's celebrated waterfront.
"We spent countless days and nights playing [on] King Street," Szilagi remembers. "Robert was our perfect partner. Always down to play anywhere anytime … I was most impressed with his dedication to improve, his incredible knowledge of bluegrass music as well as his easygoing but focused personality."
After Szilagi left for New Orleans, Swain's smooth baritone and guitar and banjo chops made him the natural choice as King Street Bluegrass' lead singer.
At their gigs now, Swain is no longer the figurehead, but he certainly is an inspiration. Lisi says they often share Swain's stroke experience with the audience.
"A lot of musicians, when they have a stroke, they hide it. Robert [does] not," Lisi says. "He said, 'I am a stroke survivor.' It's to give other people hope."
In addition to raising stroke awareness, Lisi is also the founder of CatJam, a charity effort where local musicians play events at area venues and donate their tips to charity. The proceeds go to a different charity each month and in the past have included the Fisher House, a nonprofit that helps military families when a loved one is receiving medical treatment, as well as several animal-rescue organizations. Lisi estimates that the CatJam gigs have yielded nearly $100,000 over the years.
"Robert and Nancy have raised [resources] for local charities with little to no fanfare," Szilagi says. "They are heroes to many and especially to me."
Ultimately, Swain hopes to get back to where he was with his banjo-playing again someday.
"I can't play banjo. I am working at it, but it's going to take a long time to get the banjo back," he says. "I don't know if I'll be able to play it professionally again, but I am going to try. I want to be able to sit on the porch and play banjo for my grandchildren. That's important to me."