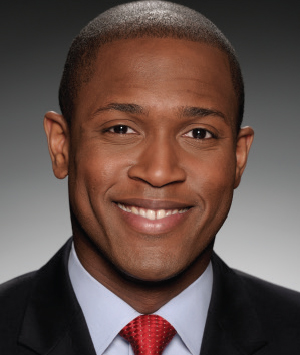 Courtesy of NBC4
MORNING MALE NEWS ANCHOR
Aaron Gilchrist
Moment you knew this was the career you wanted:
I was 16 years old and was invited to host a live call-in TV program for the Richmond public school system about voter registration. By the end of the program, I had sweated so badly that my shirt was soaking wet. At that moment I thought, "I want to be a broadcaster."
Who do you most admire?
Right now, I've come to admire my 31-month-old godson. He lives a life of perpetual awe and discovery. He's inspired me to remember the potential that each day holds and to slow down and appreciate it.
When and where were you the happiest?
Nothing warms my heart more than seeing kids excel. Whether it's a little one reading or an older kid giving their first speech or teenager walking again after a terrible accident, I love to see young people work hard and win.
Which talent would you most like to have?
I really wish I could sing. My friends and coworkers probably wish I would stop trying.
What do you consider your greatest achievement?
I was the first in my family to go to college. I remember the pride on my granddad's face. Making him so proud was my greatest achievement.
What quality do you most admire in another person?
Candor.
---
Best of NoVA 2015: