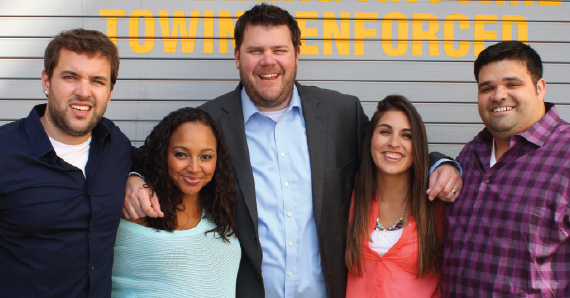 Courtesy of The Kane Show
MORNING DJ
Kane Show
Moment you knew this was the career you wanted:
The minute I walked into the station to start my internship at 16. I had to beg my parents to let me borrow their car, drive an hour, all to answer phones, arrange music and wash vans at a Top-40 station in Connecticut.
If you weren't in your current position, what would you be doing?
Probably an airline pilot.
Who do you most admire?
My father. He's the guy who always has the answer to everything.
Which words or phrases do you most overuse?
Probably "JOOOHHHNNNN!" I feel like he's me 10 years ago. You know, before you get married, have kids and a grown-up filter.
You're on a deserted island with plenty of food and water—what three things do you bring?
A boat, something to get on the Internet and plenty of fuel to get off the island and find another island with people.
Which talent would you most like to have?
I wish I could dance.
What is your superhuman power?
Multitasking. Live radio leaves no room for mistakes or time to "think about something."
What do you consider your greatest achievement?
My marriage is my greatest achievement.
If you died and came back as another person or thing, what would it be?
Why do I have to die?
What is your most treasured possession?
Our fans and listeners first and foremost. Followed closely by the people I get to work with everyday.
What quality do you most admire in another person?
Altruism.
---
Best of NoVA 2015: