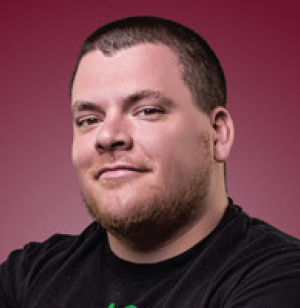 Courtesy of Chad Dukes
AFTERNOON DJ
Chad Dukes
If you weren't in your current position, what would you be doing?
Working at Home Depot. I have no backup plan.
Who do you most admire?
Broadcasters who aren't afraid to speak their mind in the current political climate this country finds itself in.
Which words or phrases do you most overuse?
"I hate everyone I work with." "Please stop screaming about pho." "You're not a foodie. You just like food. We all like food." "I get it, you like soccer."
Which talent would you most like to have?
The ability to turn down a nice slice of pizza
What is your superhuman power?
I can drink an enormous amount domestic light beer. Like a disgusting amount.
What do you consider your greatest achievement?
Owning dogs. They are better than people.
If you died and came back as another person or thing, what would it be?
I really don't know, but I would need to have an alien symbiote bonded to my mortal form.
What quality do you most admire in another person?
Being polite. We live in a society. Don't be a dick.
---
Best of NoVA 2015: