From Hat Tricks to Triple Axles
Lace up your skates and take a turn on the ice at these local rinks.
By Peter Smolens
Ice skating rinks are a hot bed of activity. Between moms taking their little ones for a mid-morning skate, friends making an evening of fun on the ice, or ex-college players returning to the rink, there's always a crowd at Northern Virginia's skate houses. So bundle up with a friend or bring the whole family to these indoor and outdoor ice skating facilitates.
Facilities Overview
Many of the arenas in the area have two rinks. One for ice hockey and the other for figure/public skating. For those that only have one rink, time is blocked off for specific activities. Other facilities available include: a full-service pro shop where you can purchase figure skating or hockey equipment; ice skate rentals; and a counter cafe or a full-size restaurant.
While waiting to skate, some rinks offer a video arcade, as well as Wi-Fi connections so parents can work while their children are skating, playing hockey or taking lessons.
Remember, before you tie on your skates make sure to call ahead because the hours are subject to change, especially at indoor rinks.
Permanent Ice Rinks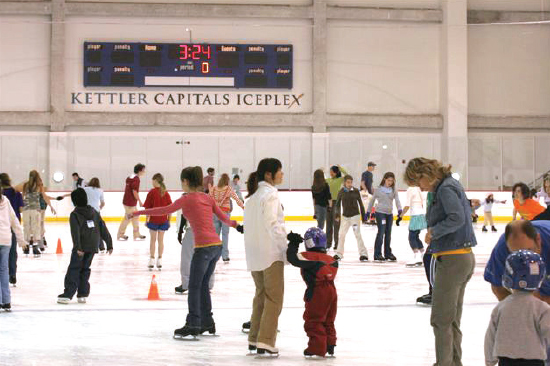 Kettler Capital Iceplex
Kettler Capital Iceplex has a lot going for it. Located on top of Ballston Mall in Arlington, it features two rinks, one for general skating and the other is the home the Washington Capitals. On many mornings during the hockey season, fans can watch the team practice (10 a.m. on game days, 11:30 a.m. on non-game days). When the Capitals are not using the hockey rink, there is a full slate of local team practices or an open pick-up game which features hockey players at all levels, many ex-college players who want to "lace up the skates and relive their glory days." 6627 N. Glebe Road, Arlington
Ashburn Ice House
Featuring two NHL-size ice rinks, the East rink holds hockey games. There is always pee-wee to adult leagues hockey game being played. The West rink is used for figure and public skating. See the web site for public skate times. Individual and group lessons are available. In addition there is a full size restaurant, video arcade and pro shop that rents out skates. 21595 Smiths Switch Road, Ashburn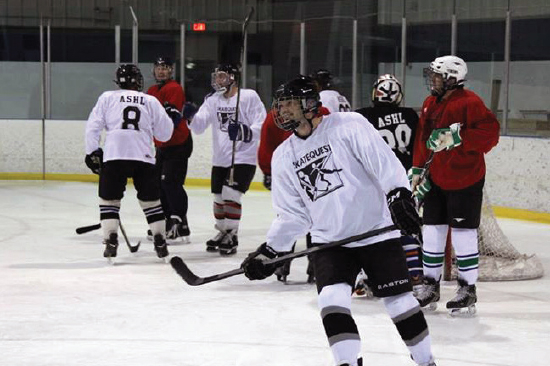 SkateQuest
SkateQuest has been home to recreational skaters, figure skaters and hockey players since 1993. Located in Reston, it features Olympic- and NHL-size rinks. One rink is for public and figure skaters. The other ice rink has a full slate of hockey games. They also offer a full line up of learn-to-skate lessons, figure skating and hockey camps throughout the year to improve your skating skills. Many of the teachers are former national and Olympic competitors. Other services include a full-service pro shop, café and party rooms. 1800 Michael Faraday Court, Reston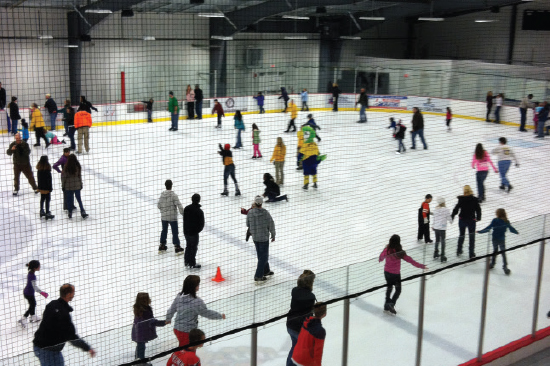 Prince William Ice Center
Originally opened in 1996, the Prince William Ice Rink has had an unusual history. During the blizzard of 2010, the building collapsed and no part of it could be salvaged. It was completely redesigned and rebuilt, and reopened in 2011, making it the newest rink in the area. Prince William Ice Center offers a full program of recreational and competitive figure skating, ice hockey, curling and speed skating. They offer learn-to-skate and play hockey programs. 5180 Dale Blvd., Woodbridge
Fairfax Ice Rinks
This is a basic ice rink, in a structure with a low ceiling. At different times during the week there is public skating, learn-to-skate classes, figure/freestyle skating and hockey games. The rink offers fundraising event opportunities and skating parties. Skate rentals are available. 3779 Pickett Road, Fairfax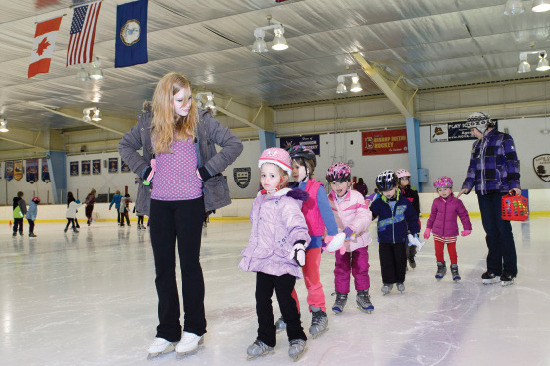 Mount Vernon RECenter
As part of the Mount Vernon RECenter, this ice rink is Fairfax County's only publicly-owned indoor ice arena. The multi-purpose center has a single NHL official-size rink. At different times they offer public skating sessions. At other times the rink is used for hockey games at different levels. Learn-to-skate classes are available for all ages and abilities. Hockey and figure skating classes are taught by World and Olympic-class coaches. 2017 Bellview Blvd., Alexandria
Haymarket Iceplex
Haymarket Iceplex was originally built to be a temporary solution to a problem. The Prince William Hockey Club used the fees paid for ice time, along with volunteer labor from its members, to build this ice rink. Nicknamed the Lumberyard because the building was formerly an 84 Lumber warehouse, it has since taken on a life of its own. A bare-bones single rink, it's used mainly for local hockey games. There are now plans to add a second rink and many conveniences found at other ice rinks in the area. 15155 Washington St., Haymarket
Outdoor Temporary Ice Rinks
When the weather turns cold, areas in downtown Manassas, Reston Town Center and Pentagon City Mall put up boards and create ice, turning pavilion areas into ice skating rinks. These rinks are mostly used for public skating.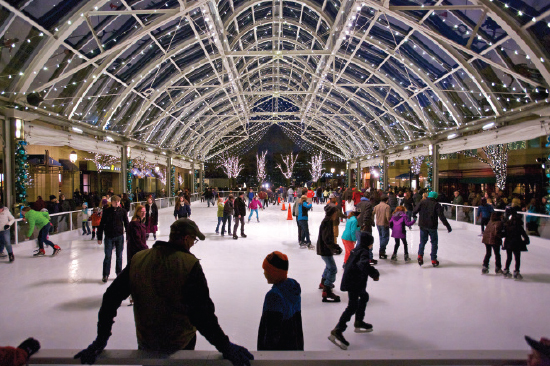 Reston Ice Rink
Located in the middle of the Reston Town Center, a popular shopping and dining destination, is a family-friendly ice rink. From early November to March, the rink is available for public skating. Hours are Sunday-Tuesday: 11 a.m.-7 p.m., Wednesday-Thursday: 11 a.m.-10 p.m., Friday-Saturday: 11 a.m.-11 p.m. There are also special events including Rock 'n Skate on Fridays from 8 a.m.-10 p.m., and Cartoon Skate on Saturdays from 11 a.m.-1 p.m. Learn-to-skate programs and party rentals are available. / Admission: adults $10, children under 12 and seniors (55 & up) $9. Skate rentals are $5. Season passes are also available. 1818 Discovery St., Reston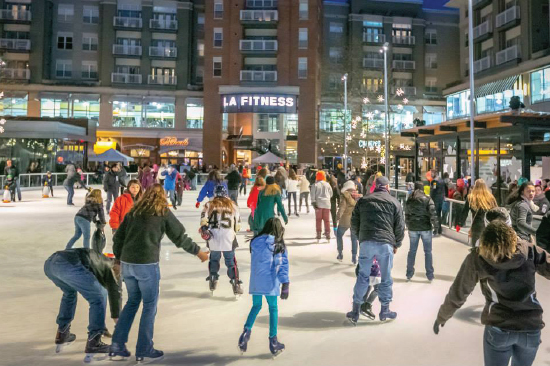 Pentagon Row Ice Rink
The popular shopping center in Pentagon City offers ice skating, party rentals, skating lessons and ice hockey lessons. Hours are Sunday 10 a.m.-7 p.m., Monday-Wednesday noon-10 p.m., Thursday noon-7 p.m., Friday noon-11 p.m,. Saturday 10 a.m.-11 p.m. / Admission: adults: $8, children/seniors: $7. Skate rentals are $3. 1201 S. Joyce St., Arlington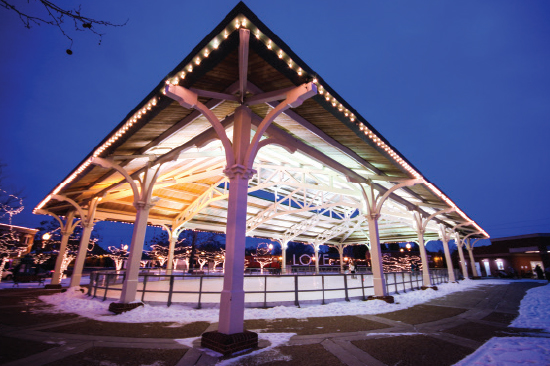 Manassas Rink (Harris Pavilion)
In November when the temperature drops, the outdoor pavilion is converted into an open-air ice skating rink in the heart of Old Town Manassas. Open Mondays – Thursdays, 3-8 p.m.; Fridays 3-10 p.m.; Saturdays noon-10 p.m.; Sundays 12-5 p.m.; Free skate on Wednesdays in January from 6-8 p.m. / Admission: adults $8, children 10 and under $7. Skate rentals are $4. 9201 Center St., Manassas
(January 2015)