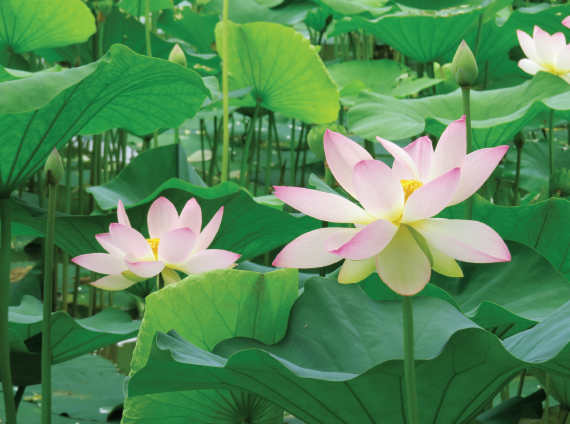 Photography by Don Sweeney / FCPA
Kenilworth Gardens
A tropical paradise in the District
Kenilworth Aquatic Gardens is one of the D.C. area's most unique habitats and a dream come true for nature photographers and painters. This hidden gem is located in a residential D.C. neighborhood on the banks of the Anacostia River and is well worth the trek from NoVA. With its man-made pond system and its thousands of rare water lilies and colorful lotus flowers, visitors might feel like they've left the District and entered a tropical paradise. Birdwatchers, too, will be pleased: Over 250 species of birds have been spotted here, and it's not uncommon to see great blue herons, great egrets, osprey, red-shouldered hawks, bald eagles and half a dozen species of woodpeckers and wrens. Walking trails are short and don't interconnect, but it's easy to spend several hours exploring the ponds and photographing the great variety of flowers and birds that call Kenilworth home. In addition to pond tours, which run 10 a.m. to 4 p.m. through the summer, the park hosts the annual Lotus & Water Lily Cultural Festival every July as well as frequent lecture and junior ranger programs. Although the park is open year-round, lotuses and water lilies are only in bloom May through September with peak bloom times in July and August.
Hours: 7 a.m.-5 p.m.; no entrance after 4 p.m.
Fee: None
Size: 700 acres, 12 acres of aquatic gardens
Great for: Picnicking, pond tours, birding, photography, painting, walking, lectures, ranger programs
Other activities/amenities: Sports fields, restrooms, water fountains
Know before you go: Many water lilies and lotuses close in temperatures above 89 or 90 degrees, so ponds tend to be at their most beautiful earlier in the day when summer temperatures are lower. The park is off the beaten path, but visitors should feel perfectly safe during busy summer weekends. Birdwatchers and photographers should arrive early in the morning or during the week to avoid crowds.
Where: 1550 Anacostia Ave. NE, Washington, D.C. Those who don't want to drive into D.C. can take the Orange line to the Deanwood Metro Station.  
Northern Virginia's Best Urban Parks
(July 2015)