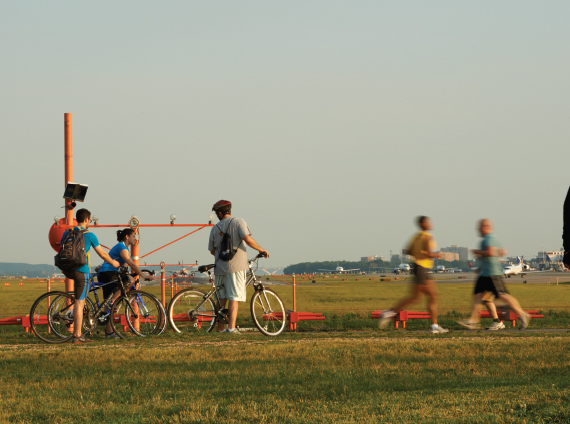 Courtesy of Cameron Davidson /CameronDavidson.com. Virginia Tourism Corp.
Gravelly Point Park
People- and plane-watching on the Potomac
It might not seem like much at first, but Gravelly Point happens to be the region's ultimate plane-watching spot. With Ronald Reagan Washington National Airport's runway just 400 feet away, Gravelly Point offers unequaled views of plane takeoffs and landings, depending on the direction of the wind. It's easy to be awestruck by the sight of commercial airliners flying so low, sometimes just 100 feet overhead, but Gravelly Point is so much more than just a plane-watching hot spot. The park is off the tourist circuit and attracts mostly locals, making it a microcosm of the D.C. area. In nice weather, families picnic alongside 20-somethings playing Frisbee and volleyball, lovey-dovey couples enjoy the views of the Potomac, and joggers and bikers make their way off the Mount Vernon Trail to rest and enjoy the live entertainment. On nice weekends it feels like every square inch of grass is taken up, and you may find yourself sharing a picnic with the dozens of seagulls that hang out at the park, seemingly undaunted by the sound of thundering planes above. Visitors can expect planes to take off or land every few minutes, making for a noisy picnic. Those arriving on bike can continue 4.5 miles south to Old Town Alexandria or 4 miles north to Rosslyn on the Mount Vernon Trail.
Hours: Dawn to dusk
Fee: None
Size: 38.32 acres
Great for: People-watching, picnicking, plane-watching, jogging, biking, views of the Washington Monument
Other activities/amenities: Volleyball, port-a-potties
Know before you go: Visitors with young children or sensitive ears probably only want to stick around for a little while as the planes can be quite loud. There are only a few picnic tables here, so make sure to pack your picnic blanket before heading out. Keep in mind that the park gets very busy on nice weekends, so visitors may need to circle the parking lot a few times before finding a spot. It's generally easier to find a spot before 10 a.m. Peak time for landings and takeoffs is 9 a.m.-5 p.m.
Where: George Washington Parkway, Arlington. Note that the park is only accessible from the northbound lanes of the George Washington Parkway. Getting here can be a bit tricky—if you miss the exit, you have to do a 4-mile loop to get back to the park.
Northern Virginia's Best Urban Parks
(July 2015)