The Recipe for Success
While many of us prefer a quick, chef-prepared meal to our own creations, it could be a habit that is keeping us from achieving our ideal bodies. The International Journal of Obesity found in a recent study that more than half of adults that eat more than three meals away from home have higher body mass indexes than those who do not. In order to combat the urge to grab something nearby for your next lunch, we reached out to Lauri Bosserman, RN, CHHC and owner of Well and Good Studio in Leesburg, to create healthy lunch recipes and snacks to keep you full throughout the day.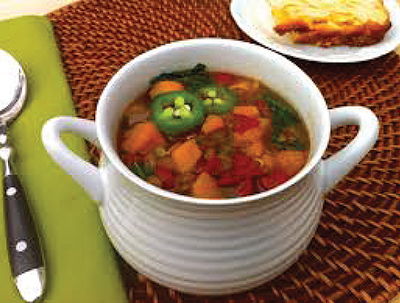 Harvest Lentil Soup
8 servings
"It's hard to beat this hearty soup when you're looking for a delicious meal complete with lots of nutrients. Lentils are high in protein and fiber and low in fat, which makes them a healthy substitute for meat. They are also packed with iron, folate, phosphorus and potassium.
"The sweet potatoes in this recipe can be replaced with any winter squash (such as butternut or delicata). Just peel the squash and dice it. Lentils can also be substituted with any other bean that's already been cooked. This recipe makes eight servings, so you can feed a crowd or enjoy leftovers later in the week to bring to work with you."
INGREDIENTS:
1 1/2 Tablespoons extra virgin olive oil
1 medium yellow onion, diced
1 carrot, diced
3 large garlic cloves, minced
1 small jalapeño, minced
1 teaspoon dried oregano
1 teaspoon dried basil
1 large red pepper, diced
1 large sweet potato, diced
1 teaspoon sea salt
1 teaspoon ground cumin
1/4 teaspoon ground coriander
1/4 teaspoon ground cinnamon
3 medium tomatoes, chopped
1/2 cup dry lentils, rinsed
PREPARATION:
1. Heat oil in a large pot on medium heat.
2. Add the onions, carrots, garlic, oregano and basil. Sauté for 2-3 minutes.
3. Stir in the jalapeño and sauté another 2-3 minutes.
4. Add the sweet potato, salt, cumin, coriander, cinnamon and 4 cups of water.
5. Bring to a boil. Add tomatoes and lentils, then turn heat down to a simmer.
6. Cook, covered, about 35 minutes (until lentils are cooked through). Serve hot.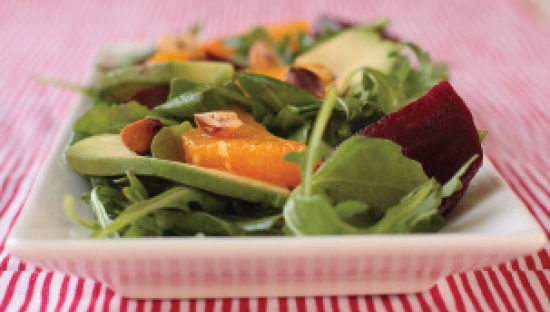 Arugula Orange Salad
2 Servings
"Arugula is a powerful antioxidant and has anti-inflammatory properties, which means it's great for disease prevention and good for our immune system as we head into the cold and flu season. I love this super simple salad because it's tasty, refreshing, and easy to make. Add chicken for extra protein."
SALAD INGREDIENTS:
3 cups fresh arugula
1 orange (navel or blood); rind removed and fruit sliced into discs
1 avocado; sliced into long, thin strips
1-2 roasted beets or 1 raw beet shredded (optional)
2 Tablespoons sunflower seeds (optional)
DRESSING INGREDIENTS:
Juice from 1 lemon
1 teaspoon Dijon mustard
1/4 cup olive oil
1/8 cup apple cider vinegar
Salt and pepper to taste
PREPARATION:
1. Arrange orange discs and avocado slices in alternating pattern on top of arugula. Incorporate beets, if using.
2. Blend dressing ingredients together in a bowl or blender.
3. Drizzle with dressing.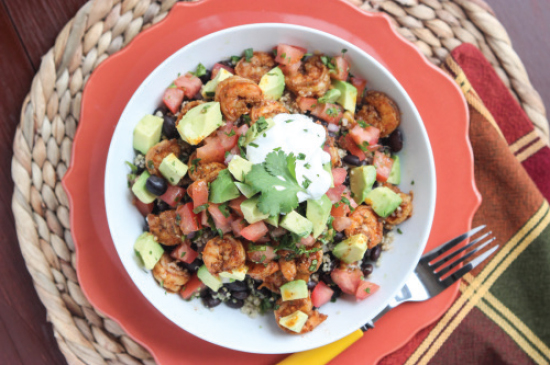 DIY Bowl
"This Do It Yourself bowl is the quick-fix to a healthy meal. I like to create a small bowl piled high with either what I choose or what I have on hand from the following list."
INGREDIENTS:
1/3 cup whole grain; choose quinoa, millet or rice (or you can replace this with extra veggies)
1 portion of protein; choose grilled chicken, fish, shrimp, tempeh or beans
1 large serving of steamed vegetables; choose broccoli, cauliflower, leafy greens, carrots, beets, mushrooms, squash, red peppers
Dressing of choice (make your suggested dressing below or choose one with simple ingredients that doesn't include sugar)
Sprinkling of hemp seeds or sesame
seeds (optional)
PREPARATION:
1. Cut vegetables of choice into similar sizes so they cook evenly. Set aside.
2. Prepare your grain of choice or use leftovers from a previous meal.
3. Cook protein of choice or use leftovers from a previous dish. Eden brand canned beans, drained and washed, or wild canned salmon also work well.
3. Steam vegetables to desired doneness. We prefer to leave them slightly crisp.
4. Prepare your bowl by placing your grain on the bottom, then layering on top with lots of your steamed veggies, your protein of choice, and pouring on some dressing.
Sprinkle seeds on top as you wish.
Remember to include protein, veggie or fruit, whole grains (or more veggies) and healthy fats in each and every meal. As an example, here is one of my favorite DIY bowls for lunch using this approach:
Veggies/Fruit: Steamed Kale, Avocado
Protein: Beans
Whole Grains: Quinoa
Healthy Fats: Drizzle 2 tablespoons olive oil with a pinch of sea salt.
Spicy Sesame or Peanut Dressing for DIY Bowl
"This is one of my favorite dressings to pour over a DIY bowl. It has an Asian flavor that will leave you wanting more. The great thing about making your own dressing is that you can store the leftovers in the fridge and use it on salads or stir frys in the coming week. Really, it's not that hard. Just throw the ingredients in a food processor and you're good to go."
INGREDIENTS:
6 cloves of garlic
1-inch knob ginger, peeled and chopped
1/4 teaspoon chile flakes
6 Tablespoons unsweetened toasted sesame paste (tahini), peanut butter or sunflower butter
2-4 Tablespoons olive oil
5 Tablespoons wheat-free tamari
3/4 cup water or broth
1 Tablespoons coconut sugar or honey
PREPARATION:
Add all ingredients to a food processor or blender and process until well combined.
(January 2015)