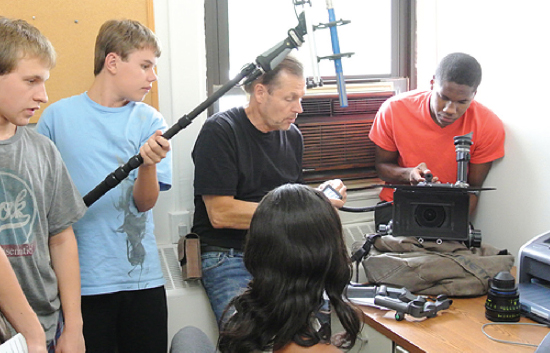 Courtesy of Discover the World of Communication / American University
Washington, D.C.
Does your child have a passion for foreign policy or communications? American University offers two camps—Discover the World of Communication and the Community of Scholars Program—for high school-aged children aimed to get them involved with aspects of the real world.
Discover the World of Communication is a camp taught by both the AU School of Communication faculty and communication professionals. Topics include scriptwriting and video production, professional newswriting, backpack journalism, international communication, entertainment communication, investigative journalism, video game design, 16 mm film and many more. Throughout this program, campers will explore the city from a variety of angles through activities, guest speakers, events and field trips that occur regularly throughout the summer. By the end of the professional, hands-on workshops, campers will know how to build a digital portfolio; script, shoot and edit a film; write a news story like a pro; speak with confidence; persuade; inform; educate; and entertain.
The Community of Scholars Program takes place at AU's School of International Service. It provides academically outstanding high school students with the opportunity to take a three-credit course that blends a week of online learning with two weeks of traditional on-campus classes. The program introduces students to the advancing fields of U.S. foreign policy and international conflict resolution. Students will experience how national and international leaders put theory into practice through guest speakers, site visits and an introduction to the institutions of Washington that turn ideas into action.
The online component of this camp takes place during the first week of the camp, July 6-12, and features video lectures to be accessed via a web portal using podcasts. All online material is accessed at home at hours that suit students' schedules. During this period, students gain a foundation in the course topics to prepare them for the remainder of the course.
The on-campus component takes place from July 13-24. During this time, students attend class from 9 a.m. to noon followed by lunch and afternoon activities, including site visits to Washington institutions such as the State Department, Pentagon and embassies; guest speakers; Model U.N.-style simulations' and college skills-building workshops taught by AU staff. —Rebecca Norris
(March 2015)