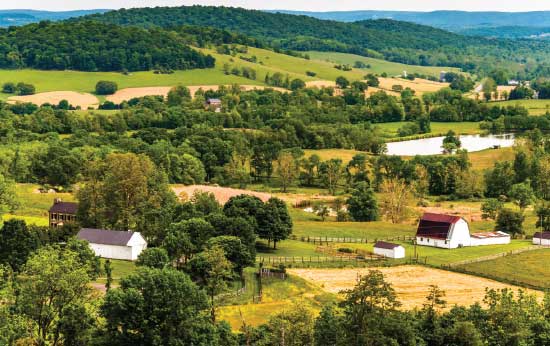 Sky Meadows State Park
Endless Views Deep in Virginia Horse Country
By Jisel Penilla
Sky Meadows is close to the D.C. suburbs and located right off I-66 or Route 50, making it an easy drive for most NoVA residents. Situated deep in Virginia wine and horse country, Sky Meadows State Park is one of Northern Virginia's loveliest parks and offers up superb mountain vistas, diverse geology and terrain. The park consists of meadows, interesting historic buildings and sites, scenic overlooks, streams and rocky terrain. With 24.5 miles of mostly interconnecting trails, visitors can make their hike as easy or challenging as they like. There are about 20 short trails that can be connected to make a scenic loop of the park. The park's more interesting hikes require some ascents and rocky terrain but should be doable for most kids over 8. There are plenty of flat, easy trails for families with very young children.
Visitors in the mood for a long hike can start at the backcountry trailhead by the ranger office. From there, catch the Piedmont Overlook Trail, stopping to enjoy the sweeping views of Crooked Run Valley at the first overlook. Continue onto the Ambassador Whitehouse Trail and enjoy more views from the Whitehouse Overlook. Continue on the Appalachian Trail for almost 2.5 miles, then briefly take the forested North Ridge Trail before looping back to the visitor center area on the South Ridge Trail, passing the South Ridge Overlook and Snowden Ruins before taking Boston Mill Road back to the backcountry trailhead. This hike is about 6.5 miles and includes some moderate inclines.To shorten the hike, cut out the Ambassador Whitehouse and Appalachian Trail for a 3.5 mile trek. Hikers will have to conquer some hills to enjoy the views on the shortened hike. Those looking for a more challenging hike can park on the other side of the road and hike the 3-mile Lost Mountain Trail/Washington's Ridge Trail. The trail system sounds complicated, but a trail map should help keep hikers on the right path.
Sky Meadows offers a number of fall events, including blacksmith demonstrations, Mount Bleak Tours, pick your own pumpkins and other special programs, making it a very kid-friendly park.  
Where: 11012 Edmonds Lane, Delaplane; 540-592-3556.
Logistics: The park is open dawn-dusk, and the visitor center is open on weekdays from 11 a.m.-5 p.m. and 10 a.m.-5 p.m. on Saturdays and Sundays. Entrance is $5. Amenities include 18 hike-in primitive campsites (reservations required), 24 miles of hiking trails, 10.5 miles of horse trails, fishing at Turner Pond, rentable picnic shelter and picnic pad.
Nearby: There are plenty of wineries and vineyards in the area, the closest being Fox Meadow Winery, Naked Mountain Winery and Vineyard and Delaplane Cellars. If you're looking for a post-hike meal, consider dining at the upscale Ashby Inn & Restaurant in nearby Paris, or head to Upperville where you can enjoy an elegant meal at Hunter's Head or a casual meal at the Barn Door BBQ. Reservations are highly recommended at Ashby Inn and Hunter's Head. Middleburg is also just a short drive down 50. There are also several apple orchards within a couple of miles of Sky Meadows, including Hollins Farm, Hartland Orchard and Stribling Orchard.
Difficulty: Trails range from easy to difficult.
Directions: The hike described begins by the ranger office near the visitor center. You can pick up a trail guide at the visitor center or check one out online before your hike.
Traffic: Moderate
(October 2015)