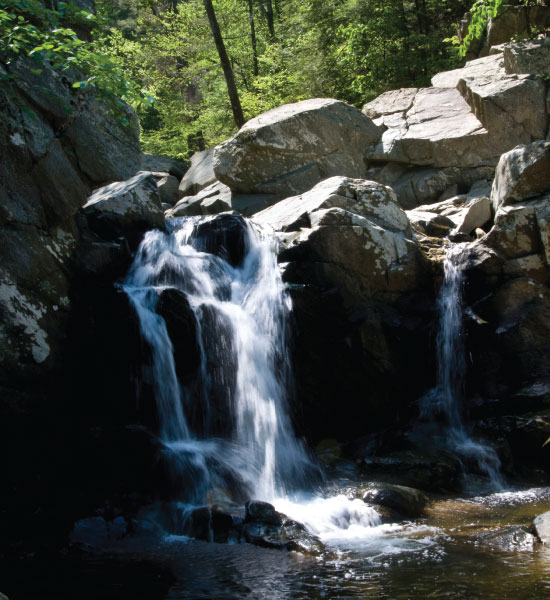 Scott's Run Nature Preserve Loop
A River, a Waterfall and Big Boulders
By Jisel Penilla
Want to see boulders, a forest, a river and even a waterfall but don't feel like making the trip out to the mountains? Scott's Run Nature Preserve is one of your best bets. With its diverse scenery, this is a lovely, family-friendly choice for a hike just minutes from the Beltway. The preserve is located a couple of miles from Great Falls and offers one of the more challenging and interesting hikes in Northern Virginia. From either parking lot, take the Parking Lot Connector Trail to the blue-blazed Potomac Heritage Trail, which will take you through a mature forest to Scott's Run Waterfall, an impressive waterfall that's especially lovely in fall. Stop to admire the falls, take a couple of pictures or even stop for a picnic lunch; just remember there aren't any picnic tables here, so lunch is "on the rocks." At this point you can retrace your steps and head back to the parking lot or continue along the Potomac River on the blue-blazed PHT to Stubblefield Overlook, a cliffy area with expansive views of the Potomac and good bird-watching opportunities. To get back to the parking lot, turn right onto the yellow-blazed Stubblefield Overlook Trail. The entire loop is only about 3 miles but there are some moderate inclines along the way.  
Where: 7400 Georgetown Pike, McLean; 703-759-9018
Logistics: Park is open 30 minutes before sunrise to 30 minutes after sunset. There are no facilities here. The parking lots fill up quickly on nice fall weekends, so you may need to drive around a bit to nab a spot. Don't expect much in the way of solitude here unless you come on a weekday morning.
Nearby: This hike is about 3.5 miles from Great Falls on the same road, but some slightly closer restaurants include: For an upscale dining option, hikers can head over to J. Gilbert's Wood-fired Steaks and Seafood restaurant (6930 Old Dominion Drive, McLean; 703-893-1034) which prides itself on its "Midwestern" cuisine and offers up a wide selection of steak and seafood dishes. More casual diners can check out Rocco's Italian Restaurant (1357 Chain Bridge Road, McLean; 703-821-3736), a traditional, family-friendly spot known for its pizza and Italian staples. For a midrange option, bistro-style Wild Tomato (7945 McArthur Blvd., Cabin John, MD; 301-229-0680) just across the Maryland state line offers a wide selection of beer and wine, Monday-Friday happy hour specials and a versatile menu with options ranging from salads to pizza to burgers.
Difficulty: Moderate
Directions: There are two parking lots here: the main lot and the overflow lot. You can't miss the trailhead from either lot. Once on the trail, it is nearly impossible to get lost.
Traffic: Heavy
(October 2015)