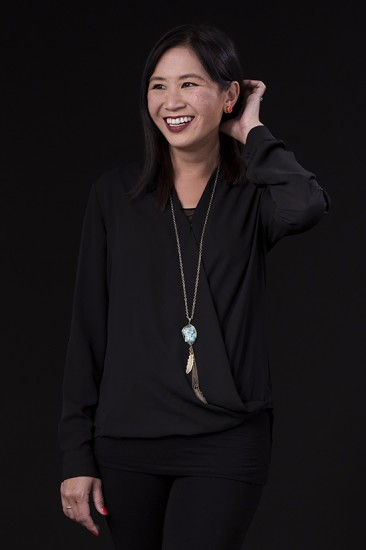 SPA SWAG FOR WARRIORS
Lacey Chong
A native of Hawaii, Lacey Chong found herself in the D.C. area just over 10 years ago while pursuing a career in national security/government and attending George Washington University's Elliott School of International Affairs. Chong enjoys her work in the federal sector and has continued her career as a consultant, but within the past year, she's also managed to translate a love of bath, body and beauty products into a successful nonprofit benefiting female members of the military.
Spa Swag for Warriors, which Chong founded in January 2015, initially began as a reaction to a friend's experience while serving in the Marine Corps in West Africa during the Ebola crisis: "An email from her was heartbreaking … they were out working with UN missions and local partners all day, but she never felt clean. She mentioned she would kill for some Sephora samples." Chong, along with friends and family members, spent that holiday season working to send high-end products to her friend overseas, expanding the project to include her friend's colleagues and eventually any female military member receiving hardship duty pay overseas.
Thanks to Chong and Spa Swag for Warriors, these military members now get the chance to enjoy little comforts from home like eye masks, deep conditioner and hand creams. Chong notes that "women who serve generally have the necessities, but they don't always have access to the little luxuries that can make a difference at the end of a long day." Many other organizations exist to send care packages to soldiers, but most are aimed toward men or are unisex. Spa Swag for Warriors is the only one that caters specifically to women by sending high-end products.
"Female soldiers put up with a lot on hardship tours—unhealthy conditions, long hours, extended time away from friends and family. The retention of qualified women in the armed forces is essential to our security as a nation; women who serve bring institutional knowledge and will serve as mentors and leaders … We here at Spa Swag are not so arrogant to presume that sending yummy-smelling products to deployed female service members will fix these problems overnight. Sending a package of thoughtfully sourced products can, however, have an immediate impact on their morale and well-being. Being a strong soldier and feeling feminine do not have to be mutually exclusive."