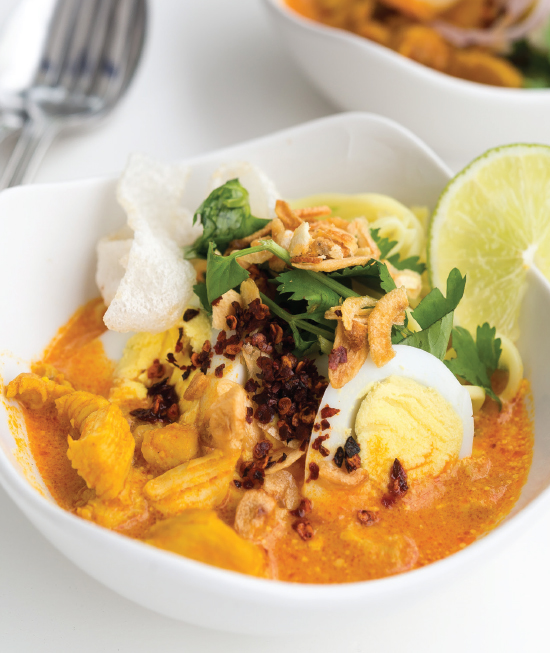 A filling, curry-like soup from Myanmar Restaurant in Falls Church (Photography by Rey Lopez)
Myanmar Restaurant
Sometimes, well, maybe all the time, when I order a fantastic curry at an Indian restaurant, I'm compelled to bring the bowl to my lips and drink it like soup. At Myanmar in Falls Church, my fantasy is a reality.
Thick and marigold-colored via turmeric, there's a brightness to this soup (large enough for a meal and perfect to share) even before a squeeze of lime, but also a creaminess from coconut milk. You can add in strips of chopped onion for a little crunch, helping to break through the thickness, thanks to chickpea powder. Soft egg noodles and crunchy, crispy rice noodle curls, which look like Styrofoam but only half-taste like it, arrive on a separate plate from the broth, making this dish as much or as little about the noodles as you want.
Fleshy and rounded—almost as wide as Japan's udon, but with a hole through the center—the noodles in nanjee thoke are splattered in a similar, spicier curry sauce with cabbage, chunks of boiled egg and cilantro leaves, all served at room temperature. The heat here makes the dish, but we were still dreaming about that first soup.
"Tell me what's wrong with this?" I ask my friend mid-spoonful. "Nothing."
▶ Burmese; Order: Ohn-no Kauskwe; nanjee thoke
Myanmar Restaurant, 7810 Lee Highway, Falls Church; 703-289-0013
(January 2015)