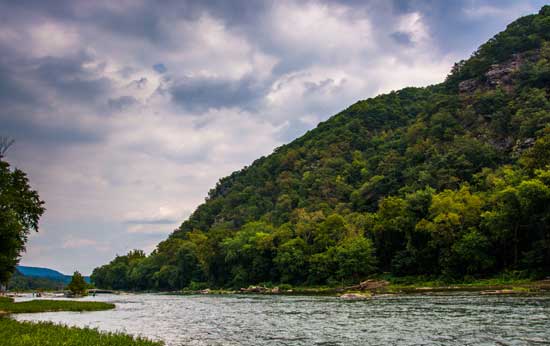 Loudoun Heights
A Challenging Hike Steeped in History
By Jisel Penilla
Straddling the border between Virginia, West Virginia and Maryland, Loudoun Heights is a challenging 8.5-mile hike that begins and ends at historic Harpers Ferry in West Virginia. Loudoun Heights combines history, striking natural beauty and a challenging trail to make it one of the most memorable hike options in the area. This hike offers more solitude than the nearby Maryland Heights and Weaverton Cliff hikes, and the views are just as good. The first half of the trail follows the white-blazed Appalachian Trail. Within the first mile, hikers will pass numerous historic sites including St. Peters Catholic Church, St. John's Episcopal Church ruins, Jefferson Rock (where you may encounter would-be musicians practicing their craft) and Harper Cemetery. After 2.7 miles, turn left onto the blue-blazed Loudoun Heights Trail. Hikers will pass two decent overlooks before reaching the Split Rock Overlook, which offers some truly amazing views of Harpers Ferry and Maryland Heights. Keep in mind this is a challenging, half-day hike with nearly 2,000 feet of elevation gain. Because of its length and difficulty, the hike is not appropriate for young children. The hike is steep and rocky in places, so hikers will want to wear sturdy hiking shoes and consider bringing hiking poles. Afterward, explore historic Harpers Ferry and the nearby Civil War battlefield.  
Where: Park at the Harpers Ferry Train Station (Potomac Street and Shenandoah Street) or at the secondary parking lot under the U.S. 340 Bridge. Or park near the visitor center and take the visitor center shuttle to lower Harpers Ferry.
Logistics: Park is open from dawn to dusk. There is a $10 fee to park at the train station.
Nearby: After this challenging hike, a hearty meal is in order. Harpers Ferry offers plenty in the way of dining options: the Canal House, the Country Café or Potomac Grille. If you're in the mood for a sweet treat, head over to Scoops Ice Cream Bar. Harpers Ferry's is also close to Hillsborough Vineyard, Hiddencroft Vineyards and Breaux Vineyards.
Difficulty: Challenging. Parts of the trail are steep and rocky. There is about 1,900 feet of elevation gain.
Directions: Park at the train station and walk south on Potomac Street, then, directly after the White Hall Tavern, turn right (between buildings). You are now walking south on the Appalachian Trail. Follow the white blazes uphill (and up steps), cross High Street, and continue up the stone staircase, and past St. Peter's Church. There is a $10 fee to park at the train station, and it is often full. Hikers also have the option to park at Harpers Ferry National Historical Park visitor center on Shoreline Drive and catch the shuttle bus to lower Harpers Ferry. Alternatively, hikers can park under the U.S. 340 bridge, which will shorten the hike by about a mile but will skip over many of the hike's historic sites. Another option is to park near the Appalachian Trail Conservancy visitor center at 799 Washington St. and catch the Pan Tran bus. Trail maps are available at both visitor centers and online.
Traffic: Moderate  
(October 2015)