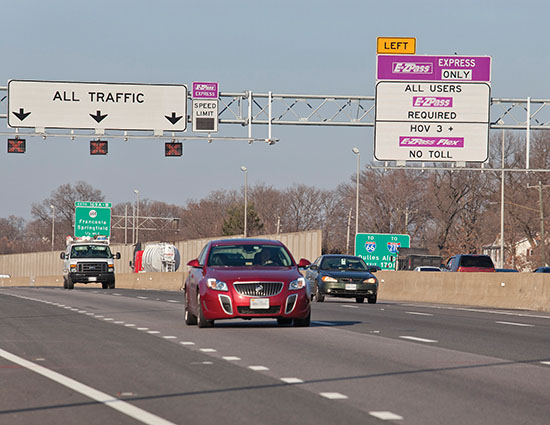 Sections of both Interstates 95/395 and Interstate 495 now have High Occupancy Toll express lanes, or HOT lanes, a new concept in the region where drivers who meet certain conditions either ride free or pay a toll.
Together, they represent the first steps in creating a regional network of tolled managed lanes in Northern Virginia.
The I-95/I-395 version, which just opened in December, uses current HOV lanes as tolled HOT lanes on a 29-mile route along the I-95 and I-395 corridors from Garrisonville Road in Stafford County to Edsall Road in Fairfax County, reverting to HOV lanes just north of the Beltway.
That $950 million project was funded through a public/private partnership that included a commonwealth of Virginia grant, a federal transportation infrastructure assistance loan, private bonds and private equity.
The I-95/I-395 HOT project was divided into four segments: 8.3 miles of new construction of two-lane reversible (open northbound during morning rush, southbound during evening rush) and seven new bridges; 7 miles of two-lane HOV conversion, also two-lane reversible; 11.9 miles of two-lane HOV conversion; and 2.2 miles of two-lane HOV conversion, three-lane reversible, that connects to the I-495 HOT lanes at Springfield.
Cars with three or more passengers ride for free using the E-ZPass Flex. All others pay a toll through their mandatory E-ZPass.
So far, research is not available yet on who is using the HOT lanes for I-95/I-395, why and how much toll money is collected. A Transurban report, "Express Lanes," states that regular usage and toll updates for the 95 express lanes are slated to begin in April. But research shows that the I-495 HOT project, with express lanes opened since November 2012, is exceeding expectations after a slow start as drivers became used to the idea. Average daily trips for the December 2014 quarter increased 16.4 percent compared to the prior corresponding quarter, according to Transurban's Express Lanes report.
Capital Beltway Express LLC, a public/private consortium led by engineering firm Transurban, designed, built, financed, operates and maintains this $2 billion HOT lane project. Transurban and its partners provided an upfront equity commitment to help fund construction and financed the rest of the project through private activity bonds and a federal loan from the Transportation Infrastructure Finance and Innovation Act. The project designed and built four HOT lanes (two 14-mile lanes in each direction) from the Springfield interchange to just north of the Dulles Toll Road.
The I-495 express lanes enable the Beltway to offer HOV-3 connections with I-95/I-395, I-66 and the Dulles Toll Road for the first time. Buses, motorcycles and carpools and vanpools with three or more people can ride in the HOT lanes for free.
HOT lane toll prices will change according to traffic conditions, costing more during high-demand times, usually around rush hour in mornings and evenings. Traffic flow is measured wirelessly, and as traffic builds in the lanes, the toll price increases. Toll rates are adjusted every few minutes when needed to regulate traffic flow using an algorithm model similar to one used on a Minnesota HOT lane since 2005. Cars with one or two passengers that choose the express lane will pay the toll, carpools and vanpools with three or more passenger (and motorcycles) will ride in the lane free.
Toll revenue goes first to Transurban to operate and maintain the express lanes, then to repaying the construction debt. Any additional money from tolls will go to Transurban shareholders or, if a certain threshold is reached, back to the commonwealth to fund additional transportation projects.
There is no set maximum to the toll price. It can be raised as needed to maintain minimum speeds, according to both the contract with Transurban and federal law.
Nearly 50,000 drivers used I-495 express lanes during the quarter ending in December 2014 and paid an average toll of $3.06, according to usage figures from the I-495/I-95 webpage, ExpressLanes.
But the HOT lanes still take some getting used to.
"One of the findings of a study that we had from our earlier days on 495 is that people wanted to use those HOT exits but were hesitant about using them," Mike McGurk, Transurban spokesperson, says. "They were just getting familiar with the rules, with the mandatory E-ZPass they had to have," he says. "But people really like the option of a reliable trip," he says. "It's a really a big shift for the region to have an option to actually get somewhere in a timely fashion on 95 and 495," he says.
There is still some homework commuters need to do before they take their first trip in a HOV or HOT lane, he says, but they are finding out that they really like the dynamic pricing aspect of the HOT lanes.
"It's really interesting to see on 495 and 95 as people think about options for their trip. They react to real-time changes in their travel patterns in the corridor to keep everything moving," McGurk says. "As long as that is able to continue to provide that faster trip, then it will be an option that people are interested in."

(May 2015)