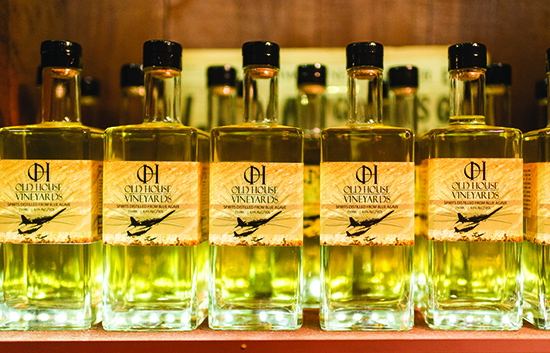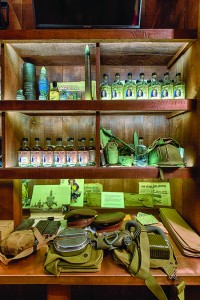 Just as restaurants tune into what's seasonal and available locally, so do craft distillers. In Vermont, vodka stems from cow's milk and honey. In Virginia, on one of the state's first joint winery-distillery properties, vodka can thank grapes for its sugars.
Old House Distillery's vodka is still vodka, distilled to knock the flavor out, but there's a sweetness there. It actually tastes like something. It was Old House Vineyard's grapes that inspired the distillery in the first place.
The winery wanted to offer a port-style dessert wine (Old House Vineyards' chambourcin) and outsourced the making of the fortified grape spirit (to be added to wine and aged in used bourbon barrels) to Culpeper neighbor Belmont Farm Distillery.
Old House figured it could do this itself and offer the service to other Virginia wineries, allowing for a completely in-state-made product. This, of course, required years of paperwork and permissions for a winery and distillery to live on the same land. Only a year out of college, Ryan Kearney left his job in D.C. to join the family business—his parents, Patrick and Allyson, own Old House—and spearhead the making of the distillery.
During this buildup is when Kearney met Keith Ballurio at the Artisan Distilling Institute in Seattle. Though his background varies from computers to guitar-playing and guitar-making, Ballurio wanted to get into the spirits game for years, and his West Coast liaison with Kearney quickly turned into a full-time job. The two split duties, with Ballurio focusing on the diverse rum program and Kearney on vodka and the newly released Blue Agave Nectar, a tequila-like drink.
Ballurio treats his rum a little like whiskey, creating a lighter wort (the liquid mixture from the mash to be fermented) so the wood can better penetrate and impart flavors into the liquid. He makes a variety of rums, including Diceros Queen's Keep, an over-proofed rum, and a spiced rum that took two years to develop.
"My goal," says Ballurio, "is to approach rum like it was made before the Sugar Act" of 1764, which taxed molasses and severely hurt the colonies' rum industry. This country "would have been rum drinkers and not whiskey drinkers," Ballurio says. He is one of the many current Virginia distillers to romanticize what rum could have been. "I love the idea of rum; there's a renegade thing about it," says Ballurio. And he smiles.
INVENTORY
• Harvest Triple Distilled Vodka
• Blue Agave Nectar
• Ryno Rum Silver
• Ryno Rum Amber
• Diceros Premium Amber Rum
• Diceros Queen's Keep rum
• Bumbo 1758 Spiced Rum
NOTES
Established: 2015
Tours: By appointment and every Father's Day weekend
Tasting: $10
Purchase: On-site
Address: 18351 Corkys Lane, Culpeper