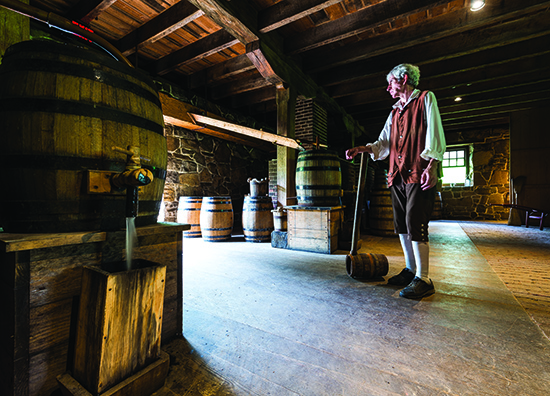 Less than two years after George Washington gave his farm manager James Anderson the OK to make alcohol, the former president's distillery was the most productive whiskey distillery in America. And there were already 3,000 in Virginia.
It was that year, 1799, that Washington died. His distillery lived on under his heir until it caught fire in 1814.
Though Washington himself favored Madeira and porter beer, he was "a businessman above anything else," says Sam Murphy, manager of historic trades at George Washington's Mount Vernon.
Washington returned home thinking he could retire at 65. Already growing rye, corn and barley and processing it at the gristmill mere feet away, Anderson convinced Washington a distillery was money waiting to happen. Retirement was on hold.
Six slaves worked in the distillery, along with Anderson and his son John (who was the master distiller), and in 1799 they produced 11,000 gallons of what they called common whiskey (aka white whiskey or white dog), as well as peach, apple and persimmon brandy. And a majority of it sold to Alexandria's taverns and innkeepers.
As part of a larger research and archaeological study started in 1999, the distillery was recreated in 2007. Every November and March since 2009, an eight-person team (with a rotating cast of 20) recreates this historic way to make whiskey, including milling all of the grains at the gristmill.
While the recipe, number of copper stills and laborious techniques are the same, Mount Vernon does not use any products grown on the property, though much of the ingredients are sourced within Virginia.
The current iteration and small runs of the distillery aren't the commercial venture they were for Washington, who probably did not drink much of what he produced. Murphy thinks he stocked brandy at his house for the almost 700 houseguests he entertained within a given year. It probably wouldn't have been a relaxing retirement anyway.
INVENTORY
• George Washington's Straight Rye Whiskey
• George Washington's Rye Whiskey
• Peach Brandy
• Peach Brandy Eau de Vie
• Apple Brandy
NOTES
Established: 1797 & 2007
Tours: $5 for the gristmill and the distillery only or $17 for the full estate
Tasting: N/A
Purchase: On-site
Extra: Museum, gift shop
Address: 5513 Mount Vernon Memorial Highway, Mount Vernon