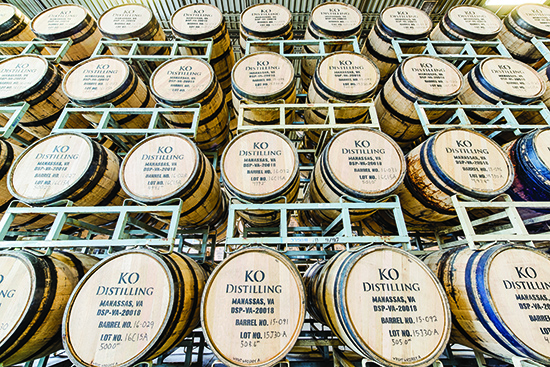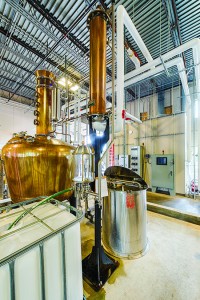 With pipes and steel, buttons everywhere and a sterile efficiency humming through the vast 12,000-square-foot facility, KO Distilling is meant to resemble a military vessel. The tour guide makes sure to mention it.
At the U.S. Merchant Marine Academy class of 1982's 30th reunion, Bill Karlson and John O'Mara reunited for a Maker's Mark.
"I think that was the first bourbon John and I shared together," Karlson says. There have been many more since.
A few months later, Karlson asked O'Mara, a homebrewer since the 1980s, to get into the distilling industry. KO Distilling, a combination of their initials (not a boxing reference) is a high-tech, long-term investment.
O'Mara, the head distiller—he attended a five-day course at Kentucky's Moonshine University—tapped into his network as an amateur radio operator to build proprietary software that controls and cools water going to the fermenters, the mash tank and the condenser to the still, all of which require different temperatures. KO also employs an automated system for weighing, milling and transporting grain. And they recently bought a continuous column still, which will increase production by 300 percent and help them reach their goal of profitability in the next three to five years.
As a self-funded operation, neither Karlson nor O'Mara takes a salary, though there is a paid staff of five full-time and 12 part-time employees. "We're doing it for the love of the business," O'Mara says.
But this is all a part of the business plan. To initiate cash flow, KO produces two gins and a white whiskey (the clear stuff takes a week or less to produce) while the 250 barrels age in the back until they are ready for market. Those barrels are filled with two different rye bourbons (one at 21 percent rye, the other at 100), a wheat bourbon and a six-month barrel-aged gin that will be released this month.
INVENTORY
• Battle Standard 142 Gin Standard Strength
• Battle Standard 142 Gin Navy Strength
• Virginia White Moon Whiskey
NOTES
Established: 2015
Tours: $6
Tasting: $6
Purchase: On-site and in ABC Stores
Extra: Memberships available; event rental space
Address: 10381 Central Park Drive, Manassas