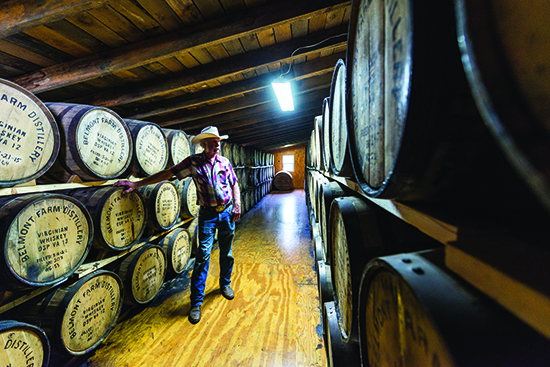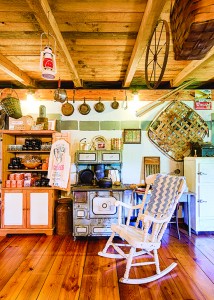 Chuck Miller is wearing two layers of plaid flannel shirts and a straw cowboy hat. He is tall with a full white mustache and sideburns. He is quick to smile and laugh and talk about his grandpa, a moonshiner.
Miller grew up on a farm and farmed as an adult, too, growing corn. "I got a lot of kids and a lot of bills, and I wanted to do like grandpa but didn't want to do it illegally," he explains, sitting on a rocking chair facing lots of green grass, which acts a bed for a big, sleepy dog.
That's when Miller opened a distillery on his land, 200 acres in Culpeper. He started with Virginia Lightning, a corn whiskey, in 1986. He calls Belmont Farm Distillery America's first craft distillery.
The distillery revels in that old-school, Cracker Barrel-type farm-charm with a kitschy gift shop and life-size moonshiners (one sitting on fake grass, looking passed out) guests can pose with for pictures. But there's real work being done here, work that is keeping up with trends, like an aged gin and bourbon due next year.
Bourbon, he says, is getting very popular. And so is craft distilling. "There's not room for it all," he says of the vanishing shelf space in ABC stores. But he doesn't really seem worried. He's building an extension to his facility to bring in a 4,000-gallon still. The biggest in the United States, he says.
INVENTORY
• Kopper Kettle Virginia Whiskey
• Kopper Kettle Apple Whiskey
• Kopper Kettle Vodka
• Kopper Kettle Golden Gin
• Kopper Kettle Dark Chai Spice Rum
• Virginia Lightning Corn Whiskey
• Virginia Lightning Apple Pie
• Virginia Lightning Cherry
• Virginia Lightning Moonshine
• Virginia Lightning Peach
• Virginia Lightning Butterscotch
NOTES
Established: 1986
Tours: Free
Tasting: $12
Purchase: On-site and in ABC Stores
Extra: Gift shop
Address: 13490 Cedar Run Road, Culpeper