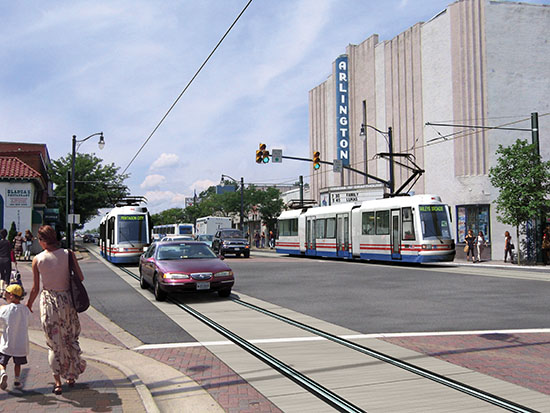 Creating a 4.7-mile streetcar line along Columbia Pike corridor and, later, an additional segment that would take it down the Crystal City/Potomac Yard corridor became a hot-button issue in Arlington County's November 2014 elections that ended in a bitter defeat for transit advocates.
Arlington County officials cancelled the program, after the re-election to the county board of Independent candidate John Vihstadt, who made opposition to the streetcar a centerpiece of his campaign, saying the project would cost $500 million to build and $8 million a year to operate. He favored a bus rapid transit solution instead.
The cancellation was totally about politics, according to streetcar activist John Snyder, founder of the citizen support group Arlington Streetcar Now. "Opposition to the streetcar was successful but dishonest politics," he says, adding that those who opposed it claimed that money for the streetcar development would come from funding for school construction.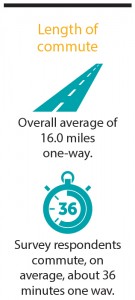 The streetcar plan, he says, was to use funding that by law can only be used for transit improvements, including about $130 million from the state, plus the largest share from a surtax levied only on commercial properties, that can also only be used for transit improvements.
"The choice was made for streetcars because they presented the best transit option, particularly on the key factors of ridership—because people like streetcars better than buses—and capacity," Snyder says.
The idea for a streetcar in high-density areas has been making headway across the country as more cities explore using them. They are cheaper to build and maintain than a metro subway line.
There are 16 streetcar lines currently operating in the U.S. from Los Angeles to Minneapolis to Dallas to Kansas City, and more are either planned or in early stages of development. "At the national level, there is a huge trend to streetcar development," Guzzetti says. "There were two streetcar systems opened last year, there will be four opening this year, and in 2016 there will be six more."
Locally, one controversial H Street streetcar, the first part of what is planned as an eight-line, 37-mile system in the District, is being tested but has no official start date.
But the debate goes on nationally about what is the better transit option between streetcar, light rail and bus rapid transit. The differences in cost between developing a bus rapid transit system and streetcar system can be a huge disadvantage.
According to the American Public Transportation Association, the capital cost per mile of a streetcar is as much as $75 million. It's less than half that much for a bus rapid transit system.
Still, there are success stories. In Portland, home to the first modern streetcar system in the country, David DeCamp, a cofounder of Arlington Streetcar Now and the managing director of commercial real estate advisory firm Newmark, Grubb, Knight and Frank, says he saw how they built the tracks, how they replaced certain bus lines with streetcars and how people hopped on and off those streetcars for work, shopping or meeting friends. "I saw over $3 billion in new, tax-paying, mixed-use buildings constructed along the streetcar right of way," he says. "Arlington's streetcar would be fundamental to a neighborhood plan to preserve the largest remaining concentration of affordable apartments in the county."
Arlington Streetcar Now is in hiatus, Snyder says, but members are still very active in working for the best transit solutions available for Columbia Pike and Crystal City. "Streetcars are a tool to build the community we envision, not the goal itself," he says. Waiting for the problem to get so bad that the need is obvious is sometimes necessary, he says, but much more expensive. "But that seems to be the option here."
The county needs to build the bus stations that have already been designed, he says. "Yet we have seen nothing like a contract award to show that the county is actually moving forward on that."
(May 2015)