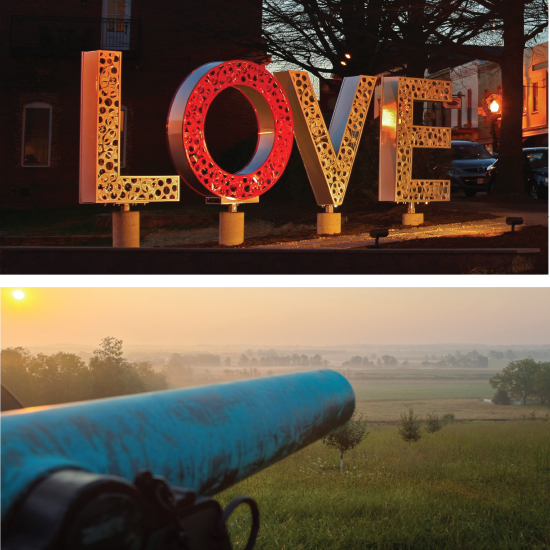 Nestled in the foothills of the Blue Ridge Mountains and home to antebellum plantations and farming fields, Culpeper is rich in American history, probably more so than many of us know.
For instance, dinosaur tracks found just outside of the town limits show that its history reaches back to the Triassic period, or Mesozoic Era, some 215 million years ago. It was also the site of a large gold-mining county in the early 1800s and was the scene of many battles during the Civil War, seeing the most action due to the railroad lines and its proximity to both the North and South.
It also gained more recent notoriety when Christopher Reeves suffered his horseback riding injury at the Commonwealth Park Equestrian Center. But Culpeper is more than a town to talk about in the past tense. Today its downtown is home to a crop of locally owned stores and restaurants that pay homage to the area's past and today's trends. It's a town that is oft in the shadow of other Virginia shopping and cultural meccas such as Old Town Alexandria, Charlottesville and Williamsburg. No more.
Shopping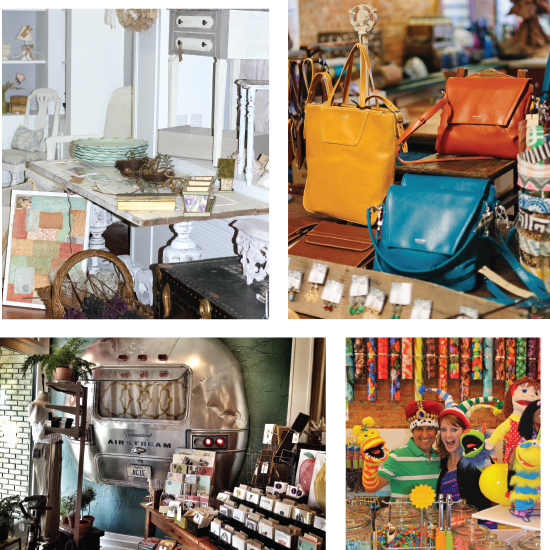 Harriet's General
Walking into Harriet's General is walking into true American hipster territory. Everything in the store—from the jewelry, beauty products, bags, clothes, shoes and toys to the home goods, decor and trinkets—is made in the United States, and the aesthetic is on-trend with leather, wood and ceramic pieces that carry witty phrasing and rustic images. / 172 E. Davis St.
Green Roost
Green Roost has a mission of not only bringing eco-friendly products to shoppers but also offering a selection of products that shoppers want to buy. The store is stocked with Matt & Nat handbags, Toms shoes and WeWood watches along with a slew of delicate jewelry, candles, cookbooks, scarves and clothes. / 141 E. Davis St.
My Secret Stash
The walls in My Secret Stash are lined in gourmet candies set behind an old-school-styled lunch counter piled with jars of more sweets and vintage beverages. While children take in the wonder of sugared colors and pick their sweet treats, adults can browse the displays of small home goods both vintage and modern. / 162 E. Davis St.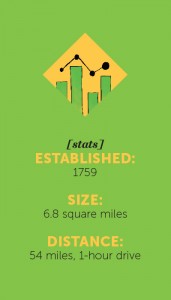 The Cameleer
Aboriginals have found a spot in Culpeper, or at least the wares of the culture have, at The Cameleer. Not only does the large shop carry unique, colorful Aboriginal art and ceramics, but 80 other cultural wares are also available and include items such as tableware, jewelry, clothing and stationery. / 125 E. Davis St.
Lollipop Station
The Lollipop Station is a must-stop if you are exploring with or for children. The store is packed with a range of toys that will interest any young mind—dress-up attire, science experiments, books and action figures, just to name a few. And on Saturdays at 11 a.m., there is puppet storytime. / 179 E. Davis St.
Pepperberries
Sun flows in this corner shop's floor-to-ceiling windows and entices one to step inside Pepperberries, a colorful store with a design to match the of-the-moment pieces covering the tables and walls. Want a one-stop spot to shop Pandora, Brighton and luxurious soaps, scents and lotions? Pepperberries carries all that along with pillows, jewelry, children's decor and more. / 102 E. Davis St.
Jane of All Trades
Two sisters have merged shopping with spa relaxation. Jane of All Trades holds shabby chic, vintage-inspired finds like furniture, dishes, signs, table decor and jewelry along with a full salon offering cuts, coloring and waxing services. Currently the store is in The Lord Culpeper Hotel, but beginning April 25, they'll be at their new location at 155 E. Davis Street.
Eats
[A grab-n-go lunch]
Thyme Market
A quick spot for lunch that offers upscale items, the market next door to sister restaurant It's About Thyme offers takeout items such as paninis, wraps, pizzas, entree meals, salads and bakery and dessert items. The market shelves stock goods like wines, spices, sauces and marmalades. / 128 E. Davis St.
[A nicer sit-down lunch]
Piedmont Steakhouse
If a sit-down meal is what you're looking for, locals recommend Piedmont Steakhouse. While the lunch entrees are traditional—steak and cheese sandwiches, grilled chicken breast, shrimp and scallops, crab cakes, filets and pastas—the dinner menu goes full-fledged steakhouse and includes staples like filet mignon, rib eye, New York strip and pork shank. / 110 E. Cameron St.
[treats to eat]
Knakal's Bakery
There's nothing like strolling the streets while devouring a fresh-baked doughnut. Stop by Knakal's Bakery and pick one of the varied flavors they bake each day. If fried dough isn't in your sweet-tooth wheelhouse, try one of their cupcakes, cookies, pastries, breads or cakes. / 146 E. Davis St.; 540-825-8181
[treats to take home]
Culpeper Cheese Company
Drop in to browse or pick up a cheese and charcuterie platter and wine for the evening's dinner. If you want to start early, the shop holds wine and cheese pairing sessions in-store to offer a taste of what you can purchase. / 129 E. Davis St., Suite 100
Frenchman's Corner
Don't go home without some chocolate. The best place to get some in Culpeper is The Frenchman's Corner, a European-style chocolatier where Belgian chocolates are delivered every week. / 129 E. Davis St., Suite 160
Moving Meadows Farm
Opened in August, this bakery serves up housemade whole grain breads and cinnamon buns (mouthwatering) along with grass-fed beef, pastured chicken, grass-fed goat and free-range eggs in deli cases that are ready to take home. / 254 E. Davis St.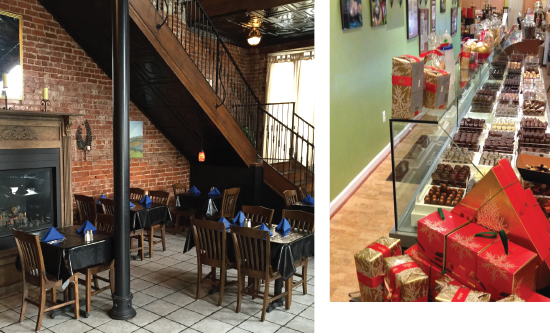 Culture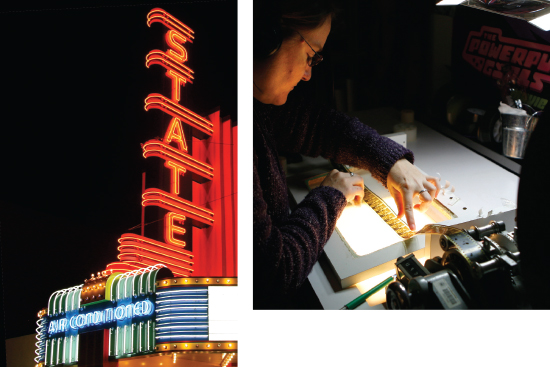 Library of Congress Audio-Visual Conservation Center at the Packard Campus
A former Federal Reserve Building in Culpeper is now a preservation site of the Library of Congress' audio-visual history. The 420,000-square-foot space holds more than 1.1 million films, television shows and videos of America's cultural past from the 1890s through today. It also houses over 110 years of sound recordings including music, spoken word and radio broadcasts. Though the center is not open to the general public, patrons can enjoy free movies at the 205-seat Mount Pony Theater when the Packard Campus runs regularly scheduled showings Thursdays and Fridays at 7:30 p.m. and Saturdays at 2 p.m. or 7:30 p.m. The schedule is posted two weeks prior to showings.
State Theatre
A former vaudeville movie house, the State Theatre recently underwent a $9 million renovation, with a kickoff celebration in 2013. The venue, listed on the State and National Registers of HIstoric Places, has welcomed acts such as Bruce Hornsby and Lyle Lovett as well as local talent in theater, dance and music. The theatre also partners with the Library of Congress Packard Campus for Audio-Visual Conservation to run classic 35 mm films. / 305 S. Main St.
History Tours with the Experts
Culpeper has self-guided driving tours that will take you through the storied past of the town and surrounding battlefields, but the personalities who lead the walking tours are definitely the way to go. Options range from historic downtown tours with the witty Mary Jo Browning and Historic Quest Tours with Zann Nelson to battlefield tours with historians and authors such as Lon Lacey, Clark Hall and Joe McKinney.
Museum of Culpeper History
Inside the visitors center is the Museum of Culpeper History, which showcases interactive exhibits and displays of the Piedmont's past. The museum covers it all, starting with 215 million-year-old dinosaurs, moving through the Manahoac Indians, Revolutionary and Civil Wars and the Reconstruction period and ending with the 20th century.
Year-Round Events
[spring]
Point-to-Point Horse Races at Bull Run Hunt; March 22
Remembrance Day: Culpeper's Living History; April 17-19
Brandy Station Foundation Camp Dance; April 17
Gnarly Hops & Barley Fest; April 25
Culpeper Fireman's Parade; May 21
Wicked Bottom 5K; May 2
[summer]
3rd Thursday Summer Concert Series; throughout summer
Bluemont Concert Series; throughout summer
'Horse Shows In The Park' at
Commonwealth Park; throughout summer
Culpeper Fest; June 12
Culpeper Soapbox Derby; June 20-21
4th of July Celebration; July 4
4th of July Car and Bike Show; July 4
CMR (Culpeper, Madison, Rappahannock) Farm Show; July 9-13
Culpeper Triathlon; Aug. 2
[fall]
Culpeper County Airfest; Oct. 10
Culpeper Cycling Century; Oct. 3
Downtown Restaurant Week; TBD
Culpeper Fiesta; TBD
Culpeper Harvest Days Farm Tour; Oct. 3-4
Downtown Culpeper Trick-or-Treating; Oct. 31
Taste of Culpeper Wine and Food Festival; TBD
[winter]
Blue Ridge Chorale Christmas Concert; TBD
Culpeper Downtown Carnival; TBD
Downtown Culpeper Holiday Open House and Community Tree Lighting; TBD
'Culpeper Tells' Annual Storytelling Festival; March 14
[activities]
Canoeing & kayaking, flying, hiking, birding, horseback riding, cycling, golfing, hunting
[drinks]
4 local wineries:  Gray Ghost Vineyards, grayghostvineyards.com; Old House Vineyards, oldhousevineyards.com; Prince Michel Vineyards, princemichel.com; Unicorn Winery, unicornwinery.com, 1 distillery: Belmont Farm Distillery, belmontfarmdistillery.com
(April 2015)