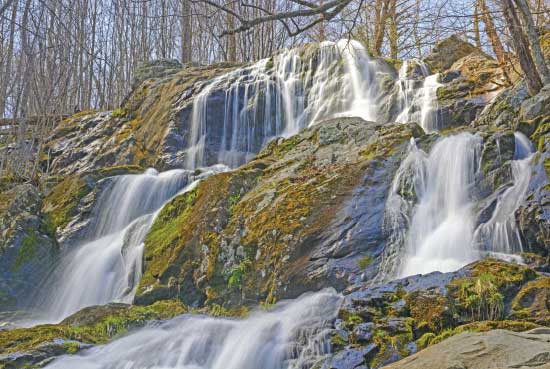 Dark Hollow and Rose River Loop
A Waterfall Hike
By Jisel Penilla
It's not all about panoramic views—sometimes, a walk in the woods is just as inspiring, especially when it features a dazzling display of waterfalls. The Dark Hollows/Rose River circuit is a 4.5-mile moderate loop featuring dense fall foliage, moss-strewn boulders and some of the park's most beautiful waterfalls.
From the Fishers Gap parking lot, take the Rose River Loop Trail. You'll pass Rose River Falls about 1 mile in. Continue walking on the Rose River Loop Trail for about 2 more miles along a picturesque creek. At this point, take a brief detour to Dark Hollow Falls on the Dark Hollow Falls Trail to see one of the park's most beautiful and photographed falls. This section of the trail gets a bit steeper. After spending some time at the falls, retrace your steps and take the Rose River Fire Road uphill to get back to Fishers Gap. If a 4.5-mile hike is a bit more than you bargained for, consider shortening the hike by cutting out the Rose River Loop by parking at the Dark Hollow Falls lot near the Byrd Visitor Center and taking the Dark Hollow Trail down to the falls. This is a 1.4-mile round trip trail, but the short distance is deceiving—you'll break a sweat, as it's a very steep uphill climb back to the parking lot with 440 feet of elevation gain over 0.7 miles. Dark Hollow Falls are some of the most photographed in the park, but you'll want to arrive early in the morning if you want any semblance of solitude. The steep grade should be a consideration for those in less than stellar shape or those with very young children.
Where: Milepost 39.1
Logistics: Park is open from dawn to dusk. Amenities include bathrooms, showers, ranger talks, picnic areas and picnic shelters, camping, visitor centers. No pets on the Dark Hollows Waterfall Trail.
Nearby: Big Meadows Lodge in Central SNP is located at mile marker 51 and offers full dining services at the Spottswood Dining Room and bar and beverage service at the New Market Tap Room. Hotel-style amenities are available at Big Meadows Lodge. Big Meadows Campground is open through the end of October. The Dark Hollow Falls trailhead is nearly equidistant from the towns of Sperryville and Madison. Hikers looking for a post-hike meal outside the park can head to the Thornton River Grill in Sperryville or drive just a bit farther to the somewhat upscale Madison Inn or the German-themed Bavarian Chef. DuCard Vineyard and Early Mountain Vineyard are both a 45 to 55 minute drive away.
Difficulty: Moderate with steep inclines and declines.
Directions: For the Rose River/Dark Hollow Falls loop, park at the Fishers Gap lot at mile marker 49.4 and take the Rose River Loop Trail. Stop by the Byrd Visitor Center for a trail map, as the Rose River-Dark Hollow loop combines three different trails. To hike only Dark Hollow Falls, park at the Dark Hollow parking lot at mile marker 50.7. The Dark Hollow trail is well-marked and heavily used, making it almost impossible to get lost.
Traffic: Very heavy on Dark Hollows Trail; moderate on Rose River Loop.
(October 2015)