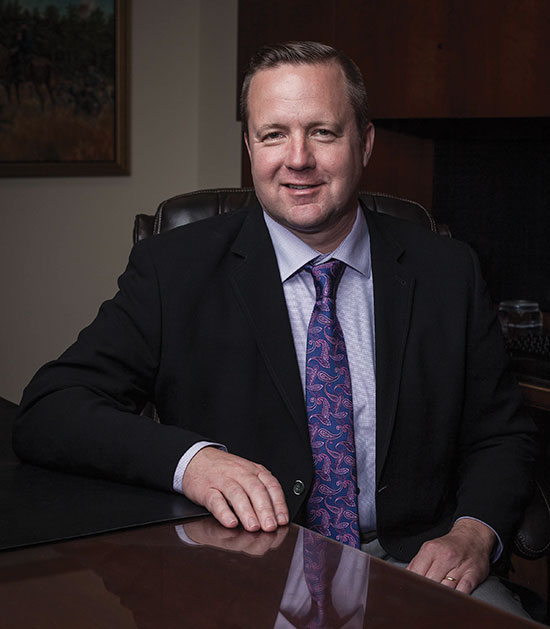 The moment comes and goes quickly, but it's illustrative.
A man navigates the crowd at Small's Smokehouse + Oyster Bar and approaches the stage in the corner. He gives the night's keynote speaker, Corey Stewart, an American flag lapel pin, saying Stewart needs to "look presidential."
"Well, I'm not running for president," Stewart replies. "But you're right."
Yes, though the Republican isn't running for president, he is running for governor while also trying to get his candidate, Donald Trump, elected to the White House. So looking presidential probably isn't a bad idea for Stewart, who's driven from Woodbridge to Norfolk to stump for votes on a Friday evening.
Perhaps best known for speaking out against illegal immigration in Prince William, where he chairs the Board of County Supervisors, the 48-year-old's profile is taking more of a statewide turn nowadays as he seeks a Trump win this year and vies for the Old Dominion's highest office the next.
Norfolk was only one of a few stops Stewart, chairman of Trump's campaign in Virginia, made on that June weekend. So if he didn't already know the way around his adopted state, he's learning now.
A Minnesota native, Stewart first came to the Metro-D.C. area in 1988, transferring to Georgetown University after a year at Saint Olaf College in Northfield, Minnesota. He went on to get a degree from Georgetown's School of Foreign Service, becoming the first member of his family to graduate from college.
Later, he graduated magna cum laude from the William Mitchell College of Law in St. Paul, Minnesota, but he ultimately decided to settle in Virginia. He describes the state as "cosmopolitan" and, of course, more conservative than its neighbor to the north. "I was never going to live in Maryland," he says during a dinner interview at Stonebridge at Potomac Town Center, one of Prince William's prominent retail developments.
Stewart works as an international trade attorney, and he and his family now make their home in Bel Air, a colonial-era plantation house in Woodbridge that Thomas Jefferson and George Washington visited and that later was the home of Mason Locke Weems, Washington's first biographer and the creator of the cherry tree story.
He met his wife, Maria, who's from Sweden, when he spent about a year teaching English in Japan between his undergraduate time and law school. The couple—who now have two sons, Isaac, 16, and Luke, 15—traveled together before starting their family, visiting such spots as France, Morocco and Germany.
But despite that globetrotting, Stewart says he never lost the working-class values he learned as the son of a longshoreman. He comes from a family of union Democrats, and he says he always admired President John F. Kennedy. "He was my big childhood hero," he says.
Stewart eventually joined the GOP, of course, but he says he couldn't relate to some Republicans over the years: Candidates such as former presidential nominee Mitt Romney, for example, seemed too elitist, out of touch with the common folk.
Trump, however, brings the Republican Party a different sensibility, Stewart says. Yes, he's rich, but he's plainspoken.
"It is finally the party that I feel comfortable in with my blue-collar roots," says Stewart, who is fond of describing Trump with the nickname "blue-collar billionaire."
By the time of the Republican National Convention, Stewart had met with the presidential candidate twice, and he says he expects to spend more time with him as the GOP campaign comes through Virginia. Trump and Democratic presidential nominee Hillary Clinton may show up in Prince William before Election Day, too, as the county maintains its reputation as a purple locality. President George W. Bush carried Prince William twice, but President Obama did, as well. Former Republican Gov. Bob McDonnell won the county in 2009, but Gov. Terry McAuliffe, a Democrat, prevailed there four years later.
One of the main political positions Stewart shares with Trump is a strong stance against illegal immigration.
He championed a county regulation, passed in 2007 and amended in 2008, that requires police to check the immigration status of anyone arrested on criminal charges.
Critics say this effort means Stewart now can't appeal to minority voters. But the Prince William Republican says that's not true. He says that he knows how to show respect to people of different cultures and that he plans to focus a general election gubernatorial campaign on gaining the support of minority communities that otherwise would be filled with Democratic votes.
"I'm going to spend a lot more time there than I will in the solid Republican areas," he says.
It's hard to judge Stewart's chances of getting elected governor, but he has been a winner in Prince William. He was first elected in 2003 as a district supervisor and then won a special election for county board chairman in 2006. He was elected to a full four-year term as chairman the next year and was re-elected in 2011 and 2015. His only campaign loss came in 2013, when he sought the Republican nomination for lieutenant governor.
Before Stewart can get the 2017 GOP nod for governor, though, he will have to defeat former Bush administration official Ed Gillespie and Rep. Rob Wittman, whose 1st Congressional District includes much of Prince William.
That means politicking at gatherings such as the Page County Republicans' GOP Jamboree in Luray. Stewart and Wittman shake hands and make speeches at that event, which comes the day after Stewart's excursion to Norfolk. But he doesn't seem weary from the road as he strolls from voter to voter in caiman-skin boots.
He also doesn't have to do anything new to impress Dave Briggman, who quickly notes his support. Briggman, a conservative activist from Harrisonburg, says Stewart would be a change from having a partisan in office. That's what it's like now with McAuliffe, he says.
"I believe Corey is an ethical guy," Briggman says.
Stewart also is someone who has a record of helping his peers find common ground on issues, says Pete Candland, vice chairman of Prince William's county board.
"Corey is definitely a dynamic politician," Candland says.
Though he's also a Republican, Candland has sometimes tangled with Stewart, especially when the former's positions may have been more conservative than the latter's.
Candland says that Stewart is a "good spokesman" for Trump, but that his colleague will have to be clear about when he's speaking as a campaign surrogate, when his comments are his own and when he's representing the county.
An example of these distinctions came less than two weeks after the Page event, when Stewart posted on Facebook that "liberal politicians who label police as racists—specifically Hillary Clinton and Virginia Lt. Governor Ralph Northam" are to blame for "essentially encouraging" the killing of police in Dallas.
Trump later made his own comments on the shooting, which rocked the entire nation, and the campaign for Northam, the presumptive Democratic nominee for governor, says it was shocked by its man being singled out in a divisive way.
"Corey Stewart is trying to 'out-Trump' Donald Trump," Northam campaign manager Brad Komar says. "That's what we're seeing."
He says that Northam didn't do anything to prompt an attack from Stewart, whom he says is a "dangerous candidate."
Stewart, however, doesn't distance himself from the comments or delete them.
That's perhaps not surprising. When he ran unsuccessfully in 2013, his campaign theme was "never back down."
"I never do," Stewart says.