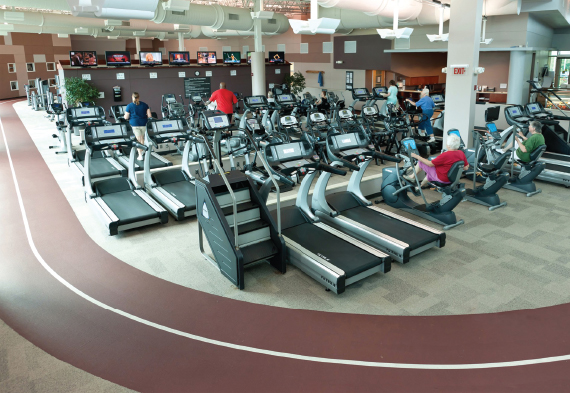 Courtesy of Powell Wellness Center
Powell Wellness Center
1005 Golf Drive, Culpeper, VA 22701
Amenities: Group fitness classes, pool, personal training
Hours: Monday-Thursday, 5:30 a.m.-9:30 p.m.; Friday, 5:30 a.m.-9 p.m.; Saturday, 6 a.m.-4 p.m.; Sunday, 10 a.m.-5 p.m.
Price: $125 enrollment fee; $50 monthly fee
UVA Culpeper Hospital
501 Sunset Lane, Culpeper, VA 22701
Amenities: Nutritional education
Hours: Ongoing
Price: Varies; often covered by insurance
Until last October, Culpeper Hospital and the Culpeper Wellness Foundation were one and the same. At that point, the University of Virginia bought the hospital, and the Culpeper Wellness Foundation split away. Now, both locations have health and fitness opportunities for local clients.
The Culpeper Wellness Foundation is home to the Powell Wellness Center, a medically integrated health and wellness center. The Powell Center offers everything that traditional gyms offer, like cardio and weight equipment, group fitness classes and even an aquatics center, but it also offers physical therapy. Sandy Boone, director of community outreach and development, believes this physical therapy/fitness center hybrid is what makes the Powell Center great. "Patients [who are prescribed physical therapy] receive a membership to the Powell Center during their therapy," she says. "They learn how to work out with their therapist and then can take what they've learned and apply it to sessions when they come to the gym on their own time. Our main goal is to help them learn how to work out and stay healthy so that they don't need therapy again."
Powell Center member Duane McDaniel certainly agrees. Last December, his employer came to him with concerns about obesity, which runs in McDaniel's family, and offered to pay for a membership and personal training sessions at the Powell Center.
Since then, McDaniel has lost 80 pounds and continues to work out with a personal trainer at the Powell Center. "Powell has really helped me stay on track with my lifestyle changes, from the motivational emails to different challenges," he says. "Angie [Thoreson], my trainer, has really educated me on how to make healthy choices and really motivates me to stay active."
The Culpeper Wellness Foundation houses the fitness aspects of the former Culpeper Hospital, and the hospital, now called UVA Culpeper Hospital, offers nutrition education to the public. The Diabetes Self-Management Education program is an accredited program that provides people who have diabetes with the tools they need to manage the condition. UVA Culpeper also provides medical nutrition therapy, which is disease-specific nutrition education provided by registered dietitians on staff.
(August 2015)