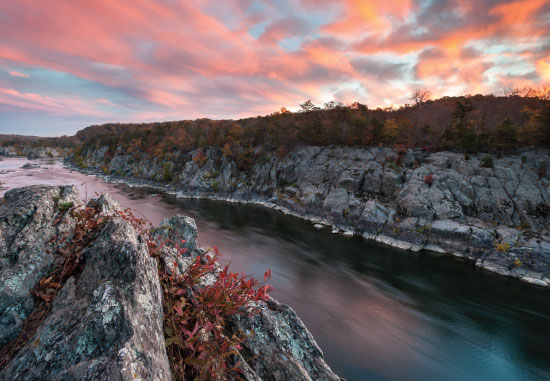 Billy Goat Trail
A Challenging Rock Scramble on the Potomac
By Jisel Penilla
Section A of the Billy Goat Trail is one of the area's most popular hiking trails, and it's no surprise why: A challenging rock scramble section, incredible views of Mather Gorge and colorful fall foliage on the Potomac make it a crowd pleaser. Although the trail is challenging by D.C. standards, there's actually not much elevation gain—just 280 feet. The tricky part is navigating the boulders, so you'll definitely want to wear sturdy hiking shoes. In fact, there's one section where you'll actually have to climb or hoist yourself over boulders and watch your footing. Although this is a great hike, the crowds can be a bit of a turnoff. You may need to wait in line at the most challenging section of the rock scramble, and except for a cliffy section overlooking the area, there aren't many spots to "stop and smell the roses." That said, the views of the Potomac and the waterfalls are unbeatable, and you'll likely have a sense of accomplishment after completing one of D.C.'s most famous (or infamous) hikes. Because of the trail's popularity, it's nearly impossible to get lost. Those who want to learn about the canal's early history can stop by the Great Falls Tavern Visitor Center Museum.
If the Billy Goat Trail is a bit more challenging than you'd like, a great alternative on the Virginia side is to hike from Riverbend County Park to Great Falls. Just park at Riverbend Park (8700 Potomac Hills St.), walk toward the river and turn right. Continue along the blue-blazed PHT until you reach Great Falls, where you can enjoy the overlooks. Retrace your steps to get back to the Riverbend parking lot. An interesting thing about this hike is that you can actually see the Potomac transform from calm and still to treacherous. The entire round-trip hike is about 4 miles and very easy. This section of the PHT offers great fall foliage and more solitude than the Billy Goat Trail.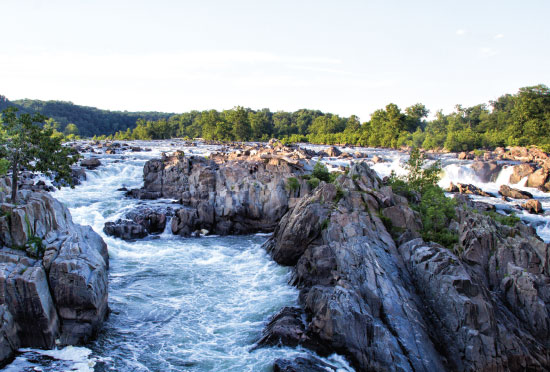 Where: 11710 MacArthur Blvd., Potomac, Maryland; 301-767-3714.
Logistics: Hours are dawn-dusk. No dogs allowed on this trail. May not be appropriate for kids under 8.
Nearby: If you want to be able to walk to your post-hike meal, check out the Old Angler's Inn. The restaurant has an old-timey feel, is popular with hikers and is a good spot for lunch or a cold beer. On the Virginia side of the falls, an upscale dining option is L'Auberge Chez Francois. Those in biking or hiking clothes can check out the adjacent and more casual Jacques Brasserie. If it's a pint of beer or burger you're after, you can't go wrong with The Old Brogue, a cozy spot popular with locals. For a cup of coffee with a side of antique cars, check out Katie's Coffee Shop.
Difficulty: Moderate but with challenging rock sections. You may want to reconsider doing this hike if you have weak or problematic knees or ankles. Directions: There are two ways to start the Billy Goat Section A Trail. Option one is to park directly across the street from the Old Angler's Inn and walk down a couple hundred feet to the trailhead. Parking is very limited, but you'll start the hike off with the rock scramble section. However, you'll have to walk about a mile on the C&O Canal to return to your car. It's a beautiful walk and you may see hawks, falcons and herons, but the mile can drag if you're tired. The second option is to pay the $5 entrance fee for the C&O Canal National Historic Park and start off with the canal walk before turning right to get on the Billy Goat A Trail. You can lengthen your hike by adding the Billy Goat B and C, though Billy Goat A is the most scenic and challenging. Option one is slightly easier because the most challenging rock scrambling section is downhill rather than uphill.
Traffic: You're going to encounter crowds. The hours of 9 a.m.-3 p.m. are busiest.
(October 2015)