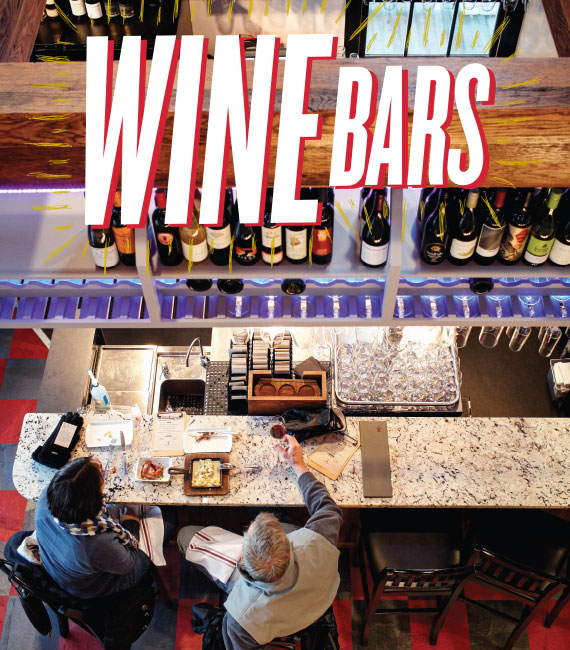 W.K. Hearth (Photo by Jonathan Timmes)
Parallel Wine Bistro
The decor of Parallel Wine Bistro is downright dreamy. Think windows with creamy white panes, flowers, wine fridges so you can see what's inside and walls decked out with wood boxes of wine. Guests can order from more than 70 wines and 60 craft beers. Food here is typical wine bar fare like cheese and meat platters. Parallel is fancy, but not so much so that bros wearing flip-flops won't make an appearance. / 43135 Broadlands Center Plaza, Broadlands  
The Wine House
The Wine House provides a classy, upscale atmosphere in a part of Fairfax that's dominated by college-student hangouts. The Ushaped bar in the light-filled dining room is complemented by romantic, low-lit lights. The restaurant doesn't play music, and on busy nights, the din of diners conversing is comforting and not overpowering. And this spot has earned its name: Drinkers can choose from more than 500 bottles of wine hailing from all over the world. / 3950 University Drive, Fairfax  
The Wine Kitchen
Located on Leesburg's quaint King Street, The Wine Kitchen feels welcoming and warm. The bar is softly lit, with a brick pattern base and rich red walls framing it. Patrons can order wine by the taste, glass or bottle or try themed flights like the "Summer in Washington" or "The Plains of Spain" if they'd like to sample three different varietals. The food menu focuses on hearty, mostly regional cuisine like crispy squash blossoms or rare-for-the-area poutine. / 7 S. King St., Leesburg  
W.K. Hearth
Housed in a former farmhouse, W.K. Hearth's bar feels warm and homey. A shelf high above the pretty marble bar features cookbooks that you'd find in just about any home. The staff is friendly and knowledgeable. Adding to the charm of this spot are the tiny brown cards that are served with the wine. Descriptions like "If big puffy white clouds drank wine, this is what they would drink" should make drinkers smile. / 130 Purcellville Gateway Drive, Purcellville  
Evo Bistro
Located in a tiny strip mall in McLean, Evo Bistro's light blue walls and dark furniture make for an intimate, no-frills vibe that keeps the focus on what's important here: high quality wine sourced domestically and globally. Evo is known for its $4, $6 and $9 happy hour specials. A mostly older and local Tysons crowd frequents this wine bar. Guests can look forward to tapas-style Mediterranean plates like butternut squash ravioli and melt-in-yourmouth lamb patty topped with goat cheese. / 1313 Old Chain Bridge Road, McLean  
Grape & Bean
As its name suggests, Grape & Bean is dedicated to showcasing fine wines and coffee. The interior is dimly lit with a very cozy and romantic vibe. Anticipate a three-seater bar, high-top tables and an ideal date atmosphere. The wine menu is small but carefully curated. Diners can order small plates like cheese and charcuterie to go along with each glass. For dessert, consider the signature chocolate plate featuring three of the restaurant's best chocolates. / 118 S. Royal St., Alexandria AND 2 E. Walnut St., Alexandria
---
Bartenders Tell Us What Makes a Good Bar?
Erin Robertson @ Clarity
"I love classic cocktails; I love experimental cocktails that use fresh ingredients and are pushing the envelope, in terms of being creative. Because I'm in the industry, when I go out, I do love to see that. But in terms of even a bar that just has beers and doesn't do a craft cocktail program, just a sense of community. Having friendly faces that might not remember your name but remember you, remember your drink. I tend to go to the same places. I have a few bars that I'm a regular at. I keep going there because of the community [and] because of the people. Atmosphere plays a big role, too. I'd rather go somewhere where I'm comfortable, it's clean, and I'm taken care of."
Kori Hassler @ Barrel & Bushel
"Great service and teamwork behind the bar. If we don't have a great team behind the bar, we can't provide the service we're supposed to. Our bar works really well together. We're all willing to help each other. We all really get along. It kind of feels like a family, even in the short time we've been here. That's kind of the backbone of what really makes a good bar. If you've got someone not paying attention, you're not going to have happy customers."
Fahed Hamid @ America Eats Tavern
"Service with a smile. Friendly environment. Great people to talk to. Mostly if you to go to a bar, you sit down, and you're by yourself; you kind of want to mingle with others from time to time. I appreciate that, if people around are nice and friendly."
---
Bartenders Tell Us What is NoVA's Signature Drink?
Melissa Gerlach @ W.K. Hearth
"One of the most popular is a sauvignon blanc. It's an easy to enjoy wine. The flavors aren't exaggerated or imposing. It has a nice bouquet, and it's easy to drink. It has a nice balance of crispness, and it doesn't [have a] heavy oaky [taste] that a chardonnay sometimes does. For our restaurant—the 30 to 50 age group, the working professionals, the upper-middle class group—I guess maybe it has to do with your location. We don't get a lot of really young, justturned-21s."
Katie Nigsch @ Mad Fox Brewery
"Beer, because you have so many influences. Virginia in general, but [especially in] Northern Virginia, there's just so many different bars popping up and so many people doing different things. Beer's definitely taken over. Whether you're a man or woman, no matter what you like—light, dark, sweet or whatever—there is a beer for you. Have you ever had a lambic before? We're starting to grab people with saisons and all these different styles. There's no way you can not find a beer that is good for you."  
(October 2015)