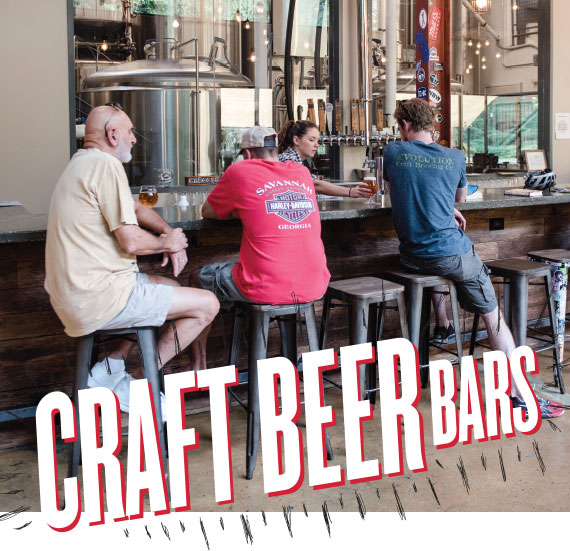 Caboose (Photo by Aaron Spicer)
Lost Rhino Retreat
Lost Rhino's spacious offshoot of its original Ashburn location features an indoor/outdoor industrial looking bar where patrons can enjoy food and the Lost Rhino's own microbrews on tap. Lost Rhino supplies a range of beer options like its classic New River Pale Ale, dark lagers and a smattering of seasonal and limited releases, many made with ingredients from Virginia farms. Guests can pair suds with fare like baked brie. Lively conversation rules this decidedly casual atmosphere. / 22885 Brambleton Plaza, Ashburn
Galaxy Hut
Funky inside with worn wooden floors and quirky embellishments like painted ceiling tiles and tables in the back where guests can playing arcade games like Pac-Man, Galaxy Hut is a lively, low-key bar. Bartenders pour craft beer ranging from pale ales to "darker suds" from the seemingly endless taps located behind the six-seater bar. Groups chatter away at the tables as solo drinkers read books or scroll through their phones at the bar. / 2711 Wilson Blvd., Arlington
Spacebar
Spacebar has three things going for it: great atmosphere, good food and a rotating selection of craft beers. And that's all this bar needs. The light blue walls are illuminated by soft lighting, and a TV behind the bar showing flicks like "The Dark Knight" reinforces the "nerd vibe." Mostly young patrons enjoy a loud environment and a creative grilled cheese menu, including items like the pulled BBQ pork, crispy fried shallot and sharp cheddar on rye option. / 709 W. Broad St., Falls Church
Mad Fox Brewing Company
Customers can enjoy Mad Fox's very own craft beer on tap at this casual haunt. The space is light-filled and outfitted with a gleaming 63-foot wooden bar. Everything from pale ales to hop-heavy suds graces this menu. Food here is noteworthy. Mad Fox dishes out fresh pizza alongside common bar foods like fried pickles or a juicy burger. The crowd is mixed. Sports fans watch the latest matches on TV screens as Falls Church residents catch up. / 444 W. Broad St., Falls Church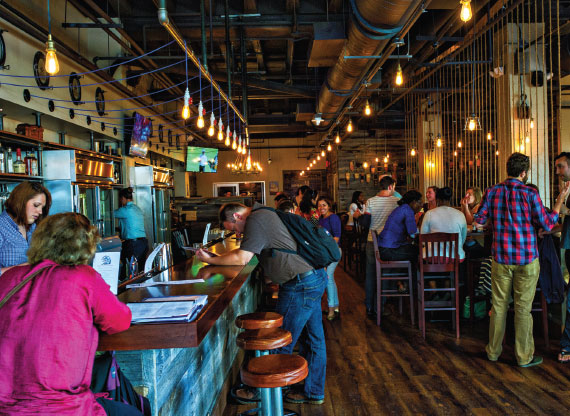 Heavy Seas Alehouse has a surprisingly modern vibe that fits perfectly in Arlington. Soft lighting makes for a classy atmosphere, and nautical decor is subtle. Solo drinkers, couples and professionals all gather at the bar. Kids are welcome, and this spot even has a kids menu. As the name would suggest, look forward to beer and lots of it. Bartenders pour the Heavy Seas' own stouts, hop-heavy IPAs and a light, refreshing Powder Monkey pale ale. / 1501 Wilson Blvd., Arlington
Caboose
Located at the end of an industrial section of Vienna, expect an industrial looking (but warm) tasting room. Pallets hang from the ceiling and act as light fixtures. Caboose's craft beer is on tap and ranges from light pale ales to hoppy IPAs. As this spot is mere steps from the W&OD trail, Spandex-clad cyclists order drinks alongside Vienna families and the occasional college-aged kid. Food is hearty—like burgers—but also healthy—like the kale salad. / 520 Mill St. NE, Vienna
C.J. Finz Raw Bar & Grille
C.J. Finz is a lively spot with a heavy beach bar vibe in the heart of Manassas. Look forward to a loud, fun atmosphere that's perfect for a laidback night out. Guests can order raw food like oysters or crab legs alongside cocktails and craft beer on draft. Patrons who head here on certain nights can hear live music from the open-air deck on the second floor with a bird's-eye view of the Harris Pavilion. / 9413 West St., Manassas
---
Bartenders Tell Us What Makes a Good Bar?
Will Witherow @ Copperwood Tavern
"What makes a great bar is really the bartender. It's literally when you walk in to a place … you wanna come somewhere, like "Cheers" said, man, where everyone knows your name. Your bartenders that are willing to read the guests and give 'em a good time. Give 'em what they want."
Keith Brassfield @ Caboose
"The atmosphere is what I enjoy the most. Obviously you want a good bartender, good food [and] beer, but I tend to enjoy myself more when I'm able to talk to other people at the bar or talk to the bartender—just a friendly, open atmosphere, which invites strangers to talk. I like the social aspect of it."
---
Bartenders Tell Us What is NoVA's Signature Drink?
Keith Brassfield @ Caboose
"Manhattan. Bourbon Manhattan. Older men tend to order that. Virginia in general is, I feel like, country people, and country people are going to be drinking whiskeys or bourbon or stuff like that."
(October 2015)