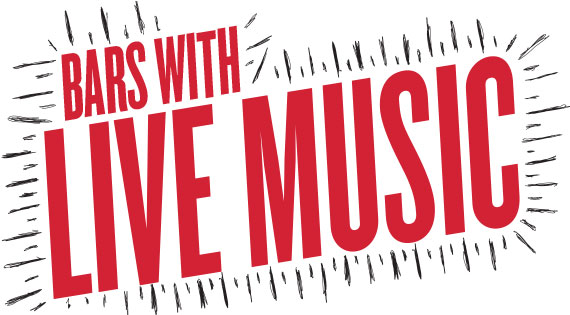 Jammin Java
Vienna's coziest and coolest live music venue's bar starts in the lobby when guests walk in and wraps around toward the stage. A black curtain is closed during showtime and separates the lobby from the performing area. Order beer, cocktails or coffee here. The mood is determined by the act on stage, mostly. Customers just looking to drink and chat should probably call ahead to ensure the performer is of the louder variety as talking is not permitted during quieter shows. / 227 Maple Ave. E, Vienna  
Iota Club and Café
Iota is divvied up into three sections: one outside of view from the stage, another directly in front and another off to the side. This makes for three individual spaces where guests can see the performers but also makes it feel a bit choppy. A younger crowd chats while musicians perform. Iota is an ideal spot for customers who want conversation and live music. Beer is the main offering on the drinks menu. / 2832 Wilson Blvd., Arlington  
JV'S
JV's is Falls Church's best-kept secret and has been in business since 1947. The menu features beer and comfort food that's all served at a U-shaped bar designed to provide customers with great views of the stage at the front. Walls are plastered with plenty of kitschy musical memorabilia like shots of The Beatles. Locals and even families drop by this low-key, unpretentious spot whose (appropriate) motto is "ageless charm without the yuppie bastardization." / 6666 Arlington Blvd., Falls Church  
Basin St. Lounge
Take in live music, whiskey and a setting that feels straight off the pages of "Great Gatsby" at this art deco-inspired lounge. Anticipate a low-lit atmosphere complete with a dark wood bar and carved wooden shelves holding the booze. True to form, a long list of whiskeys ranges from classics like Glenlivet to modern creations like High West's Campfire. Patrons can kick back with cigars as they do their best Don Draper impressions. / 219 King St., Alexandria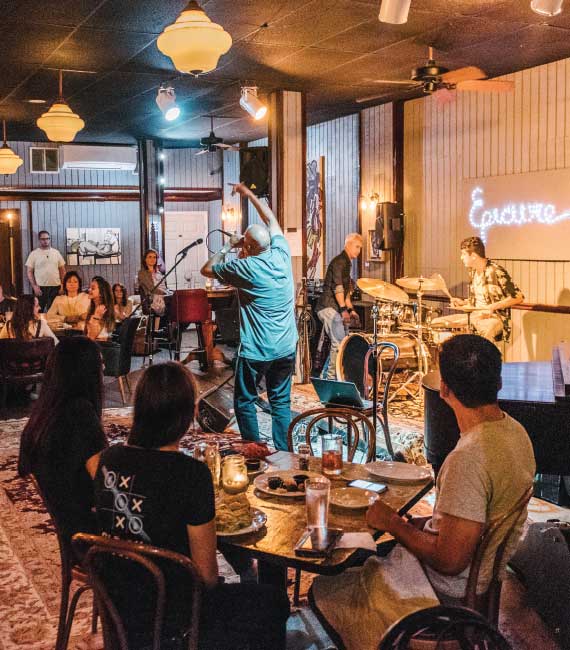 Epicure Café
Epicure Café is what a great first date spot should be: loud and dark. When the weather's bad, guests can sit at the bar sipping wine or beer and watch through the partitioned space that separates the bar from the performance area as musicians or comedians showcase their talents. When the weather's good, listeners can head upstairs for charming—the space is strung with white lights—rooftop shows. / 11104 Lee Highway, Fairfax
---
Bartenders Tell Us What Makes a Good Bar?
Adam Zaug @ Evo Bistro
"Quality drinks served on time in a relatively quick fashion. I think the thing about a good bartender is they have to be able to read the guest. Some people want to talk. Some people want to be left alone. Some people need assistance on a first date a little bit. There's all sorts of different dynamics of people who come into a bar. You just kind of have to play it by ear."
Corey Hawkins @ The B Side
"Ambience and the style of the music. I want something calm. I want to be able to go somewhere and talk to the people I came with. You want the bartender to be fairly outgoing, not annoying. I can be a little too attentive myself. You want welcoming. You want the bartender to go over some things, someone who's willing to talk their time and discuss the things that they offer."
---
Bartenders Tell Us What is NoVA's Signature Drink?
Will Witherow @ Copperwood Tavern
"Honestly right now, I think Northern Virginia, like the rest of the country, is obsessed and infatuated with the mule. And the mule … is something that I see a lot of people drink. And craft beer. It's going to sound kind of crazy. There's a lot of craft breweries popping up and we have a lot people asking, "Have you visited this brewery?" And if you'll notice, all 20 of our drafts are from local breweries. Everyone is ordering them. I see younger adults are ordering this stuff. Older adults are like, 'Oh my god, I haven't ordered this in years.'"  
(October 2015)