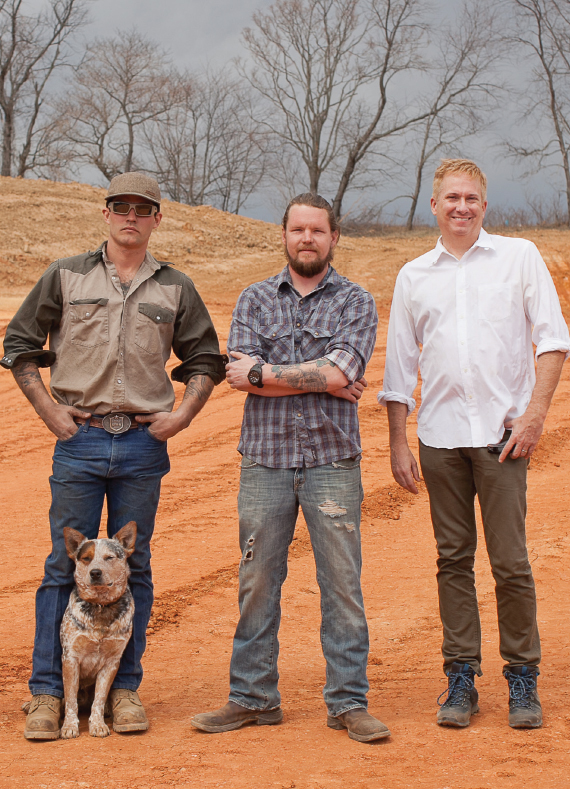 Solomon Rose (dog is named Hawk), Organarchy Hops, Dylan Krzywonski, Organarchy Hops, Jonathan Staples (Photography by Mollie Tobias)
Hop Dreams
How a new hop farm and processing plant could make local hops the next cash crop.
By Tim Regan
Editors Note: On May 26, 2015 Flying Dog Brewery announced it is canceling plans to develop a brewery in Lucketts. "We remain excited about a farm brewery concept and we are still very much interested in developing the Farmworks concept if the right opportunity presents itself," Ben Savage, chief marketing officer, said in a statement. However, Jonathon Staples'  Black Hops Farm is still going forward. 
"We're planting the hops on [June] 6, ,1200 plants give or take, and the hops processing building is just about finished … I'm really excited about being a part of the Loudoun beer movement."
Hops—the little pinecone-shaped green buds that grow on vines—play a crucial role in how beer tastes and smells. Even though local beer is now readily available in Northern Virginia, most hops used for brewing come from farms in the Pacific Northwest; about 35,000 acres pumped out almost 90 percent of all U.S.-grown hops in 2014, according to the Hop Growers of America.
With the number of breweries growing and demand for local ingredients mimicking that of the food industry, NoVA is building its own small hop industry.
Jonathan Staples, a local restaurant and bar investor, and his company Black Label Capital, plan to open Black Hops Farm and a hop processing plant just off Route 7 in Lucketts later this summer. A field-to-fermentation concept brewpub by Maryland's Flying Dog Brewery will share the land.
Staples' plans for a 6-acre Virginia hop farm will be one of the largest in the area, but more importantly, he hopes the attached processing plant will act as a catalyst for the local hops industry. Currently, local hop growers have no easy way to harvest, dry or pelletize crops.
"The closest processing facility is in New York," says Staples. "Hops are like grapes. When you pick them, you need to get them to a processing plant quickly. They dry out and lose their potency really fast."
Most beers use dried hops, which are easier for breweries to keep in stock and last longer than fresh, or wet, hops. Due to the fickle nature of wet hops, brewers employ them only during certain times of the year and for special-edition beers. Since hop farmers can only sell so many fresh hops, local growers can't justify planting more than an acre.
The Hop Process From Field to Pellet
To process even a few acres' worth of hops, equipment costs can reach the hundreds of thousands of dollars, and small-time growers have been wary of spending money on the processing side in a untested industry.
Without special equipment, the process requires a dozen or more people per acre.
Here's how hops move from the farm and into brewers' hands.
1. Once hops are harvested, cones need to be separated from the vegetative matter and vines.
2. Hops are fed by a conveyor into a dryer.
3. Once dry, they are laid out in a conditioning room.
4. Bundled into 60- or 200-pound bales, the hops are sold as whole cones or pellets.
5. Dried hops are now shelf-stable and can be used to brew. –TR
A few small growers process their own hops, but most don't. Unlike processing grains like corn or wheat, processing hops involves more than milling and storing (see sidebar).
Staples estimates there's less than 30 acres of hops in the entire state, hardly enough to turn a profit for his new facility. If current hop farms continue consistent yields, Black Hops will only process 50 acres' worth of hops by its third year.
Other potential challenges include finding which hop varieties work best on this coast. Some of the most popular hops cultivated in the Pacific Northwest—Cascade, Centennial, Chinook—don't grow well here, where summer days are short and humidity can destroy delicate plants.
Staples sees his role as encouraging farmers to grow more hops and experiment with varieties that will thrive in the mid-Atlantic. "It's a lot like the beginning of 'Field of Dreams,'" he says with a laugh. "If you build it, they will come."
However, he recognizes that the $800,000 it cost to build the facility (with $80,000 in contributions from local and state governments) will only find success if there's buy-in. "If farmers don't grow, it won't work."
Some fellow growers are skeptical. Stan Driver, co-chairman of Old Dominion Hops Cooperative, which operates out of Lyndhurst, says it's a good idea, just not now.
"What they're proposing out there is not sustainable," says Driver. "Ten years from now, they may be in a catbird seat. But for the next foreseeable five to seven years, I don't think that's going to ever make a buck."
Staples is no stranger to spending big. Last October, he bought James River Distillery for $350,000 after driving past it.
As for building his hop empire, Staples hired two experts: Dylan Krzywonski and Solomon Rose from Organarchy Hops. Together at their farm in Oldtown, Maryland, the duo tends to 15 acres of hops, with varieties ranging from conventional crops to experimental hybrids.
Through years of testing and research, Krzywonski says he's been able to yield 800 to 1,200 pounds of hops per acre. A good harvest, Krzywonski says, could net a farmer anywhere from $4,000 to $10,000 per acre.
Those numbers fall short in comparison to Pacific Northwest yields, but it's a start for an area notoriously difficult for raising hops. "I guarantee that we'll create [hops as the] next cash crop," says Rose, who hopes hops will be seen on the same level as other cash crops, like cotton, and that banks will legitimize hop-growing by offering loans to farmers.
Ultimately, the success of hop farming and processing depends on whether area breweries will shop locally.
Alexandria's Port City Brewing Company founder Bill Butcher says as long as Black Hops meets his standard of quality, he'd be willing to pay extra for local hops. "There's definitely demand for brewers to use locally grown and processed hops," says Butcher. "We like to use local ingredients when we can."
The sentiment is shared at Corcoran Brewing Company in Purcellville. "The hop processing facility in [Lucketts] is a serious game-changer for the industry," says brewer and small-time hop grower Kevin Bills, who collaborates with wet-hop growers from Old Dominion Hops Cooperative.
"What I keep telling them is that doing fresh hop beers are great, fun and fresh, but I need hops in April also, not just at harvest time," he says. "This facility will allow hop farmers to prepare their crop for longer storage and sales throughout the year."
Like Krzywonski and Rose, Staples sees little chance of failure. "It is not a hobby. It's not a bunch of hippies smoking pot. It's just as serious as growing soybeans or sorghum or cotton or anything else," says Staples. "It's cooler."
(May 2015)