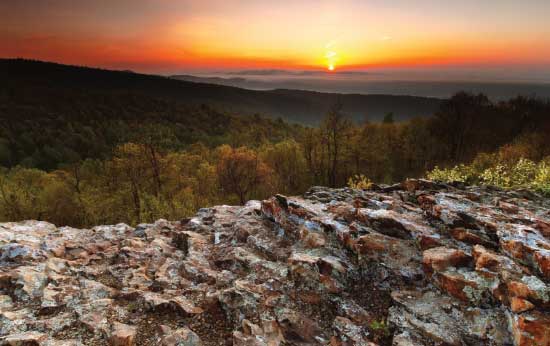 Bear's Den Hikes
Experience the Appalachian Trail's Roller Coaster Section in NoVA Wine Country
By Jisel Penilla
Nestled in NoVA's wine country, Bear's Den Park is a great starting point for a number of Appalachian Trail hikes in the "roller coaster" section of the Appalachian Trail. This section is famous for its hilly, rocky terrain and offers some of the best challenging hikes in the area. The lodge here is a popular stopover for Appalachian Trail thru-hikers. Although you're unlikely to see any thru-hikers this time of year, the castle-like hiker lodge is still a fun stop for the kids and a good place to pick up a trail map. There are a number of challenging hikes that originate from Bear's Den, but there are also a surprising number of family friendly hikes. Those with young kids will want to check out the mile-long Nature Trail, an easy, colorful autumn hike option, or the half-mile-long historic trail. Families with older kids or those looking for a slightly more challenging hike can try the 1.5-mile Demonstration Trail or the 2-mile Tributary Bridge Trail. Stop by Bear's Den Overlook to watch the sunset and enjoy 180-degree views of the Shenandoah Valley and the Blue Ridge Mountains.
The most beautiful hike near Bear's Den Park might be Raven Rocks. This steep, rocky trail includes the last 3 miles of the roller coaster section of the AT and offers several overlooks with breathtaking views of the mountains and the Shenandoah Valley, the last one being the most impressive. Raven Rocks is 5.5 miles long and has over 1,500 feet of elevation gain, making it one of the more challenging hikes included here. The hike is doable for those in moderate shape, and kids over 12 should also be able to complete it. Hikers will want to park across the street from Bear's Den at the Pine Grove Road parking lot to access the Raven Rock Trailhead. Seriously fit hikers can even hike make the 19.5-mile hike to Harpers Ferry from Bear's Den, either as a two-day backpacking adventure or as a long one-day hike for the seriously ambitious (and physically fit).
Where: 18393 Blueridge Mountain Road, Bluemont; 540-554-8708. To access the Raven Rocks hike, park at the small Pine Grove Road Parking lot across from Bear's Den Park on the other side of Harry Byrd Highway.
Logistics: Hours are dawn to dusk. Amenities include a bathroom, lodge and camping and picnic area. There is a $3 honor system-based entrance fee. Nearby: There are two casual eateries in town: the Horse Shoe Curve and Pine Grove Restaurant. Bluemont Vineyards is a lovely spot for an afternoon glass of wine, but outside food is not allowed. Note that tastings for groups of nine or more are not allowed on weekends. Those interested in apple picking can visit Great Country Farms, though there is a fairly hefty fee to get in, plus whatever the cost of apples purchased. The farm hosts Pumpkin Fall Harvest Festivals in October. The adjacent Dirt Farm Brewery is operated under the same management. Those interested in learning about the cheese-making process may want to visit Georges Mill Farm Artisan Cheese. The Lovettsville Oktoberfest will be held weekend of Sept. 26.
Difficulty: Hikes range from easy to challenging.
Directions: Trailheads can be accessed from the Bear's Den parking lot or on the other side of Route 7 from the Pine Grove parking lot. Hikers may want to visit the Bear's Den Lodge for a trail map before heading out. Parking is not allowed on Pine Grove Road.
Traffic: Moderate
(October 2015)