Adriel Luis wants to increase our screen time—within the confines of an art gallery.
"Pretty much all of us find ourselves in front of some kind of a screen and fully focused on that screen, and so I really like the idea of people making an outing of going to a particular place to look at screens together," Luis says.
Glitch: An Exploration of Digital Media, opening Saturday and running through July 9 at Torpedo Factory's Target Gallery, examines technology-infused art with a collection of pieces from nearly a dozen contemporary artists, including a handful from the Metro-D.C. area. The gallery called on Luis, curator of digital and emerging media at the Smithsonian Asian Pacific American Center, to serve as juror. Gallery director Leslie Mounaime turned to Luis after hearing him speak about the accessibility of digital art as compared to traditional media.
Luis selected pieces for Glitch through a blind process and says he was more interested in storytelling than in the razzle-dazzle of elaborate technologies. "One of my main approaches with digital in general has been trying to take the focus away from the technological aspect of things and really focusing more on the human side of things, like how humans are adapting and treating and using technology," he says.
"Being," a sculpture by Dumfries artist Alexis Gomez, is a life-size replica of Gomez's body built from machine-cut, interlocking wood panels he crafted from 3D scans of himself. As visitors walk around the structure, Gomez notes they can at times see through it.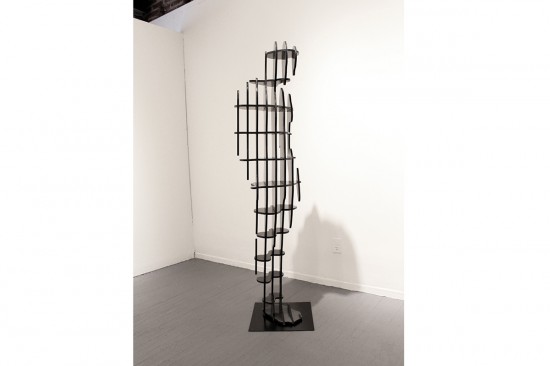 Gomez, who trained at George Washington University's Corcoran School of the Arts and Design and is a member of the D.C. Art Center's Sparkplug artist collective, almost exclusively uses his body as a model for his work, but he says it's imperative that his identity dissolves during the creation process. "I would like to communicate the internal and external states that we inhabit as human beings, internal dealing with the mind and external dealing with our body and its environment," Gomez says.
One of the more interactive pieces in the show utilizes technology in both the execution and experience of the work. "Zeros and Ones: Exercises in Translation" is a series of tapestries fashioned by Santa Monica fiber artist Sasha DeKoninck using a digital Jacquard loom that plays music with the help of a tablet. When visitors pan the tablet over the fabric's surface, an app that DeKoninck created translates the segmented black and white rows into pitches.
"I was interested in exploring this relationship between cloth and music, and I saw that the original jacquard loom, which was sort of the first computer, was run on punch cards," says DeKoninck, who received a BFA in fibers from the Maryland Institute College of Art and an MFA from the School of the Art Institute of Chicago. "And then the player piano was an automated piano controlled by punched music, so they're using the same technology."
Luis says the visitor experience will be different from most shows, with the technology in some cases chipping away at the distance often created by the formality of framed art.
"We're used to seeing something that's framed and hung on the wall in the museum as really something that happened in a very opaque kind of a process," Luis says. "Whereas I think if someone sees a device that they're familiar with, on a kind of file format that they're familiar with, with a kind of art piece that resonates with them [and] then the whole way through they have a sense of how things got from point A to point B."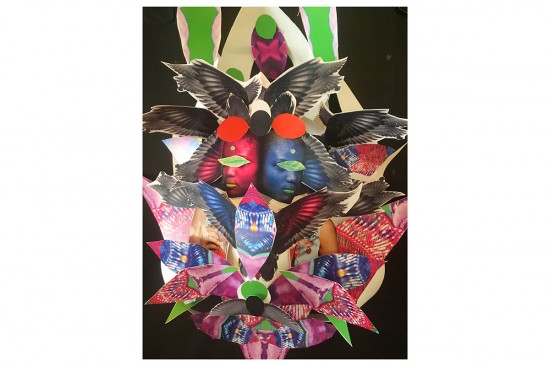 Recent Arlington Arts Center resident Lyric Prince uses the human face as her muse in both of her featured pieces. "Fly Girl: A Little Bird Makes Her Nest" is a paper sculpture constructed of digitally altered prints with a two-headed figure obscured by wings and petal-like structures. "Bump My Head" features a disfigured black-and-white face moving toward and away from a line of symmetry on a continuous video loop that's underscored by Busta Rhymes' "Gimme Some More."
Prince, whose face was scarred in a childhood car accident, says she has long been preoccupied with faces. "There's an idea of recycling things, making something old into something new. I like thinking about also the uses of technology to explore new sorts of mediums and meanings behind those mediums," she says. "And also the idea of face, and how transitory that can be … and how oftentimes we don't really understand what symmetry and beauty is until it's gone, or it's changed in some way."
Luis says a show using new media isn't just about the technology itself but also imparts information about how we're feeling and our "place in history." 
"Really effective technology meets us where we're at as opposed to being above our heads," she says.