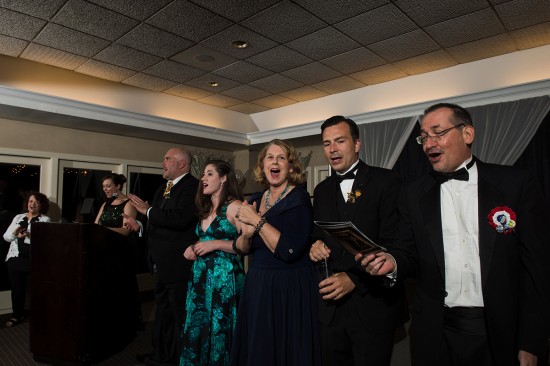 The worlds of rock and musical theater seldom collide, but that's what's about to happen at Reston Community Players.
Rock of Ages, a 2006 stage musical created by Chris D'Arienzo that pays tribute to '80s anthems by the likes of Bon Jovi, Pat Benatar and Styx, is descending on RCP March 10-April 1.
"You're basically putting on a rock concert for a theater," says director Joshua Redford. "Come relive the music of your childhood because it has every single song that you would want to hear."
RCP, now celebrating its 50th season, is nearly as old as Reston itself. Founded in 1966 as a for-profit organization, RCP began when three Herndon locals called on Reston founder Robert "Bob" E. Simon with an idea for Restonians to create a new theater troupe and perform an original musical, The Greatest Game in Town. They were soon selling stock to Reston locals to fund the theater, says RCP Board President Jolene Vettese.
"Bob Simon, before his death, used to come to all of our shows. He was one of our donors and attended almost every RCP production," Vettese says.
After a 1972 fire claimed many of the organization's assets, the Reston Players reorganized into the nonprofit Reston Community Players. The theater now stages three or four productions per year, funded through an assortment of private donations, business support and grants from the Fairfax Arts Council, Vettese says.
The organization also has a benevolent relationship with Reston Community Center, where their shows are performed. "We're able to really bring high-quality performances to the community. We can do a lot of technical things there that we might not be able to do in other spaces," Vettese says.
Rock of Ages stars local performers Russell Silber as Drew and Claire O'Brien Jeffrey as Sherrie and features music director Matt Jeffrey and choreographer Chris Dore. Redford says he's pleased with the dedication and enthusiasm of cast and crew members who have signed on to the production.
"This show almost has a following of people who just really, really love it and just want to be part of it," Redford says about the cast and crew.
RCP aims not only to entertain the community but also to serve it. The group provides $1,500 scholarships annually to two Fairfax County high school students. And during last year's run of Mary Poppins, the theater held a "sensory-sensitive performance," offering several accommodations for viewers with autism and other special needs.
Going forward, Vettese says she hopes that RCP will continue to stage high-caliber productions and pull in "a diverse community of volunteers."
"People have a lot of choices. We're just really grateful that people keep coming to Reston," Vettese says.