Ashburn artist Dave White needs a nap.
The 32-year-old Indiana native featured in a new exhibit on the W&OD trail is a full-time accountant with two children under 3. "The only time I can paint is late at night when the kids are sleeping. So I'm tired all the time," White says.
Art and Artifacts Along the W&OD, a traveling exhibit on display through March 31, centers on the regional park that served as a railroad for Northern Virginians for more than a century. With an array of paintings, photography and artifacts, the exhibit presents a broad history of the 45-mile long trail, named for the Washington and Old Dominion railroad that once occupied the space.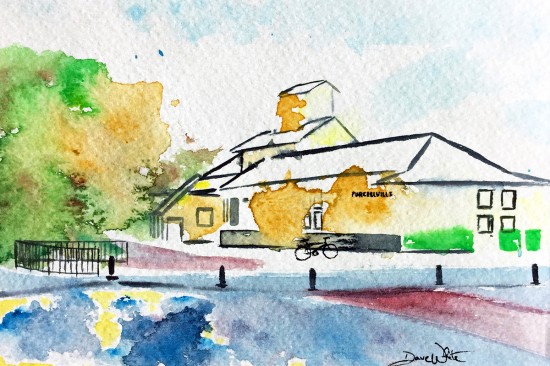 The railroad never quite reached commercial expectations as a means to ship goods between western NoVA and Alexandria, says Tracy Gillespie, historic site manager for NOVA Parks. "But it was kind of a lifesaver for farmers in western Loudoun, especially dairy farmers, 'cause they could ship their milk by milk cans into the city," she says. Commuters also used the rail line, including stops in the early 1900s to Bluemont, a popular vacation destination for Washingtonians, Gillespie says. By 1968, all railway operations had ceased.
In collaboration with NOVA Parks, the Franklin Park Arts Center in Purcellville created the W&OD exhibit to celebrate the railroad and its rich history. Elizabeth Bracey, the center's manager, was excited to work with various NoVA organizations and artists for the show. "For me, it's a really wonderful opportunity to have all these partnerships and really promote the art in a different way—bringing people together to see the art that wouldn't necessarily be interested in the art center or artwork."
White answered the exhibit's open call for artists with two original watercolors, intrigued by an exhibit about a trail he has enjoyed for years and that offers him a personal connection. (His father served as a freight engineer for nearly 40 years.)
For the past decade, White has carved out time to paint commissions for friends and commercial entities—including upcoming murals at restaurants in Chantilly and Brambleton—initiated mostly through word of mouth. He says he works mostly from photographs, allowing him to paint indoors at whatever time is convenient.
Art, White says, came to him naturally. "I can remember doing art when I was 3 years old, I think. Yeah, I would just sit at the table and draw for hours, so I was probably born an artist I would say," he says.
When it comes to the future of his career, White says that he avoids setting "measureable goals," since he deals enough with measurements and math as an accountant. "Just creating art for other people, I just love to do that and I just want to keep that going."
The Franklin Park Arts Center, Bracey says, values the role it plays in local artists' careers. "For me, that's really what our mission is: to give artists a very inexpensive and professional place to display their art," Bracey says.
Art and Artifacts Along the W&OD features work by 10 local artists andis on display at the Purcellville Train Station Dec. 30 from 11:30 a.m.-2:30 p.m. The show will then move to Loudoun County Government Center, Trailside Middle School and Meadowlark Botanical Garden. For more information, visit Dave White's website or call Franklin Park Arts Center at 540-338-7973.