Every year Historic Manassas hosts its biannual Manassas Gallery Walk in the spring and the fall with hopes of shining light on the local artists and shops. The events take place on the first Friday of May and November, with the 2016 fall walk happening this Friday.
Now in its 18th year, the event began as a way to showcase the new art studios, galleries and artists arriving in Manassas.
"As galleries and studios began opening in downtown Manassas, the event seemed like the perfect opportunity to shine light on the arts," says Brittany Bowman, the marketing coordinator and assistant event coordinator for Historic Manassas. "It has opened the door to making downtown Manassas a destination for artists to come to."
There are roughly 25 shops and merchants participating in the Gallery Walk this year, including Jirani Coffeehouse, Ashby Jewelers and Creative Brush Studio. Each shop is tasked with choosing and displaying the work of a local artist in their businesses. Some of the larger shops can choose up to three different artists to feature. The merchants then hang balloons outside of their stores for attendees to follow to the participating stores.
Bowman says she hopes the event will draw attention to not just the well-known stores but also to some of the lesser-known stores as well. "By hanging balloons outside, the event allows attendees to visit stores they have never been in before all while exploring the arts," she says.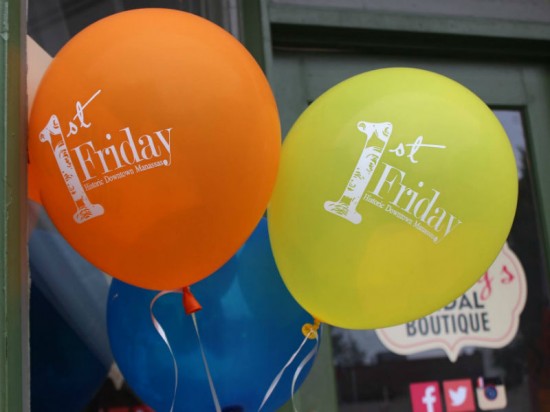 In addition to the artwork displayed in the shops, Historic Manassas also holds a banner art contest prior to the event, and the winning 60 pieces are hung over the streets.
"Manassas is becoming an art destination," Bowman says. "Not only will attendees see the art in the stores, but as they walk along the streets, they will see a number of art projects including painted benches, designed fire hydrants, an alleyway mural and sculptures."
The Manassas Fall Gallery walk takes place on Nov. 4 at 6 p.m. Admission is free.