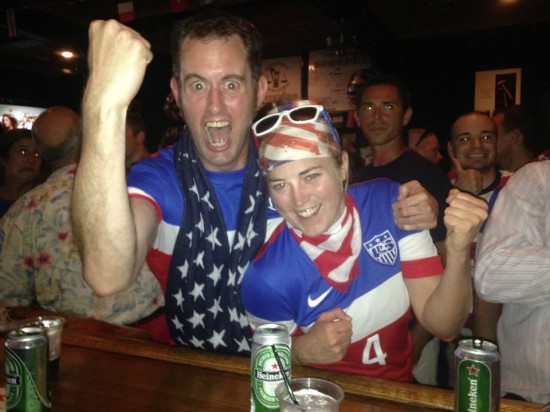 By Cameron Mellin
The U.S. football season is in full swing, and no, that doesn't mean the NFL has decided to open its training camp doors early. We're talking the world's sport, the one the U.S. women dominated in Canada this month on the world's biggest stage. Yet just because the World Cup has ended doesn't mean we need to return to our filthy American ways. The U.S. men's team (remember them?) is in the process of defending its CONCACAF Gold Cup title and is expected to make a deep run toward the championship July 26. 
Catch a match (the U.S. semifinals are Tuesday, and the final is Sunday evening) or the entire tournament here in Northern Virginia with our hat trick of futbol-watching pubs, the kind Carli Lloyd would be proud of and the ideal place to start an "I BELIEVE THAT WE WILL WIN" chant. 
Summer's, Arlington
The more Arlington's Courthouse neighborhood changes, the more some local spots stay the same. An epicenter of local futbol fans, Summer's restaurant has licensed status as an official U.S. soccer bar and hosts viewing parties throughout the entire Gold Cup.
Trying to expand your soccer horizons and get into Germany's Bundesliga? Summer's has got you covered as the only official Bayern Munich bar in the DMV, connecting you to those hard-to-find "footballers" this side of the pond. 
Four Courts, Arlington
Just down Wilson Boulevard is Four Courts, an Irish gastropub offering up drink specials for every U.S. Gold Cup game. The bar's wood finish and vintage European beer ads give the place a Dublin-esque vibe while the UK-inspired dishes are often paired with a tall mug of Guinness. Four Courts is also home to a bevy of soccer fan clubs, playing host to the Beltway Blues, an "official supporter's group of Chelsea Football Club" as well as home to the Arlington Gooners (die-hard Arsenal supporters) and Spurs (Tottenham Hotspur's followers).  Not to mention every Liverpool fan within the DMV's limits flocks to Four Courts to see the Reds on match day.  
However this pub isn't just sports-heavy as every Sunday night means karaoke from 9 p.m.-1 a.m. offering you the chance to sing away the sting of a loss to a Celine Dion tune or celebrate the joy of a win with some Queen. 
Murphy's Grand Irish Pub, Alexandria
Duck into this hole-in-the-wall in Old Town, head upstairs and find a seat around the wood-burning fireplace in this communal Irish setting. An official U.S. soccer bar, Murphy's will be serving up 40-cent wings on Wednesday night, when the U.S. men take the pitch vs. Jamaica, alongside their traditional Irish menu from stuffed potato skins to shepherd's pie. 
The pub fills up quick with passionate fans, so arrive early to ensure you get a table and stick around after the match to catch live music from Irish musician Ronan Kavanagh starting at 8:30 p.m.