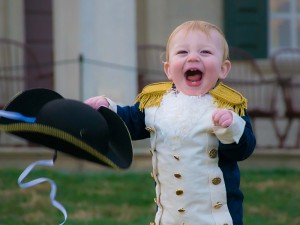 SPOTLIGHT:
Trick or Treating at Mount Vernon
Oct. 29 & 31, 3:30-6:30 p.m.
Your tots do not have to dress up in revolutionary fashion to fit in while trick or treating at Mount Vernon this Halloween season, though there are awards for the best George and Martha costumes. Complete your historic Halloween celebration with wool carding, 18th-century dancing and a costume parade.
---
Cox Farm Fall Festival
Sept. 24-Oct. 31, Nov. 4-8
Fall and Halloween are showcased here with pumpkins and spooky stuff galore. Kids can play on swings and slides, teens can enjoy the scary Fields of Fear, and everybody can munch on the addictive kettle corn. No, really, it's addictive. // Cox Farms: 15621 Braddock Rd., Centreville
The Greatest Show of Earth: Clay Circus
Oct. 3-30, 10 a.m.-6 p.m.
Dogs dash and horses prance across the gallery in this circus-like exhibit created entirely from sculptural and functional clay. // Torpedo Factory Art Center: 105 N. Union St., Alexandria
Local Flavor
Oct. 7-30, times vary
The latest exhibit at the Del Ray Artisan's Gallery will celebrate the local community. Member artists' artwork will revolve around things they adore, crave and experience in their beloved hometown. // Del Ray Artisans Gallery: 2704 Mount Vernon Ave., Alexandria
Gavin Glakas Solo Exhibition
Oct. 14-Nov. 8, times vary
Gavin Glakas paints beautiful landscapes ranging from the rolling hills of the Tuscan countryside to the busy streets of Brooklyn. His studies and work led him across the world to destinations like London, St. Louis and Athens, but he's now brought the products of his travels back to D.C. // Principle Gallery: 208 King St., Alexandria
"Master Harold" … and the Boys
Begins Oct. 18, times vary
The latest masterpiece staged by Signature Theatre is set in South Africa and tells the story of an interracial group of friends who, unlike the majority of their country, choose unity over division. But a single phone call threatens to bring their delicate relationship to ruins. // Signature Theatre: 4200 Campbell Ave., Arlington
A Party to Murder
Oct. 22-Nov. 12, times vary
Guests travel to a rustic island cottage to play a murder mystery game. But when the guests begin to die in the game, they realize too late that they're actually playing for their lives. // The Little Theatre of Alexandria: 600 Wolfe St., Alexandria
2016 Postgraduate Residency Exhibition
Oct. 22-Nov. 27, 10 a.m.-6 p.m.
Since joining the Torpedo Factory team three months ago, the newest postgraduate residents have been hard at work. Explore their best work at their first show in the Torpedo Factory. // Torpedo Factory Art Center: 105 N. Union St., Alexandria
The Death of the Last Black Man in the Whole Entire World
Begins Oct. 25, Times vary
Guided by improvisational jazz, this musical follows the story of a black man who continues to die over and over again, with each death symbolizing an oppression African-Americans faced throughout history. The greatest death is the Black Man's absence in history. // Signature Theatre: 4200 Campbell Ave., Arlington
Spooktacular
Oct. 28, 6:30-8 p.m.
Ghouls and tots are welcome to this year's Spooktacular event, where they can enjoy games, crafts and a show. // Herndon Community Center: 814 Ferndale Ave., Herndon
Colbie Caillat
Oct. 29, 7:30 p.m.
Since entering the music scene in 2004, Caillat has sold 6 million albums and 10 million singles. With the release of her latest album, The Malibu Sessions, the two-time Grammy winner set out on tour, playing her new songs as well as classics like "Bubbly" and "Lucky." // The Birchmere: 3701 Mount Vernon Ave., Alexandria
Trick or Treating at Mount Vernon
Oct. 29 & 31, 3:30-6:30 p.m.
Your tots do not have to dress up in revolutionary fashion to fit in while trick or treat
ing at Mount Vernon this Halloween season, though there are awards for the best George and Martha costumes. Complete your historic Halloween celebration with wool carding, 18th-century dancing and a costume parade. // George Washington's Mount Vernon: 3200 Mount Vernon Memorial Highway, Mount Vernon
Printmakers Inc.
Through Oct. 29
Printmakers Inc. is a group of professional printmakers who work together in the same facilities and educate the public about printing. Prints by artists in this group are included in collections in the Library of Congress and the Smithsonian National Museum of American History. // The Candy Factory: 9419 Battle St., Manassas
The Enslaved People at Mount Vernon Tour
Through Oct. 31, 10 a.m. & 2 p.m.
Receive a unique inside look at the daily life of a Mount Vernon slave by walking in the footsteps of the 300 slaves who toiled on George Washington's 8,000-acre plantation. During this tour, you will learn about their culture, visit their living quarters and listen to their stories. // George Washington's Mount Vernon: 3200 Mount Vernon Memorial Highway, Mount Vernon
Fall Festival and Pumpkin Playground
Throughout October, 9 a.m.-8 p.m.
Enjoy fall activities all through October at the Pumpkin Playground, open daily throughout the month. Pony and wagon rides, plenty of games, storytelling, face painting and more make for a perfect day spent outdoors before the weather gets chilly. // 9401 Burke Road, Burke
Fall Pumpkin Harvest Festival
Throughout October
What's better than cider and doughnuts? Cider doughnuts, of course. Celebrate fall at Great Country Farms by eating these delicious treats and enjoying activities like doing some pumpkin munchin' with P-Rex, getting lost in the corn maze and watching pig races. // Great Country Farms: 18780 Foggy Bottom Road, Bluemont
Driving Miss Daisy
Through Nov. 6, times vary
This heartwarming show is set in the 1950s and follows an elderly woman whose son hires an African-American driver for her. After 20 years together, an unlikely relationship develops between Daisy and her driver as she begins to warm up to him. // Riverside Center: 95 Riverside Parkway, Fredericksburg
National Treasure Tour at Mount Vernon
Through Dec. 31, 9:30 a.m., 11:30 a.m., 1 p.m. & 3 p.m.
Get a once-in-a-lifetime behind-the-scenes movie experience and visit the locations on George Washington's Mount Vernon Plantation that were featured in the 2007 hit movie National Treasure: Book of Secrets. During the tour, learn about both Hollywood and history with explanations of the filming process as well as the original uses of these locations during George Washington's time. // George Washington's Mount Vernon: 3200 Mount Vernon Memorial Highway, Mount Vernon
Who These Wounded Are: The Extraordinary Stories of the Mansion House Hospital
Through Dec. 31 Tuesdays-Sundays, times vary
This Civil War-era medical house is now open as a museum and gained public attention this year as the setting for the PBS series Mercy Street. A follow-up exhibit to the series, Who These Wounded Are: The Extraordinary Stories of the Mansion House Hospital, is open through the end of the year and features a variety of medical supplies and Civil War artifacts on display. // Carlyle House: 121 N. Fairfax St., Alexandria
Welcome Home
Throughout 2016, times vary
This exhibit opened in late 2014 and will remain open through the year. Through various photographs and memorabilia, the exhibit constructs a visual portrait of the families of Marine Corps members who have been called to duty, particularly those who were deployed to Afghanistan. // National Museum of the Marine Corps: 18900 Jefferson Davis Highway, Triangle