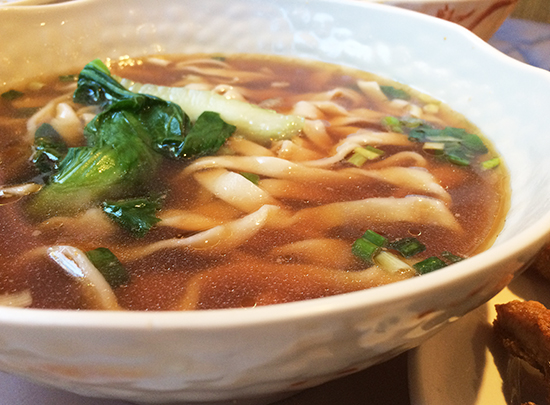 Photography by Stefanie Gans
A&J
All it took was a picture of a pile of crispy strips of fried pork on Instagram for a friend to ask if I was at A&J. In quick, subsequent comments, she insisted I order the peanut noodles (I had) with wide noodles (Roger that).
The pork was for a different dish, where I piled the strips into a porky broth with those same wide, doughy noodles. Somehow the pork stayed crunchy, and when it was dipped in the soup, baking spices emerged. The friend with whom I dined noted a pumpkin pie essence, and somehow, with another taste, I agreed.
There's also a spicy beef soup, which you should really order with the addition of the tendon, silky like ice cream sliding down the throat.
But back to the Instagram commenter. We ordered the thick hand-pulled noodles in every dish, better to soak up the sauces and broths, but especially luscious when the noodles cling to a spicy sauce with sesame and peanut.
▶ Chinese Order: Noodles in a hot spicy sesame sauce and topped with peanut powder; spicy beef tendon noodle soup; Chinese-style fried pork chop noodle soup.
A&J, 4316 Markham St., Annandale
(January 2015)