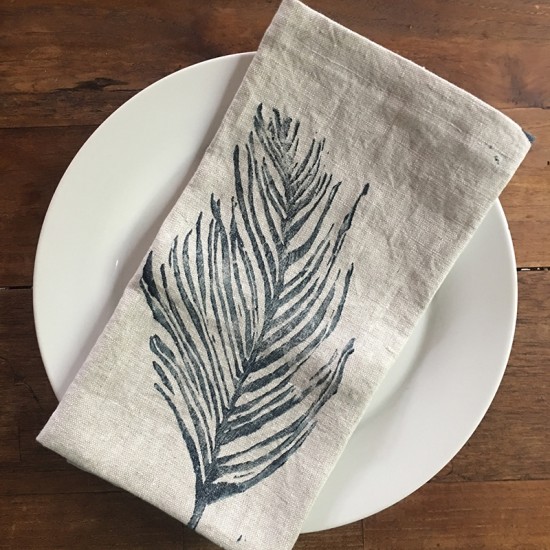 By Dana DiSante, Danielle Kent, Stephen Niedzwiecki, Lynn Norusis, Whitney Pipkin and Cameron Wall
Twenty locally made home decor gifts for everyone on your list and the stories behind the artisans who make them:
Tulusa Goods
Alexandria
Established: 2015
Where to buy: Etsy: tulusahomegoods, website
Products: Block-print table linens, pillows and accessories
From carving patterns into blocks to mixing paint and pressing the shapes onto linens she'll sew, "my hand is in every single part of the process," says Sue Henry, who started Tulusa Goods late last year.
After working for years as a sculpture artist, Henry found a similar satisfaction carving whimsical feathers, dandelion poufs and other shapes into rubber stamps. She presses the colorful designs across lines of table linens, pillows and new accessories like zipper clutches. –WP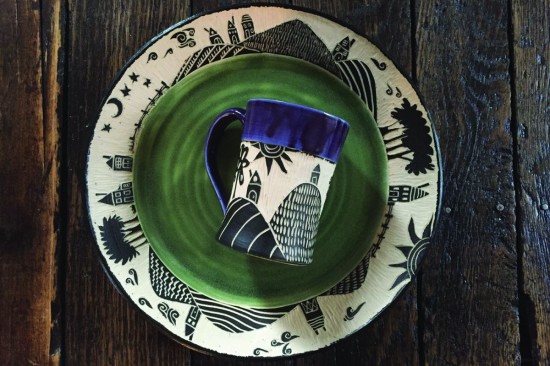 Chunk of Happiness
Purcellville
Established: 2010
Where to buy: Etc. (Round Hill), North Gate Vineyard (Purcellville), website
Products: Pottery
Artist Maureen Alvarez creates stoneware pottery that is functional, by being microwave- and dishwasher-safe, as well as decorative. Each piece is distinct and not part of a mass production; Alvarez describes her pieces as "having relatives, but not twins," guaranteeing that there are no others like it. –SN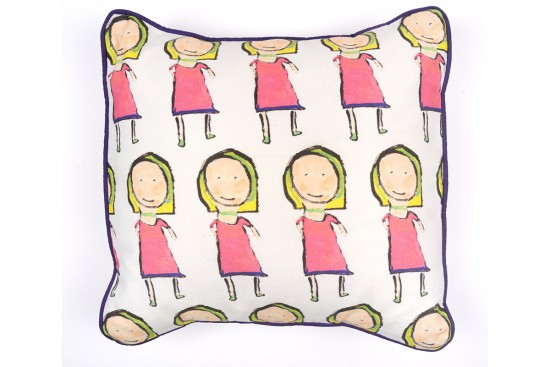 Mira Jean Designs
Arlington
Established: 2014
Where to buy: Red Barn Mercantile (Alexandria), website
Products: Textiles
Kate Hougen left her work at a nonprofit to pursue her dream of creating textile designs in bright watercolors using organic materials. Hougen creates pillows and throws using her designs and allows customers to send her their children's artwork to create and design custom products. –SN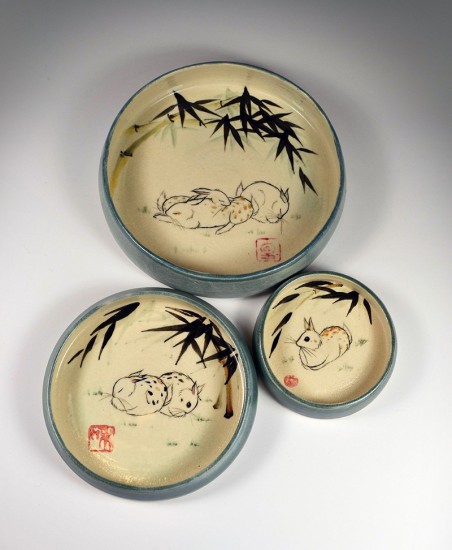 Tracie Griffith Tso
Reston
Established: 2007
Where to buy: Torpedo Factory (Studio 19), website
Products: Pottery
Offering a variety of beautiful, functional pottery, Tso creates one-of-a-kind teapots, plates, bowls and mugs that are meant to be used and enjoyed, and they are microwave- and dishwasher-safe. Each piece is decorated by a hand using a Chinese brush-painting technique. –SN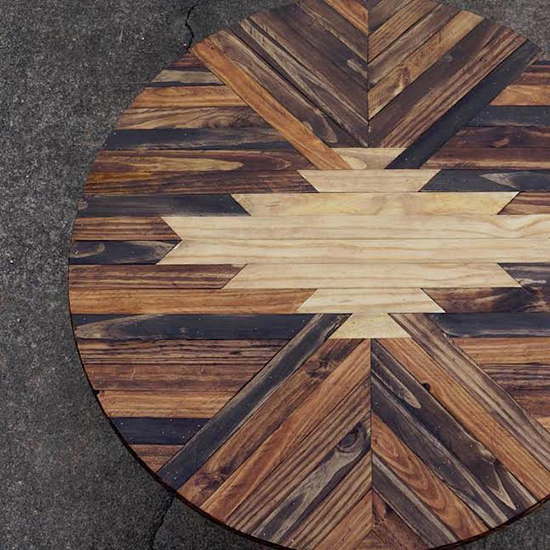 Knot & Steel Co.
Alexandria, Arlington
Established: 2015
Where to buy: Etsy
Products: Custom Aztec-themed wooden tables and decor
Carly and Drew Scarfo, both 28, had a certain look they wanted for their wedding in 2015, so they bought the tools to make wooden decorations. Soon, they were building tables with a decidedly Aztec feel for themselves and others. "We've both been obsessed with Pendleton-type designs, and we realized we could make geometric shapes out of thin strips of wood," Drew Scarfo says. For the look, the pair stains strips of antique wood rescued from old buildings and arranges them in patterns inspired by Native American designs. –WP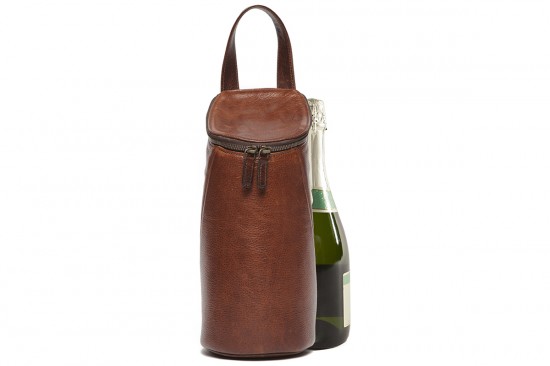 Moore & Giles Forest
Established: 1933
Where to buy: Website
Products: Leather goods, furniture and textiles
Featured in Esquire, The Wall Street Journal and GQ, this tannery first opened over half a century ago, and since then, the business has been dedicated to creating high-quality products using only natural leather. The company creates men's accessories and travel bags, spacious briefcases with laptop sleeves, wool blankets, select furniture options and an offering of women's bags. –SN
Sydney Hale Co.
Purcellville
Established: 2007
Where to buy: 27 South Interiors (Leesburg), Covet (Arlington), John Edwards Hair Design (Vienna), Merrifield Garden Centers (Merrifield, Fairfax, Manassas), Middleburg Common Grounds (Middleburg), The Picket Fence (Burke), Red Barn Mercantile (Alexandria), Twigs (Purcellville), UnWined (Alexandria), website
Products: Scented candles and room sprays
What started out as a hobby and selling candles on the side quickly developed into a full-time business, says owner Meghan Cook. Sydney Hale Co. offers over 26 scents of candles and room sprays including bourbon and brown sugar, garden mint and woods. Their newest product, a concrete candle container, was created to promote dog rescue operations, something Cook feels strongly about: 10 percent of all sales also are donated to dog rescue efforts. –SN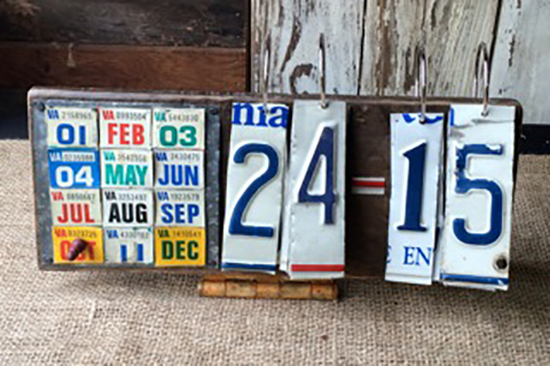 Shtuff
Round Hill
Established: 2012
Where to buy: Etc. (Round Hill), Etsy: shtuffshop, website
Products: Home design elements
Repurposing everyday materials such as scrap metal, bicycle parts and roofing that she finds in demolished locations, Jen McMahon gives new life to discarded items by creating decorative home design products including clocks, picture frames and wall decor. –SN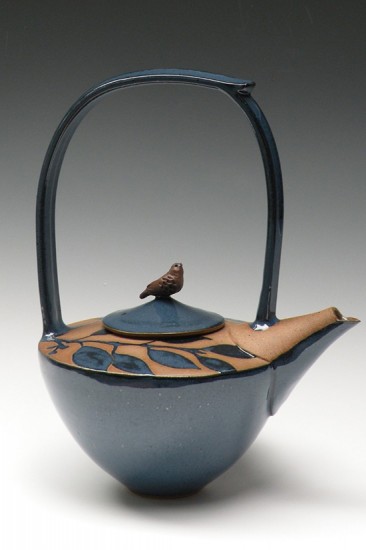 Dana Lehrer Danze
Arlington
Established: 1996
Where to buy: Roots 657 Café and Market (Leesburg), website
Products: Pottery
For 20 years, artist Dana Lehrer Danze has been creating pottery in distinct colors and models that stand out from traditional designs. Danze offers a large selection of pottery goods, including teapots, mugs, brie bakers, oil candles and vases in artistic renditions. Danze also teaches pottery workshops to those interested in learning the craft. –SN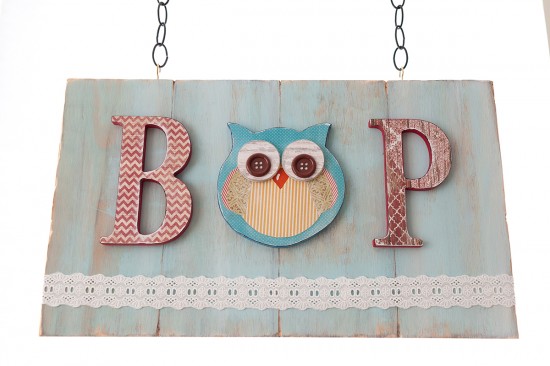 Barn Owl Primitives
Leesburg
Established: 2009
Where to Buy: Etsy: barnowlprimitives, website
Products: Handmade typography signs and home goods
Kristi Quill started making signs with phrases like "we can do hard things" for her own home and selling them on Etsy in 2009, just as the e-commerce site was taking off. Now, Barn Owl Primitives supports Quill and her husband full-time; they make 100 to 200 signs a week and plan to open a studio space in downtown Leesburg. "I'm always looking for inspiration," says Quill. "I carry a notebook with me to write down phrases." –WP
Design by Jeff Spugnardi
Arlington
Established: 2008
Where to buy: Website
Products: Fine furniture (dining chairs, dining tables and rocking chairs)
Starting by crafting for his house, Jeff Spugnardi now makes chairs custom-sized for maximum comfort. "The secret to them is the back braces are very flexible to each shape," he says. "When you sit in it, they start flexing and hug the curve of your back." The braces are made with carbon fiber, a look that Spugnardi calls "future primitive." "Authentic. Functional. Furniture." is Spugnardi's mantra, and it shows in his innovative designs. –CW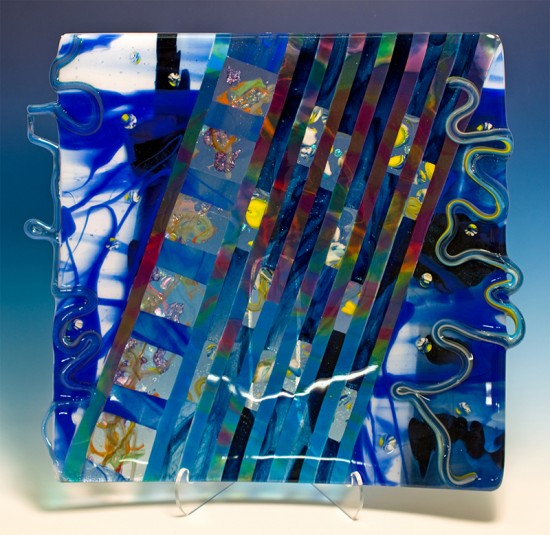 David Barnes Glass Studio
Lorton
Established: 2008
Where to buy: In-studio by appointment, website
Products: Glass sculpture, decor and jewelry
David Barnes Glass Studio has been crafting one-of-a-kind glassware pieces for over 35 years. Each design transforms the way light is reflected in a room and can either complement existing decor or stand out in a home. His works present three-dimensional visuals that grab a viewer's attention. Barnes designs each of the pieces as individually as possible to craft a product for each customer's preferences. –DD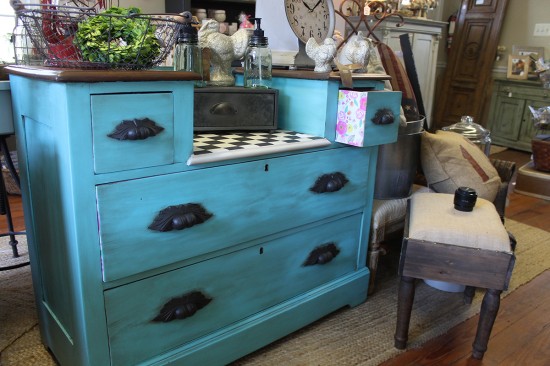 Saved By Scottie
Round Hill
Established: 2011
Where to buy: Etc. (Round Hill), Shabby Cottage (Hamilton), Weathered Elegance (Leesburg)
Products: Repurposed and revitalized furniture and home decor
After fixing and repainting a dresser she found on Freecycle for her daughter, Scottie Vosburgh started doing projects for the house and keeping track of it on her blog, and it grew from there as people began to pay her to revitalize furniture for them. "It's the highest compliment to have a piece of my work in somebody's home," Vosburgh says. –CW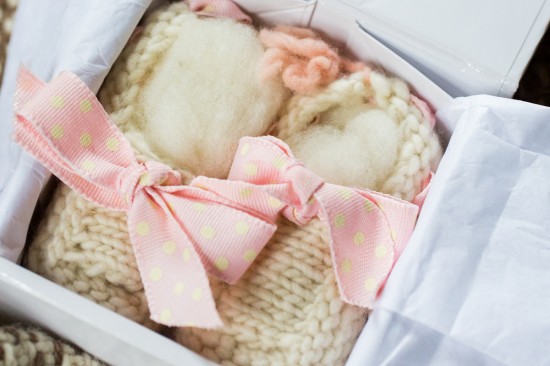 Gum Tree Farm
Middleburg
Established: 1995
Where to buy: Website
Products: Handmade luxury wool pieces for the home and the human
"Grown in Virginia. Made in America. Worn around the World" is the tagline of Gum Tree Farm. They create luxury pieces from the ultrafine wool of merino sheep that live on the farm. After starting out knitting for their home with wool from just three sheep, Gum Tree Farm now has a hundred sheep and more wool than they can knit. As Franny Kansteiner, founder of Gum Tree Farms, states, "We want to create something beautiful with the wool our sheep produce." –CW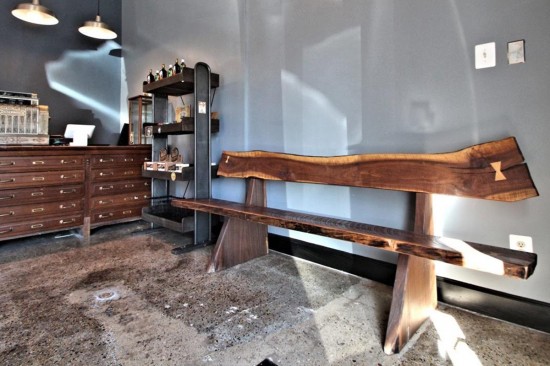 Hackett Woodworking
Lovettsville
Established: 2012
Where to buy: By appointment
Products: Cabinetry, wood tables and furniture
A father of two, Nathan Hackett got tired of commuting to Chantilly to build cabinets and wine cellars for others, so he started a business for himself. Now, people seek him out for live-edge wooden tables, ornate cabinetry and commissioned works from pieces of wood with meaning.
"Whether it's a cabinet out of old fence boards or reclaimed barn-wood furniture, people love local," says Hackett. –WP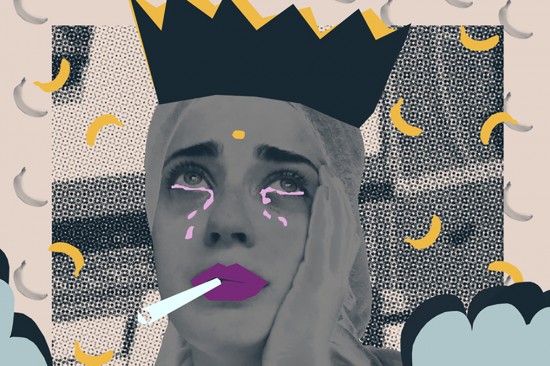 Abi Kallushi
Alexandria
Established: 2008
Where to buy: Latela (D.C.)
Products: Collage art prints
When she's not working at an Alexandria architecture firm, Abi Kallushi is finding inspiration for her next collage in a photo she snapped by the water, a song or sometimes a quote. "The process is sort of quick and ephemeral," Kallushi says of her collages, which marry reality with whimsy and imagination. "Sometimes a lot of thought goes into it, and sometimes it's about how two colors dance together." Most customers discover her on Instagram, where she regularly posts new pieces @unapologeticbanana. –WP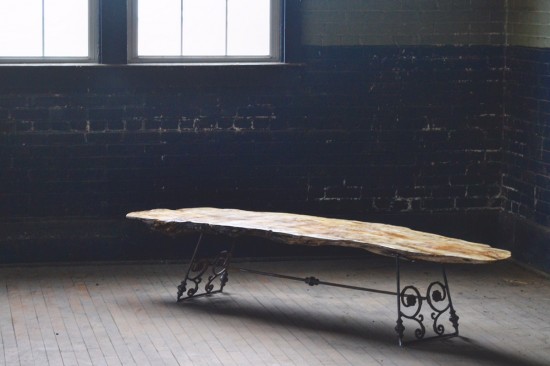 Virginia Build Works
Front Royal
Established: 2012
Where to buy: In-store, Etsy
Products: Live-edge design tables, benches and other products
After seeing some pieces that he admired in stores, George "Mac" McIntyre started Virginia Build Works and began making live-edge designed tables and benches, combining the wood with steel for an industrial look. He taught himself how to weld and craft, and after realizing he enjoyed crafting more, he took a risk and quit his job to chase his passion. When asked of his mantra, Mac replied, "Do what you love and what you're passionate about, and the rest will follow." –CW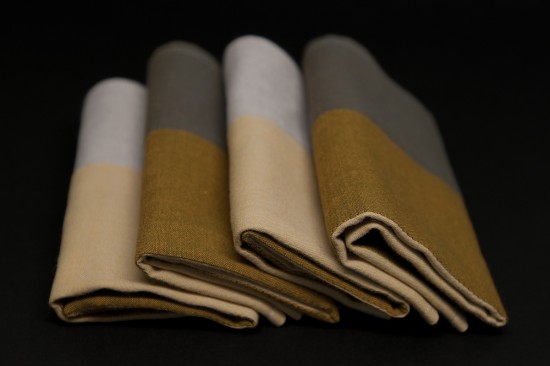 Moss & Surf
Fredericksburg
Established: 2016
Where to buy: Etsy: mossandsurf
Products: Colorful dinner and cocktail napkins
Susie McQuiddy has been sewing a lot of straight lines since she launched her napkin-making business on Etsy this summer. Her color-blocked dinner and cocktail squares are thick in reversible solids and vibrant from using fabrics made with two colors of thread. The sturdy, tailored napkins are the product of a little fussiness, McQuiddy admits. "Sometimes I drive myself crazy, but that attention to detail is something I'm really proud of," she says. –WP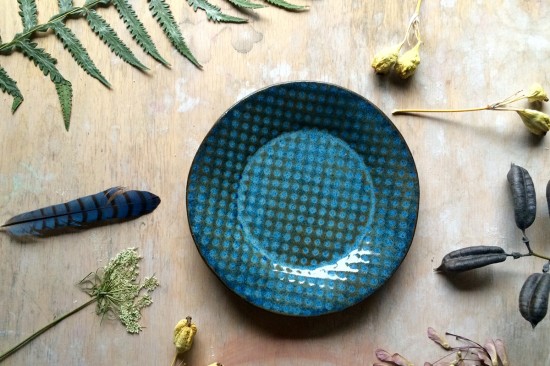 Persimmon Street Ceramics
Arlington
Established: 2011
Where to buy: Botanologica (Falls Church), Mosaic Farmers Market, Palisades Farmers Market, Rust & Feathers (Leesburg), Etsy, Scoutmob
Products: Ceramics (plant markers, trinket dishes, magnets, cheese markers, flower frogs, jewelry trays)
While Heather Lezla was studying ceramics at The Art League, she started noticing natural and industrial elements in her Arlington neighborhood ("In the 1890s my neighborhood was a dairy farm that took up 60 acres," she says) and thought it would be interesting to take something that somebody would pass on a regular basis, or even step on every day, and "elevate it a little bit" by making it a piece of art that could be admired and used at the same time.
In her small studio Lezla likes to keep things low-tech to add to the integrity of her work. Her range of products she calls "put[ting] all of my interests in a blender and shak[ing] it up and com[ing] out with something that is palatable to me and sellable to the public too." –LN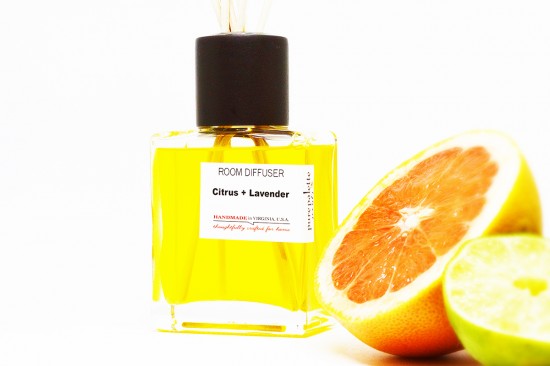 Pure Palette Scents
Woodbridge
Established: 2010
Where to buy: Gala (Kensington, Maryland), Amazon, website
Products: Home fragrances (soy candles and room diffusers)
Before creating Pure Palette Scents, Usa Leckenby worked at her mother's restaurant in Thailand learning to create new dishes and prepare new ingredients. It was only after her husband fell ill that she began focusing on making personal care products and aromas to cleanse and energize the mind and spirit. Leckenby's passion offers people wonderful scents that not only make your house smell nice but also calm, relax and uplift your body. –DK