Even in some of today's smallest spaces, dwellers are living large. Thanks to clever multifunctional pieces of furniture, you'd never know that living room is actually a studio apartment.
There's a super low-slung coffee table that, with the touch of a lever, grows into a dining table that seats eight. To return it to its coffee-table height, its Gumby-like legs flatten to the floor.
What looks like a utilitarian floating shelf reveals itself as a fully-stocked desk; a flap opens up to stow home-office essentials.
Many of these pieces of furniture are whimsical and playful but also dual-purpose. Almost like magic, they morph into other useful pieces and provide much-needed storage.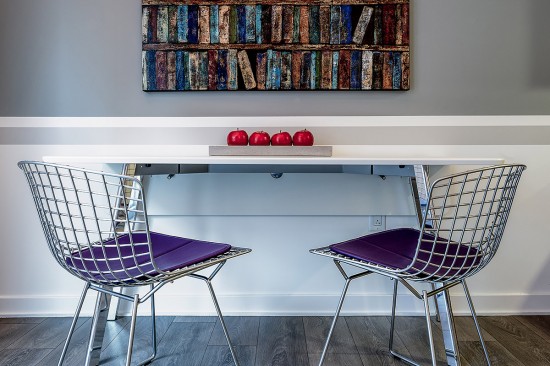 There's a "wow" factor with every demo done by Brian VanFleet, senior design and sales associate at Resource Furniture in Georgetown, like when he expands a 17-inch console to reveal a dining table that seats 10 to delight and surprise showroom visitors.
There's the functional Cubista, an ottoman of stools stacked inside like nesting dolls. Each base is topped with one of the ottoman's pop-in tufts. When not called up to provide five extra seats, it hangs out at its most classic as a footrest or side table.
But perhaps most of all, such pieces kick up the cool—and conversation—at any cocktail or dinner party.
"I call it transformer furniture," says Sarita Simpson, an Arlington interior designer. Many of these not-what-they-seem pieces look like everyday household furnishings but instead are so much more.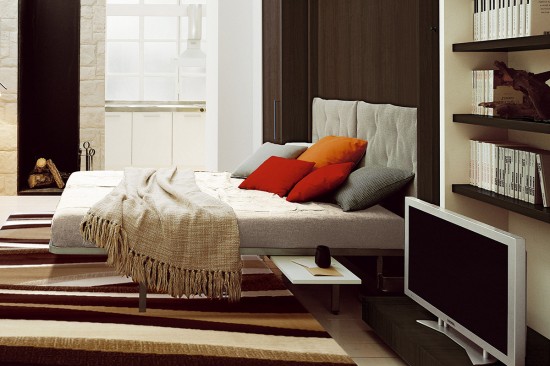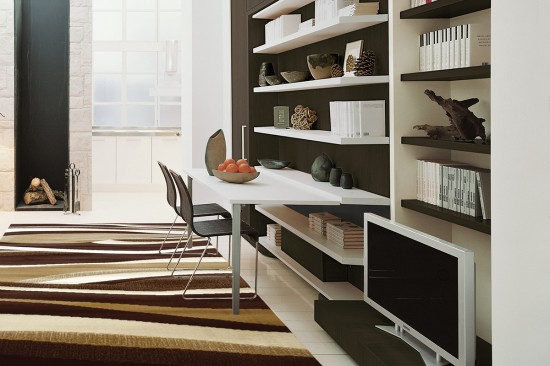 Born out of necessity, multifunctional furniture offers flexibility and maximizes use of any home's square footage. Even in the tiniest abodes, such creative takes on everyday pieces lend themselves to tucked-away storage, help keep clutter out of sight and provide guests with private, comfortable quarters.
Simpson recalls a 325-square-foot D.C. studio she designed for a client. "I mean it was tiny," she says. "We didn't have room for a full-on sofa and a bed." Her solution: a custom bed frame and slipcover turned the client's mattress into couch-like daybed seating when he entertained. At night, he'd stash the slipcover and decorative pillows under the bed and drift off to sleep. Another big victory: Simpson managed to place two small lounge chairs across from his TV and media cabinet, which, not surprisingly, performed double-duty as his dresser. Storage beds are genius in their efficacy. Everyone stashes stuff under their beds, says Simpson, no matter the bed type. But storage beds, complete with hydraulic lifts, take that up a notch, allowing you to easily tip up the mattress at a 45-degree angle and toss anything underneath. Spare blankets, bedding, out-of-season clothing? For the storage-challenged, such items have a hidden home when the bed is in its bedtime state.
Not a neatnik? No matter. Storage beds come with a license to relax the hardcore anticlutter rules that are essential in small-space living. A bed's drawers or lift system lets you cheat: Folding items is optional.
"People want as much storage space as they can get," Simpson says. "In the guest room or the main room, either way, it's a total bonus. Most people put stuff under the bed anyway, but this makes it much cleaner."
Then there are the Murphy beds or wall beds, which are comfortable, creative solutions that can work as a primary bed or in a guest room-slash-home office. These beds are so sophisticated that they require only minimal muscle to bring them down or put them back up. A sturdy strap holds the mattress in place. And to up the cool and convenience factors, the components are often outfitted with LED reading lights and USB ports to charge devices, says Todd Carter, owner of Tailored Living in Herndon.
Alexandria-based designer Quintece Hill-Mattauszek has been entertaining the idea of installing a wall bed in her own home. She loves the idea of being able to maximize the floor space in a small guest bedroom.
"Having a bed out in the open all the time sort of bothers me because I feel like, 'Oh gosh, this space is not being utilized,'" says Hill-Mattauszek. "We have guests coming every so often, so I want to make sure we're utilizing all of our real estate for us all the time, not just when our guests come."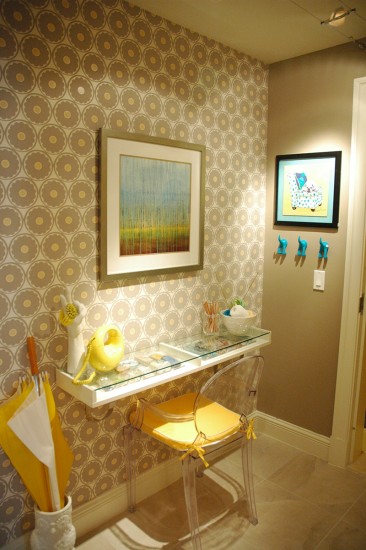 As more homeowners begin downsizing, they need to get used to having less space. Condos, row houses and townhomes can be tiny. If a second or third bedroom serves as occasional guest quarters, a wall bed might be just the ticket. Maybe a guest visits for five days, says VanFleet, and the other 360 days that room is your office. An out-of-sight bed to use as needed can be a great solution.
With the touch of a discreet knob, a deceptive Resource Furniture LGM shelving unit swivels like something out of a Nancy Drew mystery to reveal a pull-down queen-size bed. Incredibly, nothing on the shelves needs to be moved. It may be VanFleet's best magic trick, and showroom visitors are dazzled every time.
"It's like being in a James Bond film," says VanFleet. "All you need is the martini."